All in the mind: 41% of Kashmiris show signs of depression
Elsewhere, people are running from pillar to post trying to prove that they are citizens of a country they have resided in since the time of their birth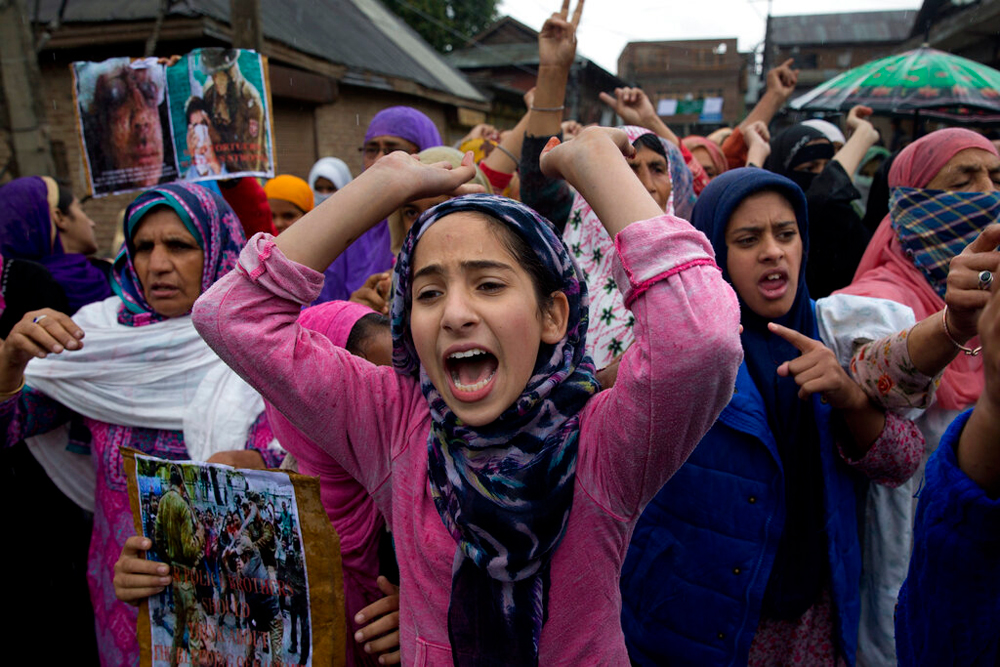 Mindless torment
(AP photo)
---
Published 13.10.19, 12:08 AM
|
---
Sir — Yesterday marked the end of this year's Mental Illness Awareness Week. It was also the 69th day of the communication blockade in Kashmir. Even before the lockdown, a survey found that 41 per cent of the population in Kashmir showed possible signs of depression, 26 per cent those of anxiety and 19 per cent showed probable symptoms of post-traumatic stress disorder. Elsewhere, people are running from pillar to post trying to prove that they are citizens of a country they have resided in since the time of their birth. Surely this cannot be conducive to their mental health?
Paromita Sarkar
Calcutta
Old ties

Sir — It was heartening to learn that in Rampurhat a promoter, Mohammed Sirajuddin, constructed a permanent structure at his own expense for local people to organize Durga Puja upon learning that the land he had purchased was where the festival used to be held previously. This news was refreshing, especially given the communally charged times we live in. Last year, in Murshidabad, a Muslim contractor had shelled out some 11 lakh rupees to complete the construction of a Durga temple.
This is the Bengal we know and love. The rich humanitarian and secular legacy has not been wiped out completely yet. It is high time that the new divisive ideology being spread in the state is rejected by people with an overwhelming majority. It is hoped that Bengal would succeed in keeping the poison of communal polarization at bay and remain a role model of secularism by recalling the teachings of Rabindranath Tagore, Kazi Nazrul Islam, Lalan Fakir and the likes of Mohammed Sirajuddin.
In spite of the blatant commercialization of the festival these days, the real spirit of Durga Puja, which is to embrace people from all backgrounds in a gesture of brotherhood, is still alive.
Kajal Chatterjee
Calcutta
Sir — Religious differences should not come in the way of social amity. The residents of Rampurhat have shown this. But one wishes that the promoter had instead constructed a structure that would be dedicated to an educational or a health initiative. Durga Puja can be held anywhere; does god live only in a temple? He is omnipresent. Mohammed Sirajuddin's altruism would have reaped richer dividends had he built a school, which is like a temple to students. A statue of Durga could have been put up in the school as a token of brotherhood.
Rabindranath Sarkar
Calcutta
Ironical image

Sir — A strange thing occurred to me on M.K. Gandhi's 150th birth anniversary. During the freedom movement, Gandhi symbolized the struggle of the common man against the mighty State — its police, its army, its draconian laws. He was the champion of the ordinary Indian masses struggling to free themselves from the mighty British State. But since Independence, Gandhi seems to have been transformed into a symbol of the State itself — only this time it is the Indian and not the British State.
He is seen beaming at us from our currency notes, which are among the first means of a State asserting its sovereignty. His pictures and sketches — showing him either working on the charkha or leading his followers — occupy calendars and notepads meant for use in government offices. Even his glasses have become the official symbol in State-sponsored schemes like the Swachh Bharat Abhiyan.
There are other instances that illustrate how Gandhi has been appropriated by the Indian State. Yet, from the time he returned from South Africa to the time he fell to Godse's bullets, Gandhi had steadfastly avoided occupying 'high office', with many defining him as "power without authority". But, ironically, it is unlikely that there exists a single government office in India where a 'high place' is not reserved for an image of a smiling Gandhi.
Bappa Ditya Banerjee
Calcutta
Sir — Mahatma Gandhi has been reduced to a hollow image in India. He is seen everywhere, yet his ideas and teachings are violated by almost everyone.
Rima Roy
Calcutta