Bolsonaro visit outcry
A disgrace for the Indian people: CPM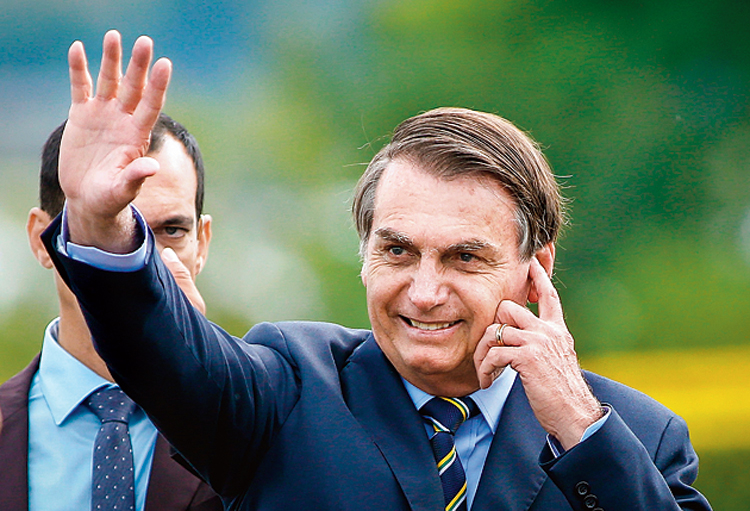 Jair Bolsonaro
(File photo)
---
New Delhi
|
Published 23.01.20, 09:36 PM
|
---
Ahead of the arrival on Friday of Brazilian President Jair Bolsonaro, who will be the chief guest at the Republic Day Parade, parties and organisations opposed to his brand of politics have begun mobilising to send across the message that he is not welcome in India even if he is a state guest.
Billing it a "disgrace for the Indian people" that the far-Right leader should be the chief guest when India is celebrating the 70th anniversary of its Constitution, the CPM said: "Bolsonaro is the anti-thesis of all the values enshrined in our Constitution."
The editorial of the party's mouthpiece People's Democracy said Bolsonaro was a "racist", a "misogynist" and an autocrat "who never shies away from advocating his love for fascistic ideology''. "If we cherish democracy and human values, we should firmly and loudly declare that Bolsonaro is not welcome in India," it said.
Prime Minister Narendra Modi's invitation to Bolsonaro also drew criticism at the fourth All India Women's Conference, organised by the All India Mahila Sanskritik Sanghatan, where his derogatory comments against Brazilian politician Mario da Rosario were flagged.
"We the women of India strongly register our protest against this degraded man being invited as the chief guest on Republic Day," the conference said.
In 2014, Bolsonaro had said in Parliament to Opposition member Mario do Rosario that he would not rape her because she did not "deserve" it. He later said Rosario "is not worth raping; she is very ugly".
India's invitation to Bolsonaro has also been commented on in strategic circles.
Referring to reports of US President Donald Trump's likely visit to India next month, Michael Kugelman, the South Asia senior associate at the Washington-based Wilson Centre, tweeted: "News reports now say Trump may visit India as soon as later this month (The dates depend on his impeachment trial.) Imagine if he crashed the Modi-Bolsonaro Republic Day party. An unlikely prospect, but quite a thought to ponder. The three of them do share a whole lot in common.''
Asked why Bolsonaro had been invited given how controversial he is, the secretary (East) in the external affairs ministry, Vijay Thakur Singh, told journalists on Thursday: "President Bolsonaro is an elected leader in a democratic country which is an emerging power in the region. It is a country with whom we have very strong and substantive relations. We give great importance to engaging with Brazil and its leaders to take forward the areas of convergence and build our relationship. President Bolsonaro is committed to building the relationship and we will be welcoming him as an honoured guest."