A determined Kamal Nath is fighting bypolls like never before
DELHI DIARIES: Rajnath back in good books, and Gadkari is all-praise for Modi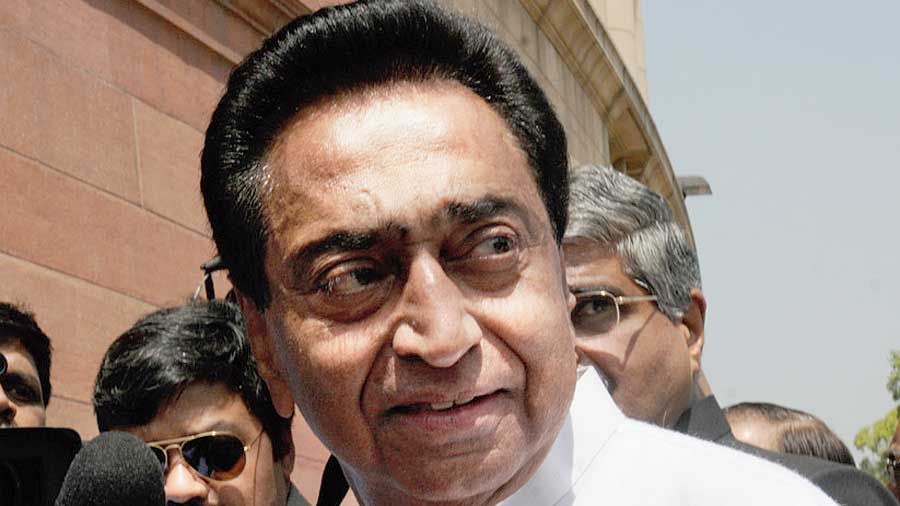 Kamal Nath: Blood and sweat
File picture
---
Published 25.10.20, 12:34 AM
|
---
The former Congress chief minister of Madhya Pradesh, Kamal Nath, has surprised the party with his hard work in the by-elections. He has taken it upon himself to whittle down the influence of Jyotiraditya Scindia — who pulled down his government by defecting to the Bharatiya Janata party with members of the legislative assembly loyal to him — in his fiefdom, Gwalior-Chambal. Although it is difficult for the Congress to claw back to power as it will have to win all the 28 seats to reach the magic figure, Nath is determined to ensure that BJP too fails to wrest the nine it needs to get a majority of its own. His target is to win at least 20 out of 28 seats, which will be a remarkable feat under the BJP regime. Nath is extensively campaigning in every constituency along with his former cabinet colleagues. While he has deployed all his resources for the bypolls, assigning specific constituency-wise tasks to different leaders, he has also deputed objective assessors from outside to leave no stone unturned in the Gwalior-Chambal region. So much so that the Maharashtra minister, Sunil Kedar, has been camping in Gwalior along with 40 experienced party workers from Nagpur for over a fortnight to monitor campaigning in every booth. Kedar himself visits every village in the area to take feedback and reports to Nath daily. The Congress never fights by-elections so seriously but Nath knows his political future depends on this outcome, setting the tone for the next assembly elections in 2023.
Time to shine
The defence minister, Rajnath Singh, is one of the top campaigners for the BJP in the upcoming Bihar polls. Singh, who was clearly sidelined in the Modi 2.0 government after he had to vacate the home ministry for Amit Shah, seems to have regained some of his political heft. Insiders say he has won the trust of the prime minister, Narendra Modi. The PM consults him on most important political decisions and Singh also heads key government committees. 
Singh has been heard profusely praising the PM, commending his capacity to take risks. In Bihar, he has been backing these claims by citing the abrogation of Article 370 and the bhoomi pujan of the Ram temple. Singh is not alone; Nitin Gadkari, too, has been praising Modi excessively these days. This is strange since ahead of the 2019 Lok Sabha polls, Gadkari had been airing indirect barbs at the current leadership of the party.
Tangled lines
Shooting from the hip never pays and the Assam minister, Pijush Hazarika, learnt it the hard way. He went after the Rajya Sabha member, Ajit Kumar Bhuyan, who had said that if literary luminaries like Syed Abdul Malik and Imran Shah can be Asam Sahitya Sabha presidents he sees no reason why another Muslim or All India United Democratic Front chief, Badruddin Ajmal, cannot become the state's CM. Since the ruling BJP targets Ajmal for espousing the cause of 'illegal foreigners' (read Bangladeshi Muslims), Hazarika pounced on Bhuyan, saying that the latter is unmarried and "does not have to think about the future generations but I... can't think about my future generations working under Ajmal." Bhuyan responded by stressing on the unmarried bit, "He says I am unmarried so I cannot think about our future generations. It is fine. But while criticizing me he criticized prime minister, Narendra Modi, and chief minister, Sarbananda Sonowal [both unmarried]." Hazarika defended himself but it is always difficult to get past a self-goal.
Double standards
The Assam cabinet minister, Himanta Biswa Sarma, has urged the masses to observe Puja rituals at home to check the spread of Covid-19 and celebrate next year by which time it is hoped that the threat from the coronavirus will be a thing of the past. However, there are many on social media who have started questioning why huge poll rallies are being held for the Bodoland Territorial Council? Why are ministers and political leaders addressing massive meetings, why are they not wearing masks or maintaining do gaz ki doori (two yard distance) at such meetings to keep the virus at bay? But then who will tell them that while all Indians are equal, some are more equal than others.
Surprise entrant
The growing influence of the All India Congress Committee general-secretary KC Venugopal has been sending shock waves in his home state where the Congress-led United Democratic Front is eyeing a return to power next year. While the leader of the Opposition, Ramesh Chennithala, has been trying to make himself the obvious choice for the chief minister's chair, there were talks about the party high command air-dropping someone "very close" to the Gandhi family. Being the right hand of Rahul Gandhi, Venugopal is definitely sending chills to CM aspirants back home.
Footnote
The newly-appointed BJP national general-secretary, CT Ravi, seems to be too optimistic about his party's fortunes in the southern states where he is the man in charge. The former Karnataka minister is certain that the BJP will come to power in Tamil Nadu, Puducherry and Kerala in the 2021 assembly polls. With not much presence in these places, only Ravi can explain how he plans to pull this off. Perhaps he is trying too hard to impress his bosses. Is this why he is also trying to learn Hindi? Ill-equipped to deal with BJP leaders from the north, Ravi has realized that neither English nor Kannada would work in his new role. Ironically, as minister, Ravi had launched Kannada classes for non-Kannadigas living in Karnataka. Ravi does not want a linguistic handicap to stymie his growth as a national leader.