Women are warriors, says Jahnu
Thousands of women took part in the rally sporting gamosas and shouting slogans against the central and state government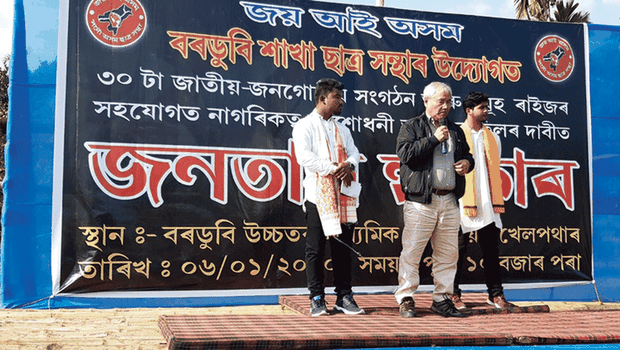 ---
---
Filmmaker Jahnu Barua on Tuesday compared women participating in protests against the Citizenship (Amendment) Act to Mula Gabharu, a woman warrior of Tai Ahom kingdom, who fought against an invading army, and appealed to all to keep patience as the movement will be a long one.
Speaking at a rally at Panitola railway gate in Upper Assam's Tinsukia district, Barua said, "Sisters and mothers who are taking part in the protest rallies against CAA are like Mula Gabharu. I appeal everyone to keep patience as this agitation will go on for long."
Thousands of women took part in the rally sporting gamosas on their heads and shouting slogans against the central and state governments.
AJYCP central organising committee secretary Kan Gogoi said, "The people will never accept this anti-Assam and unconstitutional Act at any cost. They will protest till the last drop of blood in their bodies," he said. Gauhati High Court advocate Arup Borbora said, "This agitation will be continue even after January 22, if CAA is not scrapped."
Over 20,000 people wearing traditional attire, singing devotional songs and playing different musical instruments also hit the streets in Dirak, appealing to the government to scrap the Act.