Withdraw CAA: Dhola massacre kin
Families seek security, jobs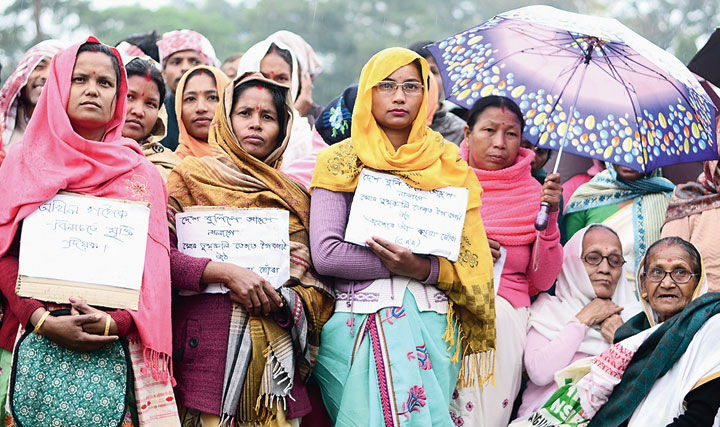 ---
---
The family members of the five Bengali-speaking persons killed in a suspected Ulfa (I) attack in Dhola block of Tinsukia district in Upper Assam on November 1, 2018, said on Friday that the government should ensure security and livelihood for genuine Indian citizens instead of imposing the Citizenship Amendment Act (CAA).
"Bharat sarkar doya korun (Indian government, have mercy). Please don't enforce CAA in Assam or in any other part of the country. Instead, ensure security and livelihood for genuine Indian citizens," Shyamla Biswas, 55, mother of Abinash, 21, and Ananta, 18, two of the five victims, appealed as she wept bitterly while talking to The Telegraph.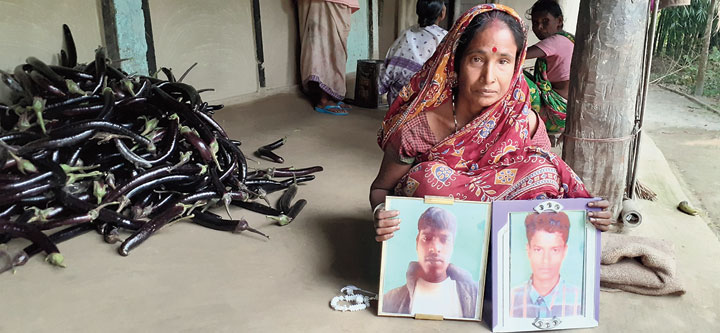 "Sob dige hahakar sristi hochhe CAA aasle, ekhan theke koto koto nirdosh manush morchhen (There is chaos and disorder everywhere in the country since CAA was passed, so many innocent people have died here). There was curfew and bandh in the state for over 10 days which ruined our small vegetable business because of transport blockade and other problems," Shyamla said as she arranged brinjals in a basket to sell in the local Dhola market amid heavy rainfall.
Shyamla lost three members of her family in the massacre — her two sons and her husband's younger brother Shyamlal, 50.
Her husband, Mohan Lal, 60, who looked sick, said, "Aamadar du ta haat bhangya gelo (Both our hands are broken — sons gone, brother gone. At that time too there was a massive protest in Assam against the Citizenship Amendment Bill (CAB). We became the victims. The government passed the bill without thinking of its side effects. Had the newly elected BJP government (2016) concentrated on law and order in the state, the massacre could have been avoided. The CAA has instilled a sense of fear and instability. When lakhs of Bangladeshis will be given citizenship, the situation in Assam will worsen. We are born and brought up here and expect from the government a citizen's basic needs — security, livelihood, roads, education and health facilities."
After the massacre, Mohanlal and his wife live alone in the house. Their daughter-in-law, Abinash's wife, who suffers from fear psychosis, lives in her maternal house.
Dhananjay Namsudra and Subal Das were the other two persons gunned down that day near a small bridge at Bishonimukh in Dhola block under Dhola police station under Sadiya Assembly and Lakhimpur parliamentary constituencies.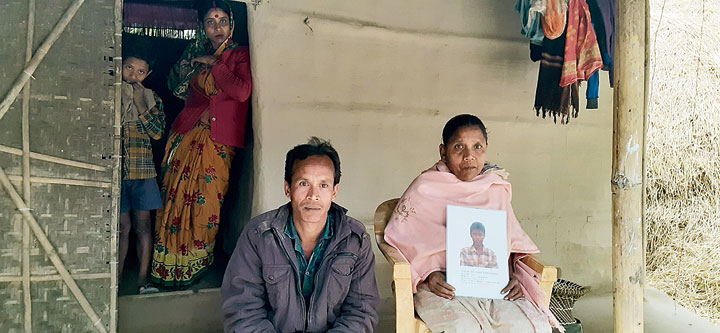 Dhananjay's mother, Probasi, told The Telegraph, "The huge Dhola-Sadiya bridge, which was inaugurated by Prime Minister Narendra Modi (on May 26, 2017), is just 1km from our village but there is still no sign of development here. We feel insecure as soon as the police patrol team leaves the village. We request the government to establish a police outpost in this area."
Dhananjay's brother Subal, a farmer, said, "We stand firm with the indigenous people of Assam in the movement against CAA. I strongly believe that instead of granting citizenship to illegal migrants from neighbouring countries, the government should make an honest effort to provide security to the genuine citizens of India, encourage peace and harmony and create employment. The Act will only bring misfortune to the people as security threat, job scarcity and many other problems will arise."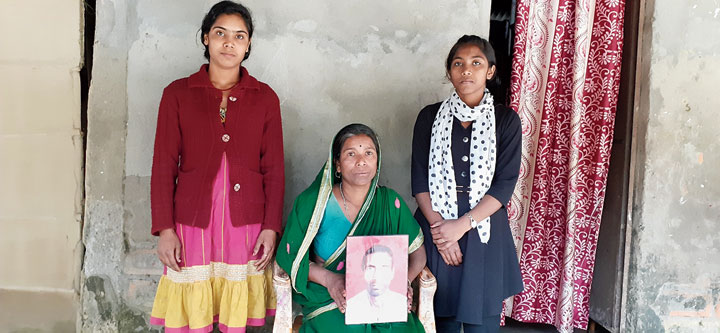 There are around 300 Bengali households here. They are basically dependent upon cultivation as the land near the Brahmaputra is fertile and suitable for vegetables and paddy cultivation. The shops run by the victims' families were closed after the massacre due to insecurity.
Subal's widow, Shantwna, whose house is quite far from the other victims' families, said, "Life is very tough in my husband's absence. I have six daughters. Three of them are married, one is in a state of shock after her father's death and lives at home, Sumoti is in class X and Hewali is in class IX in an Assamese-medium school. Since last month, we have been observing a kind of abnormality in the state over the illegal foreigners issue. Being a part of the greater Assamese society, I am not in favour of CAA. It will bring misfortune to us. I appeal to the government to withdraw it."
Sumoti said, "If the government is really worried about these people (illegal foreigners), it should detect and deport them to their respective countries. They should ask the government of these countries to treat them equally. The government can also raise the matter at international fora. The population of our country is already very large and the government finds it difficult to provide security, livelihood and other basic needs for all. Then why take the extra burden? Please don't violate the Assam Accord by bringing CAA here."
The problem of illegal migrants in the state had given rise to the Assam Agitation (1979-85) during which 855 people died. The movement, led by the All Assam Students' Union (AASU) and the All Assam Gana Sangram Parishad (AAGSP) , developed a protest programme to compel the Centre to identify and expel illegal migrants, mostly from Bangladesh, and protect and provide constitutional, legislative and administrative safeguards to the indigenous Assamese people. The unrest officially ended on August 15, 1985, after the signing of the Assam Accord. The Accord says anyone who entered the country after the midnight of March 24, 1971 would be deemed a foreigner.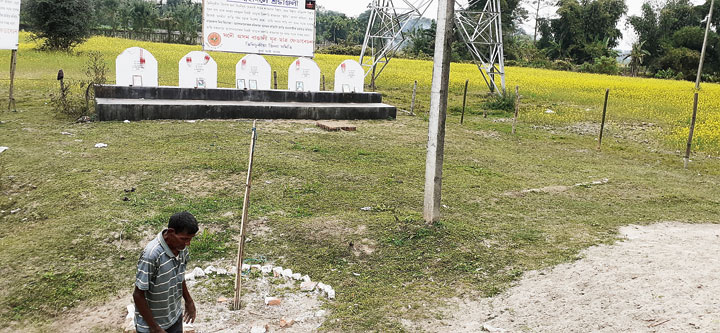 The CAA seeks to grant citizenship to religiously persecuted members of six non-Muslim communities from Bangladesh, Pakistan and Afghanistan who entered India till December 31, 2014, even without valid documents.
Five persons have died in anti-CAA protests in Assam. The protests erupted after the Lok Sabha passed the CAB on December 9.
In Assam, people are worried that CAA will help lakhs of immigrants from Bangladesh to settle in the state, which would pose a threat to the indigenous language, land and culture. It will bring in its wake security threat and livelihood problems, they fear.