'Undeclared emergency' now in India, says Yashwant
Former Union minister says 'virulent' communalism makes this more dangerous than Indira's Emergency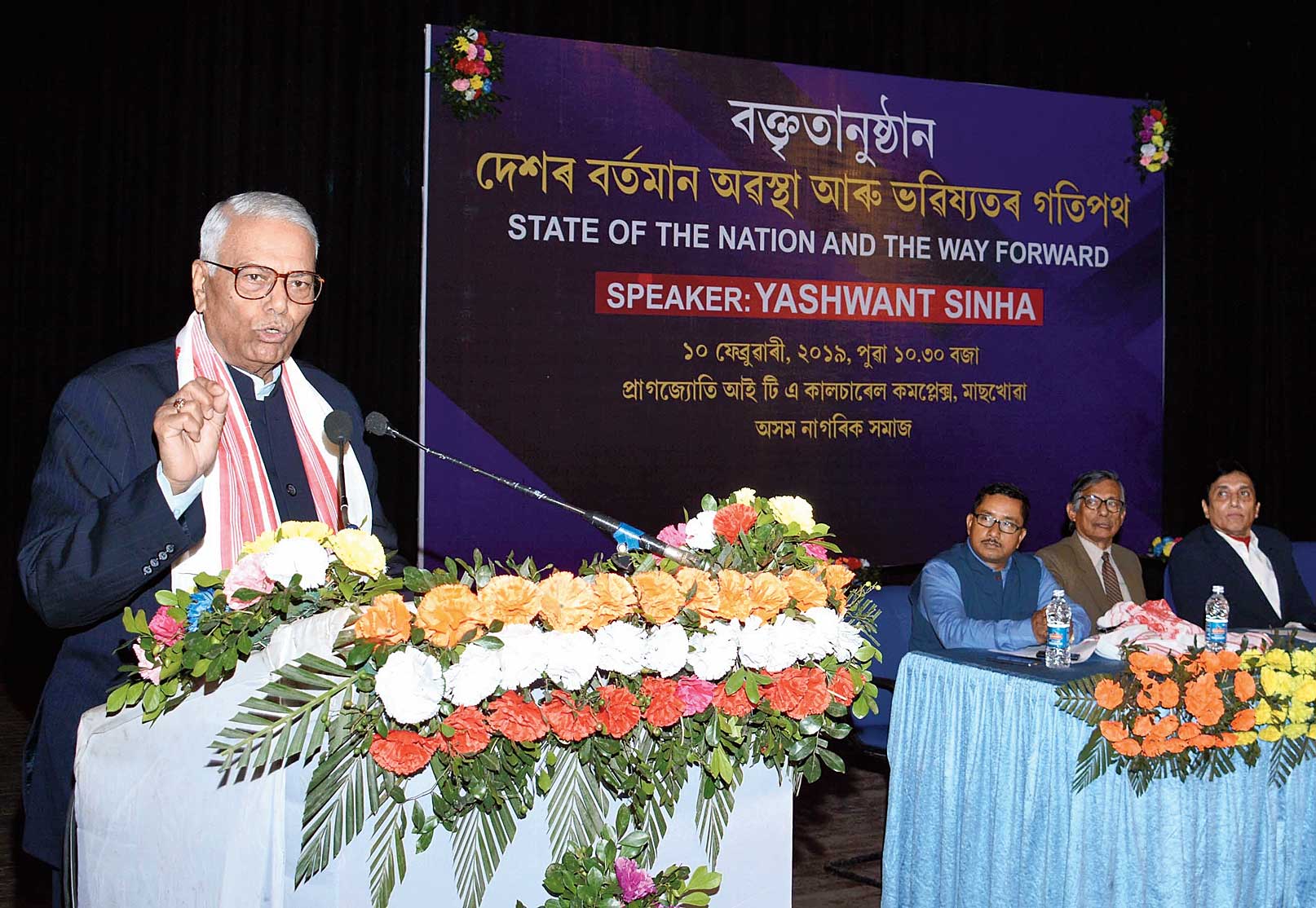 Yashwant Sinha at the event in Guwahati on Sunday.
Picture by UB Photos
---
Guwahati
|
Published 10.02.19, 06:38 PM
|
---
Yashwant Sinha, a former BJP leader and finance and external affairs minister under the Atal Bihari Vajpayee-led NDA government, said India was under an undeclared state of emergency under Prime Minister Narendra Modi.
He said the BJP won't return to power and that the people of the Northeast should ensure that not a single Lok Sabha seat from the region goes to the party.
Sinha said the difference between this undeclared state of emergency and that of the emergency as declared by former Prime Minister Indira Gandhi was that this one is more dangerous as it is combined with a "mad and virulent communalism". He also warned that if the Prime Minister comes to power again, whatever little democracy is left will vanish, and urged the people of the Northeast and India to stand up against this.
While speaking at an event here, Sinha said this was a dharmayudh (holy war) for him as his travels to different parts of the country made him realise that people were worried under Modi. Sinha didn't spare words in deriding, mocking and taking potshots at Modi and at the BJP.
"The BJP won't return to power. This is a dharmayudh. Wherever I travel people are worried. This is an undeclared state of emergency in the country and there is an overwhelming atmosphere of fear across all sections of the population. If we don't take a stand, we won't be able to save democracy. People of the Northeast should ensure that not a single seat is won by the BJP here," said Sinha
The former NDA minister raised serious concerns over India's democratic institutes as the executive wing of the government, the CBI, RBI, the media, Election Commission and others are all under attack.
Drawing an allusion to the present dispensation of BJP with that of the Kauravas from the Mahabharat, Sinha said just like only two Kaurava brothers are known to the readers, only two names are the face of the BJP as of now.