Two more Brus die as blockade continues
They demand ration and relief items which were stopped on September 30 in the midst of 9th phase of repatriation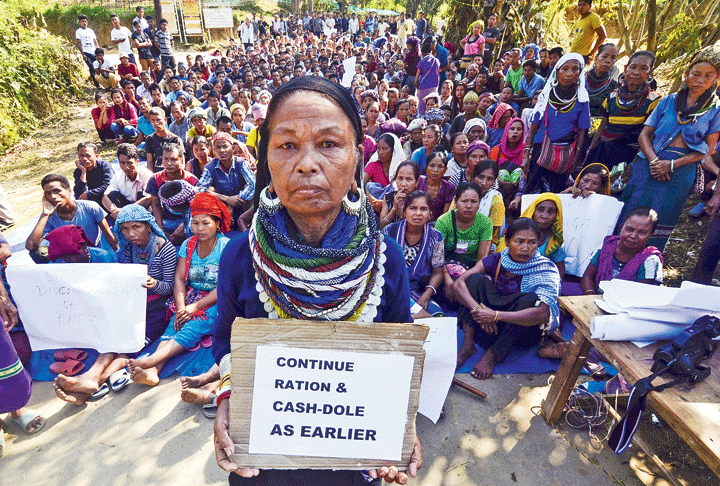 Bru refugees protest in Kanchanpur on Sunday
(PTI)
---
Agartala
|
Published 03.11.19, 07:19 PM
|
---
A two-year-old boy and a 65-year-old woman died at Naisingpara camp in Kanchanpur subdivision of North Tripura district on Sunday allegedly because of starvation amid the refugees' agitation for resumption of rations and cash dole.
With the two deaths, the toll is now four since Friday with the agitation entering its fourth day on Sunday.
Speaking to The Telegraph, the general secretary of the Mizoram Bru Displaced People's Forum, Bruno Msha, alleged that all four died of "starvation".
"We are protesting the decision to stop ration supply amid ongoing repatriation in Mizoram. We held a road blockade for the fourth day from Dasda to Anandanagar in North Tripura which connects Dasda, Bhandarima, Anandanagar and other adjoining areas. The number of deaths has gone up to four. They all died of starvation. If the Centre does not resume ration supply and distribution of relief materials for the refugees, the number of deaths will increase. A two-year-old boy and a 65-year-old woman died of starvation this afternoon at the Naisingpara camp. On Friday, an infant and a 60-year-old woman died of starvation," Msha alleged.
He said they continued the indefinite road blockade demanding ration and relief items which were stopped on September 30 during the ninth phase of repatriation.
"The Centre has stopped everything. The repatriation is going on, but it is not possible to be repatriated without food. We are humans and not machines. Today is the fourth day of the road blockade, but nobody from the administration approached us with any positive response. We want immediate resumption of ration," Msha said.
Prem Kumar Reang, an Indigenous People's Front of Tripura (IPFT) MLA from Kanchanpur constituency in North Tripura district, on Sunday threatened to resign if the government did not resume supply of ration and other relief materials for the Bru refugees living in six relief camps in the district. Reang said he had met the Bru refugees and enquired about their problems on Saturday.
"I met the Bru refugees at Laxmipur village where they have been staging a road blockade for four days. They are ready to be repatriated in Mizoram, but their ration supply was stopped last month by the Centre. How can they be repatriated with empty stomachs? The government is violating human rights by not giving relief materials. This is unconstitutional and should not be done. If the government does not resume supplying ration and relief materials to them I will resign from my post," he said.
He felt "ashamed" because being an MLA of the area he cannot do anything for the Bru refugees. "People of my community are dying of starvation and if I keep mum it will be a shame for me. Despite being a local MLA, I do not have enough scope to do anything on this issue. So it is better to quit the MLA's post. They will return to Mizoram, but the government should address their demands and start supplying ration immediately."
Kanchanpur subdivisional magistrate Abhedananda Baidya said he had visited the blockade site twice and claimed that the decision of resuming ration supply was not in his hand.
"We have arranged vehicles, including ambulances, and deployed police. Section 144 CrPC have been imposed in the area near the food godown, which is 4km from Laxmipur village," he said.