Track sensation Hima Das back from Turkey for HS exam
Dhing, 15km from Nagaon, is now known for Hima and her world record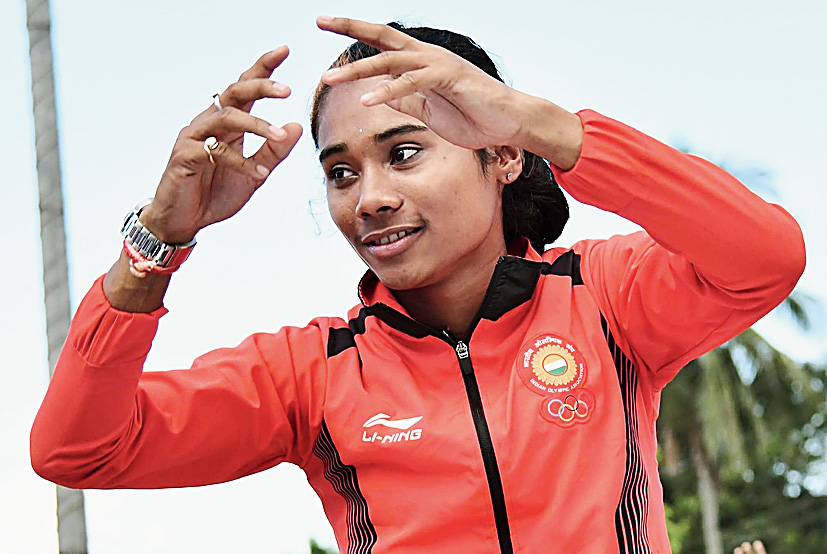 Hima Das in Guwahati on Tuesday.
PTI
---
Nagaon
|
Published 12.02.19, 06:55 PM
|
---
Dhing College on Tuesday received its famous student Hima Das on Tuesday, who, after a year-long gap, appeared for her higher secondary final examination this year.
She greeted her invigilator and history teacher Biman Hazarika with a simple "Good morning, sir", which reduced him to tears.
"Today we have got back the same Hima in this hall that we found in the classrooms years ago. The talkative, slim girl with a smile on her face," Hazarika said.
Hazarika, an assistant professor in the college, was the invigilator during the first day of the examination on Tuesday. Altogether 269 students appeared for the exam from Dhing College this year.
"We have made a special arrangement in an extra room for Hima and will continue doing so till the end of her examination. Geography on March 9 is her fourth subject and that will be her last paper," Dhing college principal Sarat Dutta said.
Hima, who after the Asian Games had been practising in Turkey, reached the quiet town on Monday. She spent the night at home and rushed to the examination hall on Tuesday morning. She was in her school uniform.
Dhing, 15km from Nagaon, is now known for Hima and her world record.
Two of Hima's classmates — Deepsikha and Nilanjana — who are also appearing for their exam this year, came to the school on a cycle. "There was a time when she (Hima) used to come to school with us on a cycle. As many as 15 girls from our Kandhulimari gaon used to come in a group. Our routine of cycling to school continues," Nilanjana said.
"Hima is always just a phone call away but the situation has forced us to miss a talkative cyclist in the group," Deepsikha said.
Hima, accompanied by her security guards, arrived in an Innova for the exam.
"My aim is to complete my college studies at any cost and for that I rushed to Dhing. After completing my examination I will return to Turkey," Hima said.
"I must finish my graduation and I will do that from Dhing College," she said.
Hima, 18, completed her schooling from her local high school and got admitted to higher secondary first year (Arts) in Dhing College in 2016. She left her college without appearing for the final examination last year because of her busy schedule.