Tension in Mizoram border villages
Police officers and constables were sent to Lawngtlai to take stock of the situation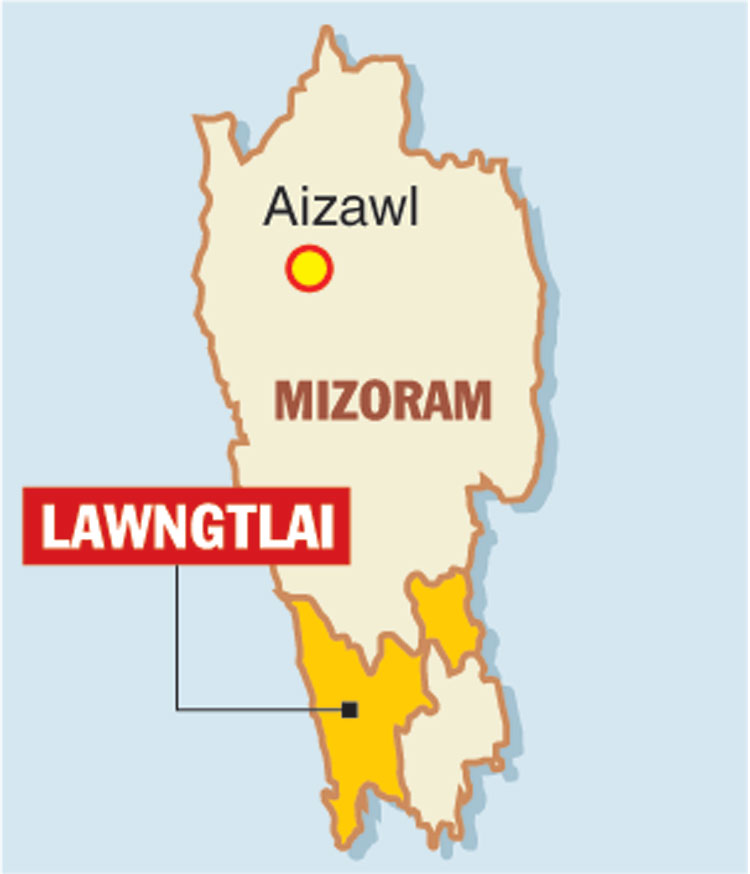 Lawngtlai district
Source: The Telegraph
---
Aizawl
|
Published 21.02.19, 07:15 PM
|
---
Tension prevailed in south Mizoram's Lawngtlai district on Thursday after the Indian Army reportedly rounded up people of remote villages bordering Myanmar in the wake of reported armed clashes between the Myanmar army and Rakhine based Arakan Army militants in the neighbouring country, along the international border.
Sources said some police officers and constables were sent to Lawngtlai on Thursday to take stock of the situation.
Sources in Lawngtlai said the Indian Army assembled residents at Vathuampui village in Lawngtlai on Wednesday on the pretext of organising a free medical camp. They were told not to venture out to the Indo-Myanmar border to avoid untoward incidents, they added.
The home ministry had reportedly sent two additional companies of the Assam Rifles and the Assam Regiment to Lawngtlai following fresh clashes between the Myanmar army and the Arakan Army.
The sources said about 200 jawans entered Vathuampui last week and 500 this week for deployment in the south-western part of Lawngtlai to prevent the entry of militants in the country.
They said panic has gripped border villagers as they are sceptical about the movement of the army.
A resident of Lawngtlai town said people in the border villages have never seen such a massive deployment of forces and their movement in area has triggered suspicion.
A Myanmar-based news agency, Irrawady, on Monday reported that Indian forces sealed the border as fighting between Myanmar Army and the AA intensified.
A senior police officer said villagers of Vathuampui, Laitlang and Zochachhuah were being rounded up by the army to ask them not to venture out in the jungles as the troops are carrying out routine exercise. He also said there was no reason to panic as the state police have so far received no reports of militants crossing the international border into India. He, however, said the home ministry has not given any clear-cut information about the movement of troops along the Indo-Myanmar border.
The People's Representation for Identity and Status of India (Prism) alleged human rights violation by the army for allegedly rounding up villagers. Saying that the presence of troops has caused panic, the newly floated party urged the state government to reveal the exact reasons for the border exercise.
The movement of the army in the wake of fresh armed conflict in Myanmar is also doing rounds on the social media, sparking panic.