Tai Ahom protest against Act
Suraj also demanded ST status for the Tai Ahom community of the state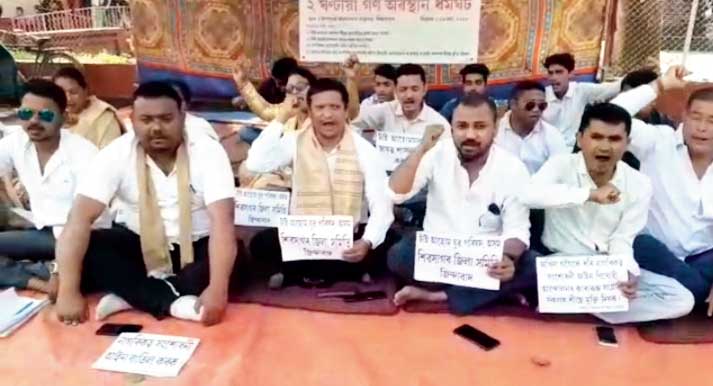 Members of the group stage a protest on Monday.
Picture by Avik Chakraborty
---
Dibrugarh
|
Published 16.03.20, 10:03 PM
|
---
The Tai Ahom Yuba Parishad Asom (TAYPA) on Monday staged demonstrations in several parts of Upper Assam over various demands, including scrapping of the Citizenship Amendment Act (CAA).
Members of the youth organisation organised a two-hour sit-in in front of the deputy commissioner's office in Sivasagar, demanding repeal of the CAA, granting of Scheduled Tribe (ST) status to the Tai Ahom community, introduction of inner-line permit (ILP) in Assam and declaration of Assam as a "tribal state".
Terming the CAA "unconstitutional" and "anti-people", the general secretary of the organisation's Sivasagar district unit, Suraj Gogoi, said people's movement against the CAA would be taken to its logical end and the people of Assam would not rest till the Centre withdrew the law.
"The CAA is a big threat to the identity, language, land, culture and jobs of the Assamese people. The BJP-led government is hatching a conspiracy to finish our identity, language and culture . We will not allow it to be implemented at any cost. Our state should be kept outside the purview of the Act," Suraj said.
He added that the CAA was an anti-constitutional and anti-people Act. "We will not allow this Act to be implemented in Assam," he said.
Suraj also demanded ST status for the Tai Ahom community of the state.
Granting of ST status to Tai Ahom, Koch-Rajbongshi, Chutia, Moran, Motok and tea tribes was a poll promise of the BJP during the 2014 and 2019 Lok Sabha elections and the 2016 Assembly election.
"There should be no more delay in granting ST status to the Tai Ahom community. We want Assam to be declared a 'tribal state'. We also demand constitutional safeguards such as the ILP to secure the future of the indigenous people," Suraj added.
He demanded unconditional release of KMSS leader Akhil Gogoi who has been in judicial custody for last three months after being arrested during the anti-CAA agitations in the state.
The TAYPA also held sit-ins at Nazira in Sivasagar district and Sadiya in Tinsukia district on Monday.
Demonstration: Activists of the Dibrugarh unit of the All Assam Tai Ahom Students' Union, in association with its Naharkatia sub-division and Naharkatia regional units staged a two-hours sit-in at Naharkatia in Dibrugarh district on Monday, demanding SC status to their community, repeal of the CAA and unconditional release of the protesters arrested during several anti-CAA protests.
Additional reporting by Pradip Kumar Neog in Duliajan