Top court seeks status of detainees
Illegal foreigners who have completed more than 3 years in detention may be released, SC ordered on May 2019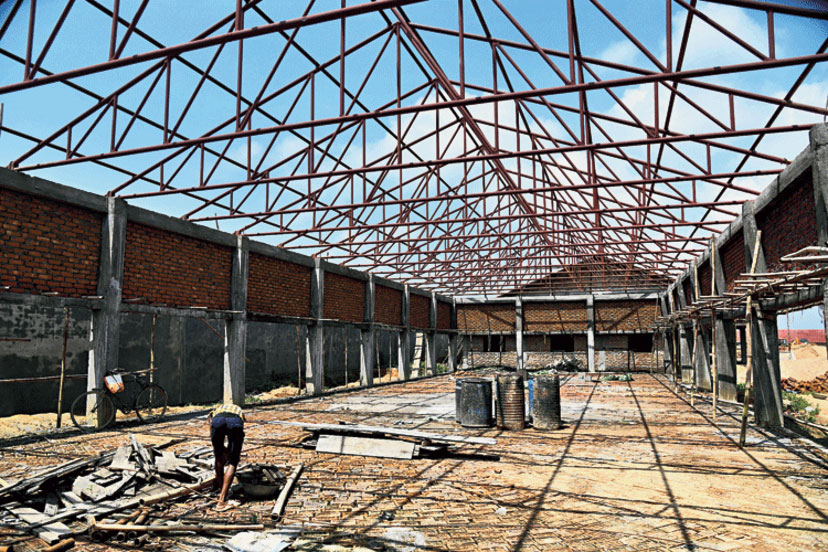 An under-construction detention centre in Assam's Goalpara district
(AP file picture)
---
Guwahati
|
Published 14.02.20, 09:59 PM
|
---
The Supreme Court on Friday directed the Centre and the Assam government to file a fresh report on the status of release of Bangladeshi immigrants living in detention centres in the light of its earlier order.
The top court had, in May last year, ordered that illegal foreigners who have completed more than three years in detention may be released, provided they fulfil three conditions — submitting two sureties of Rs 1,00,000 each and a verifiable address, collection of their bio-metric information and that the person must report to a designated police station every week.
On Friday, a bench, headed by Chief Justice S.A. Bobde, was apprised by advocate Prashant Bhushan, amicus curies of the case, that over 300 people were in kept in detention centres for over three years, while more than 700 had been detained for over one year. Bhushan recommended that the court ask a neutral examiner to examine the conditions of detainees in the state's detention centres and submit a report to the court. In his note to the court, Bhushan said release of the detainees many months after the Supreme Court's order "points to the very onerous conditions that have been imposed for the release of these detainees."
Citing poor financial conditions and remoteness of habitations from police stations of the detainees, Bhushan recommended that the court reduce the surety from two to one, its amount from one lakh to 25,000 and reporting at police station from once a week to once a month.
The apex court posted the matter for hearing in the third week of March after solicitor general Tushar Mehta sought time.
The court also agreed that the state government should be given some more time to indicate the progress made on the diplomatic level, among others, with regard to deportation of declared foreigners and setting up of additional foreigners' tribunals.
It also directed the state government to place on record a detailed scheme, in consultation with the Gauhati High Court (on the administrative side), with regard to the constitution of foreigners' tribunals, including the appointment of members and staff.
The said details shall be placed on record as soon as possible and, if required, the state will be at liberty to make a mention of the matter before the vacation bench, the apex court had said. It had earlier asked the Assam government to work on the modalities of setting up around 1,000 foreigners' tribunals for speedy disposal of cases related to illegal immigrants.