Sharjeel: Videos real, speech misconstrued
Imam was brought to Guwahati on Thursday in connection to a case registered by the crime branch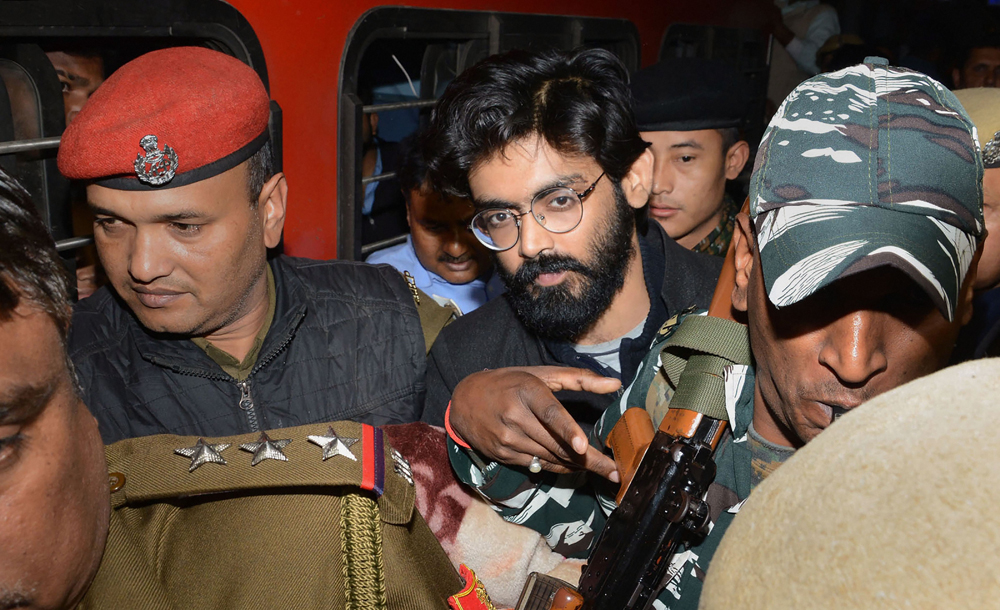 ---
|
Guwahati
|
Published 22.02.20, 06:34 PM
---
Anti-Citizenship Amendment Act (CAA) activist Sharjeel Imam, undergoing a marathon quizzing by Assam police here, reportedly admitted that the videos of his speeches were genuine but said he was misinterpreted.
Imam was brought to the city on Thursday evening from New Delhi in connection to a case registered by the crime branch here and has been facing a series of interrogation by Assam police sleuths since Friday morning.
On January 25, the Assam police crime branch registered a case against Imam and slapped various charges on him, including sedition, prompting enmity between different groups on ground of religion, race, place of birth, residence, language etc and abetting unlawful activity.
Imam, a former JNU student, allegedly made a provocative statement on January 16, asking the anti-CAA protesters in Delhi to "cut" Assam from the rest of India.
Delhi police arrested him from Bihar's Jehanabad on January 28.
Sources said, "Imam said the video clips doing the rounds on social media were genuine but they don't contain his full speech. He also claimed that he had spoken in the heat of the moment."
State police, however, believed that Imam's speech was part of a "well-planned strategy". Assam police have been trying to find out Imam's "Assam connection".
Sources added that the crime branch has been checking the details of at least two videos, both mobile clippings. Based on the speeches on the video clippings, the crime branch had registered the case against Imam.
"Imam's electronic gadgets were scanned. Now the police are checking whether anyone from the state was in touch with him. There is a possibility that he might have come to Assam earlier too. More questioning is needed to ascertain and corroborate the findings," a source said.
The police are also probing whether the anti-CAA activist was in touch with any members of the radical Islamist outfit Popular Front of India (PFI)'s local unit.
Following the violence during the anti-CAA protests in the city on December 11-12, Assam finance minister Himanta Biswa Sarma had said that there was evidence of PFI members trying to storm and set ablaze the state secretariat on December 12 by posing as anti-CAA protesters.
The PFI is suspected to have funded the recent spate of violence during the ongoing protests against the Act across the country.
Assam police had also arrested state PFI leaders for allegedly conspiring, planning and facilitating violence across the state during the protests.