Sarbananda Sonowal assures 'sons of the soil'
Sarbananda Sonowal announced that the government would soon bring a new land law to protect their lands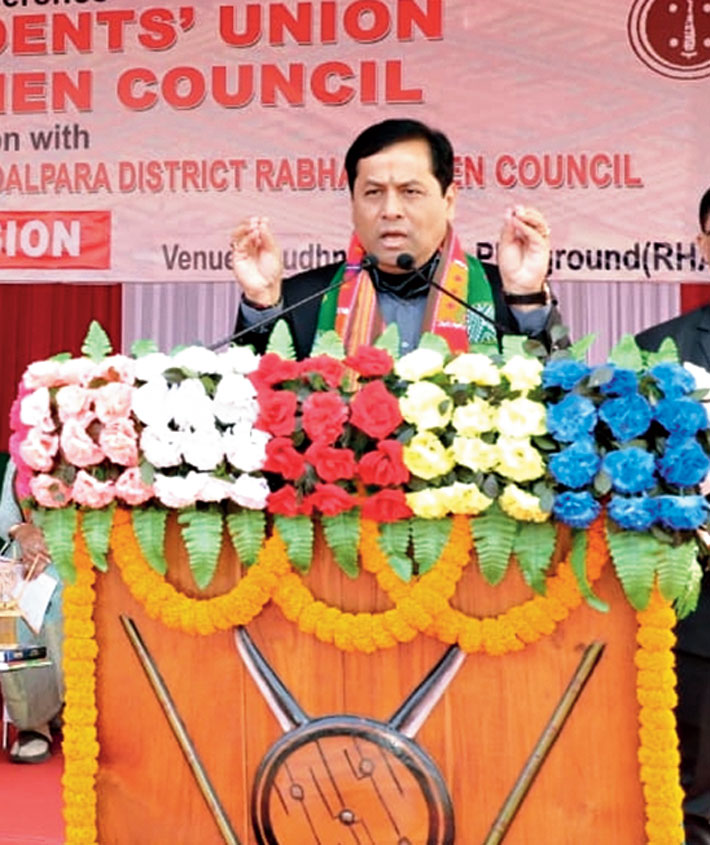 Sarbananda Sonowal speaks at Dudhnoi on Saturday
Telegraph picture
---
Goalpara
|
Published 11.01.20, 07:46 PM
|
---
Chief minister Sarbananda Sonowal on Saturday said the BJP government would work to strengthen the power of "sons of the soil".
Speaking at Dudhnoi, Goalpara district, he said: "Our government has been formed with the support of the Asom Gana Parishad, Boro People's Front, Gana Shakti which represent sons of the soil of Assam. So, we are committed to protect their existence and identity."
He also announced that the government would soon bring a new land law to protect their lands.
"So long the BJP government is there, the sons of the soil should not worry about their identity and existence," Sonowal said in a meeting organised at Dudhnoi public field on account of a conference of the All Rabha Students' Union (Arsu) and its women's wing.
"Aamar Asom, aamar mati aaru aamar adhikaar (Our Assam, our land and our right). If needed, special constitutional provisions will be made to protect them," the chief minister said.
Sonowal highlighted the contribution of Kalaguru Bishnu Rabha in art and culture, Birubala Rabha for her crusade against superstitions and witch-hunting besides Sukrachajya Rabha for his innovative drama under sal trees.
Minister for finance, health and PWD Himanta Biswa Sarma termed the ongoing AASU agitation against the BJP in the state as the "Bongohor jooj (fight within the same dynasty)".
"It does not look good when we fight among ourselves and the third party enjoys that."
Sarma claimed at present only five Upper Assam districts are secured and in the hands of the indigenous people, but the rest already are under the influence of suspected Bangladeshis.
"If someone thinks that the Baghbor and Jonia constituencies — dominated by Bengali-speaking religious minorities — will read and speak Assamese in the next census, then he is living in a fool's paradise," he added.
Attacking the AASU, Sarma said: "When Abhijit and Nilotpal were lynched in Karbi Anglong district, the AASU called the Karbi Students' Union to Guwahati and asked them to apologise to their parents by touching their feet. Now the question did not arise when Sanjay Ghose, an NGO activist, was murdered in Majuli district. Then no one asked AASU to apologise to Ghose's parents.
"AASU should go and protest in Jaleswar and Baghbor where there is no Assamese influence, instead of in Guwahati," he said.