Rare Assamese cat snake 'reported' in Bhutan
Little is known about its natural history except that it is associated with bamboo forests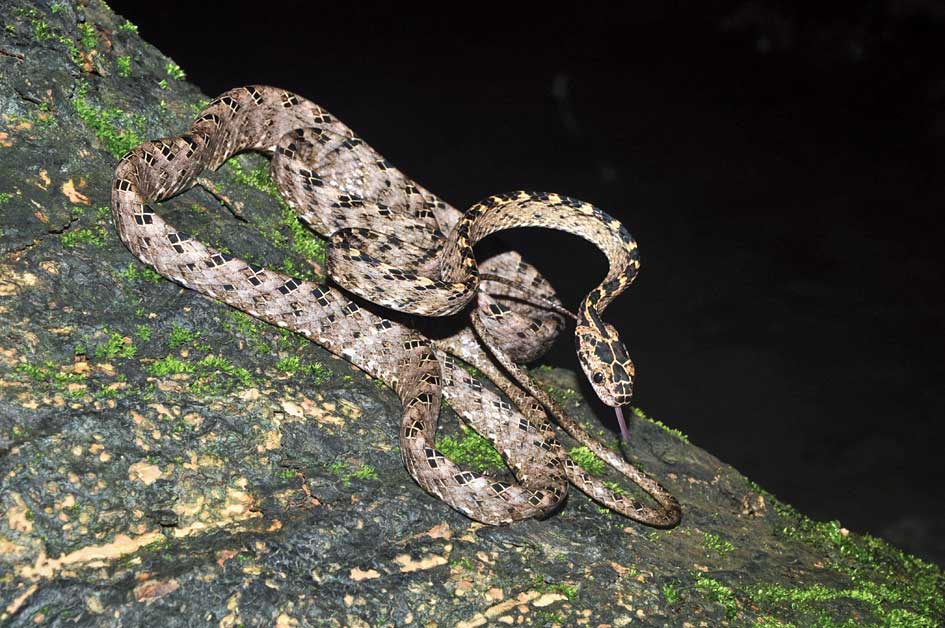 The Assamese cat snake at Barail wildlife sanctuary.
Picture courtesy: Abhijit Das
---
Guwahati
|
Published 27.04.20, 08:29 PM
|
---
The rare Assamese cat snake has reported its royal presence for the first time from the Himalayan Kingdom of Bhutan.
A team of officials from Jomotsangkha wildlife sanctuary in Bhutan with the help of herpetologist Abhijit Das of the Wildlife Institute of India has found Assamese cat snake (Boiga quincunciata) from Menjiwoong village of Jomotsangkha town in Bhutan for the first time. The place is 6km from the Assam border.
The finding was mentioned in Monday's edition of the Journal of Threatened Taxa.
The officials from the sanctuary are Lekey Chaida, Ugyen Tshering and Dorji Wangdi.
"I got this species from my friends in Bhutan who asked for more information on this," Das told this correspondent.
"The snake was discovered by Col Frank Wall from Tinsukia and Rangagara in Upper Assam close to the present Dibru Saikhowa National Park in 1908. After a gap of almost 32 years, two additional specimens of Assamese cat snakes were recorded from Myanmar by Malcom Arthur Smith. Since then nothing was known about this snake until 2000 when this species was rediscovered after a gap of almost 60 years from Garbhanga reserve forest close to Guwahati by herpetologist Saibal Sengupta," Das said.
"Subsequently fresh observation on this snake was made from Jeypore reserve forest, Barail wildlife sanctuary and Dibrugarh of Assam and additionally from Arunachal Pradesh, Mizoram, Meghalaya and north Bengal states. With the latest addition of this species to the fauna of Bhutan, there has been significant increase in the distribution range of the species that include the Northeast India, Myanmar and Bhutan since its description 112 years back."
"The bordering areas are losing forest cover and often development projects like road planned along border thus fragment forest continuity that affects species which are rare and endemic."
Das said: "This elegant and elusive species got its name (Boiga quincunciata) from its chequered dark spots on its body. It is one of the members of six species of cat snakes known from Assam. It can be easily identified from other cat snakes of Assam by observing its head with three black spots and series of black blotches on top of its body. This 1.5-metre long slender, nocturnal and arboreal snake is non-venomous and rarely encountered in lowland evergreen forests close to streams.
"Little is known about its natural history except that it is associated with bamboo forests. A few sightings comes from rocky slopes where they were seen hunting bent-toed geckos. Their ribbon-shaped body, light body weight are just perfect for movement among rocky crevices and steep slopes. They lay elongated eggs up to five in number during July.
"Due to its apparent rarity and poorly known status, the Assamese cat snake is not evaluated in the IUCN Red List so far."
The authors say with the confirmed occurrence of Assamese cat snake in Jomotsangkha wildlife sanctuary, Bhutan now has seven Boiga species and 70 snakes in the herpetofauna list and this region should be prioritised for future survey efforts.
"Follow-up efforts should target in tropical and subtropical forest near riverine ecosystems, bamboo forest and even near human settlement to get additional distribution range of this snake in the country and the region," they said.