Quest for reunion in afterlife
Garo film bags award at Shanghai festival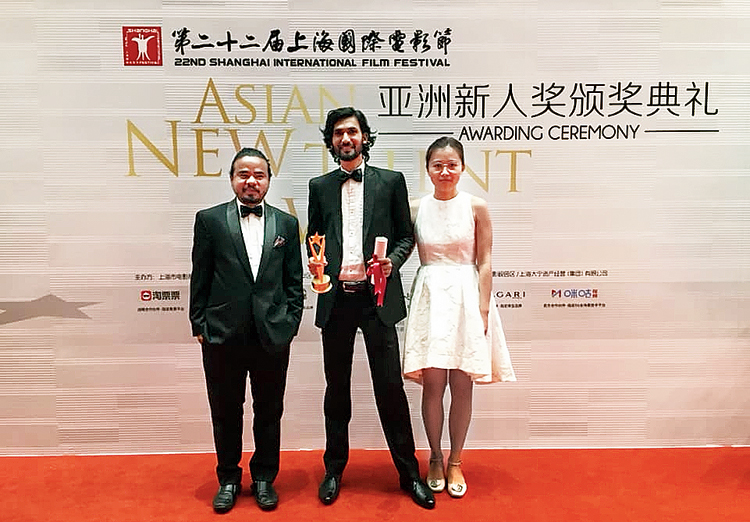 MA•AMA director Dominic Sangma and cinematographer Acharya Venu at the awards ceremony in Shanghai
A Telegraph picture
---
Shillong
|
Published 25.06.19, 06:40 PM
|
---
A film based on the yearning of an octogenarian to reunite with his wife in the afterlife has won the best cinematography award at the 22nd Shanghai International Film Festival.
MA•AMA, a film by Meghalaya filmmaker Dominic Sangma, had its international premiere at the film festival.
The Garo-language film's actor and Dominic's father, Philip Sangma, who is close to 90 years of age, and its cinematographer, Acharya Venu, were nominated for the Asian New Talent award for best actor and best cinematographer respectively.
The film is based on the true experiences of Philip and it took Dominic more than five years to write the script, which involved intimate conversations with his father. The filmmaker has no memories about his mother who passed away when he was two-and-a-half years old. His impressions of her were inherited from his older siblings.
Apart from Philip, all the other family members played themselves in the film, while villagers helped Dominic during the shoot.
MA•AMA is Dominic's first feature film and a Sino-Indian production.
In the film, Philip's yearning to reunite with his wife is jeopardised by a dream — in which he searches for her among a crowd of women in a barren landscape. But despite his efforts, he is unable to recognise his wife's face.
Dominic graduated from the Satyajit Ray Film and Television Institute in Calcutta and had earlier worked with the National Film Development Corporation before he started his own production company, Anna Films. He also teaches direction and script writing at the Film and Television Institute, Itanagar.
Dominic's diploma film, Rong.kuchak (Echoes), won the National Students' Film Award in 2014, and also got special mention at the Ca'Foscari Short Film Festival in Venice in 2015.