Pumps set up, Meghalaya mine dewatering from today
Divers from the navy and the NDRF want the water level to go down to about 100 feet in order to resume rescue operation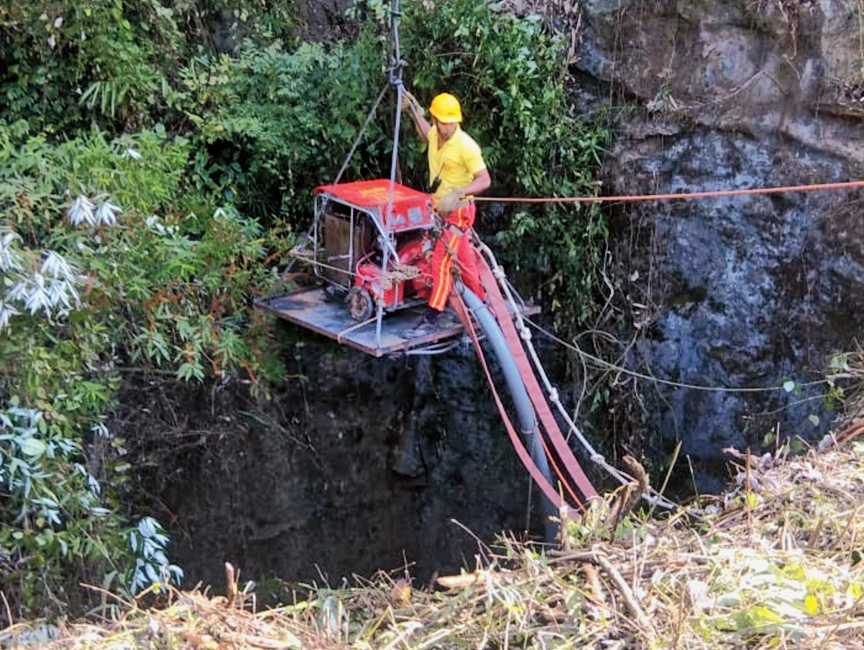 A pump being lowered into the mine in East Jaintia Hills
The Telegraph picture
---
Shillong
|
Published 04.01.19, 06:54 PM
|
---
The much-awaited dewatering of the coal mine where 15 miners have been trapped since December 13 last year is likely to begin on Saturday.
On Friday evening, personnel from the Pune-based Kirloskar Brothers Limited were able to insert two water pumps inside the mine, official spokesperson R. Susngi said from the site. The firm had sent its team to Thailand last year to help in the rescue of 13 persons from a cave.
Coal India Limited personnel also inserted a pump in an old mine located near the main shaft, Susngi said. With these high-power pumps being inserted, the operation to dewater the main shaft and the old mine is likely to commence from Saturday, he said.
"Navy divers will determine the water level in the main shaft after the dewatering process by Kirloskar Brothers Limited," Susngi said.
Till 5pm on Friday, personnel from the Odisha fire and disaster management services had pumped out 9,00,000 litres of water from another old shaft with two pumps, leading to decrease in its water level by 3.5 feet.
In the morning, the personnel had reported that this second old shaft, from where water was pumped out on Thursday, had regained the same level, Susngi said.
Around 164 personnel from the navy, National Disaster Response Force (NDRF), State Disaster Response Force (SDRF), Odisha fire and disaster management services, Coal India Limited and Kirloskar Brothers Limited are involved in the operations at Ksan.
Officials of East Jaintia Hills district administration and state police are also camping at the site.
High water level has been hindering search and rescue operations in the coal mine. It is nearly 355 feet deep, of which more than 150 feet is under water.
Lakhs of litres of water have been pumped out of the main shaft and adjoining shafts since the accident was reported but the water level has not been receding.
Rescuers are hoping that the high-power submersible pumps, which can take out at least 500 gallons of water per minute, will help bring down the water level drastically. This will enable divers to go deeper into the mine to conduct search and rescue operations.
Divers from the navy and the NDRF want the water level in the main shaft to go down to about 100 feet in order to resume rescue operation, an official of the diving operations team said.
Earlier, an underwater remotely operated vehicle, used by navy divers, had detected some wooden structures, a rat-hole tunnel and coal inside the mine. However, there were no reports of the vehicle detecting humans.