Protest, not birthday, on Mahanta's agenda
Former CM Prafulla Mahanta staged a demonstration at Gandhi Mandap atop Sarania hills in Guwahati on Monday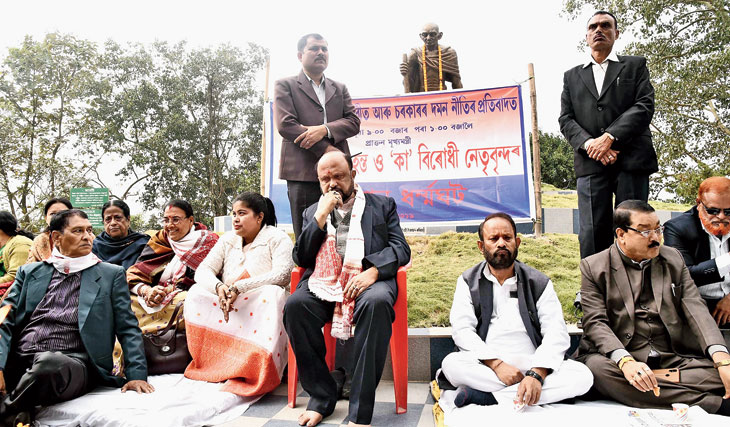 ---
|
Guwahati
|
Published 23.12.19, 09:49 PM
---
Former chief minister and AGP leader Prafulla Kumar Mahanta, who turned 67 on Monday, skipped his birthday celebrations and continued his fight against the "unconstitutional" Citizenship (Amendment) Act, 2019(CAA).
Stripped of his National Security Guard cover on Saturday, allegedly due to his opposition to the Act, Mahanta on Monday staged a demonstration at Gandhi Mandap atop Sarania hills in the city.
The demonstration site was chosen as Mahanta believed that the Act is against the Father of the Nation's idea of a "secular" India.
Gandhi Mandap is a museum constructed in memory of Gandhi's visit to the spot before Independence. It also sports India's tallest Tricolour.
Coming down heavily on the ruling BJP, Mahanta said the ruling government, though it claims to follow Gandhi's path, has been working for just the opposite.
"It looks like the government has taken Gandhi's three monkeys in a different way. This government has shut its ears and eyes to the voices of the people and chosen to keep a blind eye to the people's anger. The government is also trying to gag the voices raised against it," Mahanta said.
Earlier on Sunday, he accused Dispur, Delhi and Ulfa (Independent) of hatching a conspiracy to scale down his Z-plus NSG security cover to Z-plus CRPF in an attempt to restrict his movement and keep him from openly protesting against the Act.
Targeting Prime Minister Narendra Modi, the former chief minister said, "If Modi thinks that the Assamese people will be fooled by just donning the gamosa and not addressing real issues, he is mistaken. Hope the government gets back its senses and withdraws the Act."
The Prime Minister has been seen donning the gamosa on multiple occasions earlier.
Mahanta criticised chief minister Sarbananda Sonowal as well.
"It's because of the weak stand of our chief minister that Assam was not excluded from the purview of CAA like the other northeastern states," he added.
Though Mahanta has been continuously vocal against the Act, his party has been facing public ire for continuing its alliance with the BJP.
The AGP had snapped its ties with the BJP before the 2019 Lok Sabha polls opposing the bill.
However, it later renewed its alliance over a seat-sharing arrangement. Three AGP legislators — Atul Bora, Keshab Mahanta, and Phani Bhusan Choudhury — are serving as ministers in the BJP-led state government.
However, Mahanta denied that the AGP is facing a possible split over the Act.
He said, "The party has been opposing the bill since it first came into existence. The party has taken a resolution in the presence of the party president and current minister Atul Bora. He also staged a protest against the bill then. It's now up to the people of the state to judge."
The four-hour sit-in saw the presence of many veterans like AGP MLA from Patacharkuchi constituency Pabindra Deka and senior party leader Gunin Hazarika, among others.