Poster plea for ILP move in Meghalaya Assembly
The govt was forced to advise the governor to summon the Assembly for a special session in order to adopt the resolution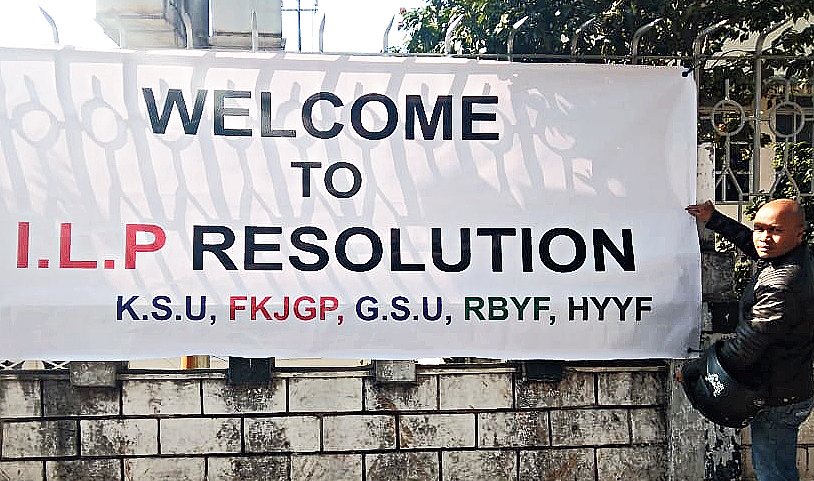 A poster seeking support for ILP demand in Shillong on Wednesday
(Picture sourced by The Telegraph)
---
Shillong
|
Published 18.12.19, 10:33 PM
|
---
A day before the Assembly meets to pass a resolution demanding implementation of the inner-line permit (ILP) in Meghalaya, pressure groups put up posters in the city on Wednesday appealing to everyone to support the demand and not resort to betrayal.
The Khasi Students' Union, Federation of Khasi-Jaiñtia and Garo People, Garo Students' Union, Hynniewtrep National Youth Front and the Ri Bhoi Youth Federation jointly put up posters near the secretariat and the Assembly.
The posters had slogans like, "ILP is the only solution for Meghalaya" and "Do not turn up as someone who betrays. Support the ILP". These messages are apparently directed at legislators who will meet on Thursday to adopt the resolution.
The groups said they will hold a gathering near the Assembly from 10am. KSU general secretary Donald V. Thabah appealed to the people to take part in the gathering.
Owing to pressure from several quarters, the government was forced to advise the governor to summon the Assembly for a special session in order to adopt the resolution asking the Centre to extend provisions of Bengal Eastern Frontier Regulation, 1873, to Meghalaya.
After the passage of the Citizenship (Amendment) Act, 2019, the government had wanted complete exemption of the state from the purview of the legislation.
The act has exempted the areas of the state falling under the Sixth Schedule. Likewise, states where the ILP regime is in place have been left out of the legislation.
On Saturday, a government delegation, led by chief minister Conrad K. Sangma, met Union home minister Amit Shah requesting him to extend the ILP to Meghalaya. Shah reportedly told the delegation to get back to him after Christmas to discuss issues and concerns related to the state following the passage of the act.
The resolution to be adopted on Thursday has also received the support of the Opposition Congress, which was ridiculed for supporting the ILP despite opposing it when the party was in power.
However, leader of the Opposition Mukul M. Sangma justified the party's change of stand by stating the situation earlier was different from now following the passage of the act.
The demand for ILP in Meghalaya heightened after the Centre extended the permit system to Manipur.
Prior to that, Arunachal Pradesh, Mizoram and Nagaland had the ILP.