People selling infants: Sarkar
Manik alleged that to divert the attention from the poor economic condition of the country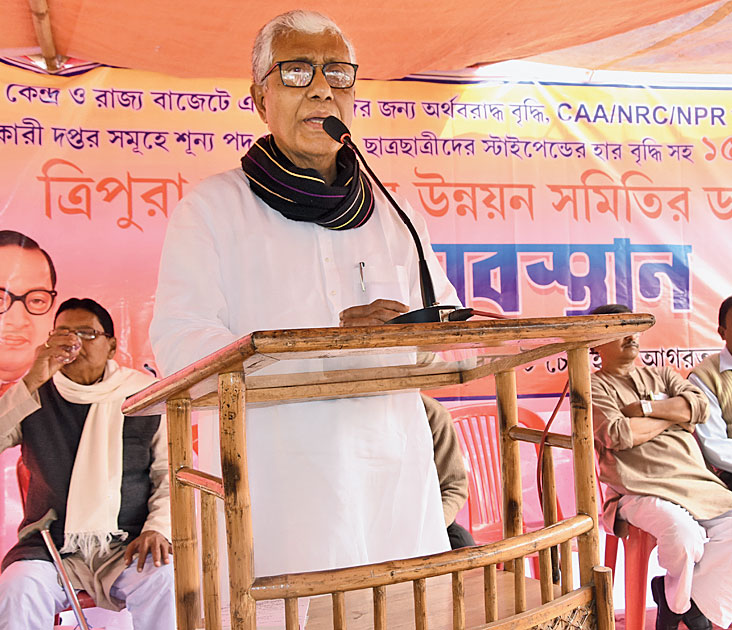 ---
Agartala
|
Published 15.02.20, 07:27 PM
|
---
Former Tripura chief minister and leader of the Opposition Manik Sarkar on Saturday alleged that people living in the state's rural areas were forced to sell their infants because of an acute crisis of food and work.
Addressing a rally organized by Tripura Sabha Sundar Unnayan Samiti here to protest against the Citizenship Amendment Act (CAA), National Register of Citizen (NRC) and the National Population Register (NPR) and to increase the budget for SC and ST community, Sarkar alleged that to divert the attention from the poor economic condition of the country, the Centre is implementing CAA, NRC and NPR.
"These demands are very necessary as the situation of the state is not good. I personally support these demands. The present BJP-led government has completed 23 months. Next month, they will complete two years. They made some promises before the polls and by making these fake promises they formed the government. People were fooled," Sarkar alleged.
He said people voted for the BJP with the hope that having the same government in the Centre and state would help them in fulfilling their demands. "But people have realised that they have made a mistake. They thought everything will be solved as BJP is in the Centre and in the state as well, but now they are realising their mistakes. People are saying that BJP has cheated them. Nothing has been done yet and not a single promise has been fulfilled," Sarkar alleged.
"People are dying of starvation. They are forced to leave the state in search of work. But the BJP government is silent and they are not taking any steps," he said.
Sarkar said because of acute crisis of food and work, people living in the villages were also forced to sell their infants but did not cite any specific case in corroborate his claim.
Sarkar alleged that the BJP was trying to "end the rights of the SC, ST and OBC community people" by ending reservation and was implementing the CAA, the NRC and the NPR to divert attention from the downfall of the economy and other major issues.