Odisha, Navy send teams to help in Meghalaya mine rescue
Heavy duty pumps, specialist divers airlifted (15 days after miners were trapped)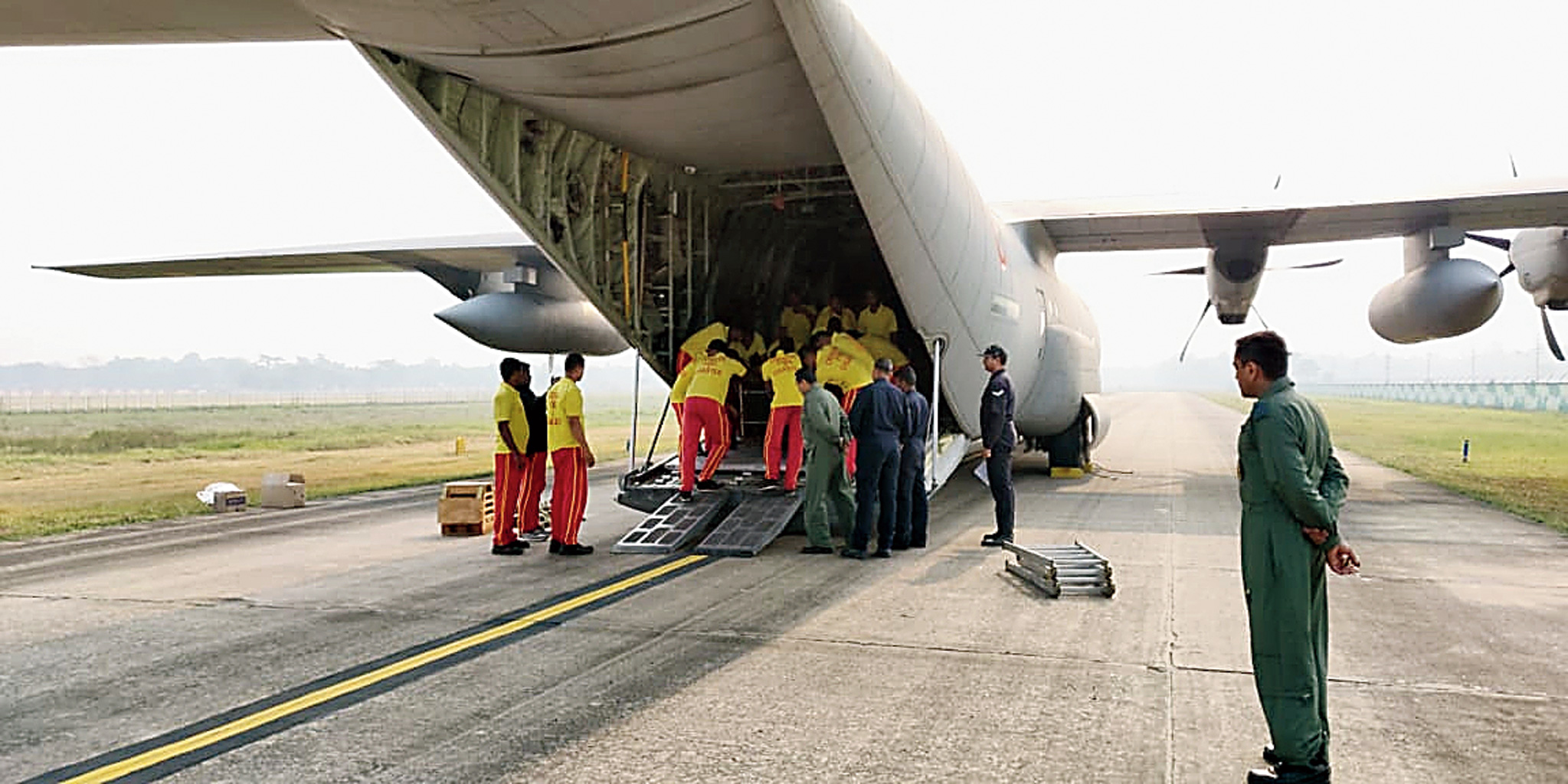 The team from Odisha arrives in Guwahati on Friday.
The Telegraph picture
---
Shillong
|
Published 28.12.18, 07:09 PM
|
---
A multi-agency search and rescue operation will be undertaken from Saturday to rescue 15 miners trapped in a coal mine in Meghalaya's East Jaintia Hills since December 13.
Personnel of the National Disaster Response Force, State Disaster Response Force, civil defence and state police have been camping at the site in Ksan, about 160km east of here, for the past two weeks. However, these personnel have been able to do precious little, apart from retrieving three helmets, owing to a lack of advanced equipment.
But hope is awaiting these personnel as a team of 21 men from the Odisha fire service department, along with four high-powered pumps, were airlifted from Bhubaneswar to Guwahati.
Odisha's director-general, fire and home guards, B.K. Sharma, told The Telegraph, "The team was sent following a request from the Union home ministry. As there is a problem with night-landing of the heavy-lift transport plane of the Indian Air Force, we have already sent the team to Guwahati. They will join the rescue operations on Saturday. We are among the few states with powerful pump sets required for the operation. We have sent four pumps and each can evacuate 1,600 litres of water per minute. Our previous experience to fight natural disasters has helped us to train our men and we are well-equipped to deal with all kinds of emergency," he said.
After landing at Guwahati airport, the men and equipment were transported by road to the site at Ksan.
In 2004, Odisha had sent materials to the tsunami-hit areas of the country. In August this year, the state's disaster management team had won appreciations for its rescue and restoration mission in flood-hit Kerala.
The Indian Navy is also chipping in by deploying a 15-member diving team from Visakhapatnam to assist in the rescue operations. "The team is carrying special diving equipment, including a re-compression chamber and remotely-operated vehicles, capable of searching underwater," a navy spokesperson said.
The spokesperson said the team will arrive at the site on Saturday. An initial assessment to determine an effective response was undertaken by the navy on Friday.
Two experts from Pune-based Kirloskar Brothers Limited also arrived at the site on Friday. The firm had sent its team to Thailand earlier this year to aid in the rescue of 13 people from a cave. Apart from this, experts from Coal India Limited have also reached Ksan.
Amritsar-based mining engineer Jaswant Singh Gill will also be at the site on Saturday. Gill returned to Meghalaya following the state government's request after visiting the site last week. He had advised the state government to use high-powered pumps. Speaking over phone, he said, "I will be there at the site on Saturday and will try my best in supervising the search and rescue operations."
He said he will be at the site for about three days.
The biggest hindrance has been water present inside the mine. The mine is around 320 feet and more than 70 feet is filled with water.
Although pumping of water has been on since December 13, it was suspended from December 24 as the water level had not receded even after several thousands of litres were pumped out.
NDRF divers could not go beyond 30 feet from the water surface and visibility inside the mine has been negligible.
With a multi-pronged attempt to salvage the trapped miners, there is a ray of hope to reach out to them.
Additional reporting by Subhashish Mohanty in Bhubaneswar