October date for Assam, Mizoram border talks
Both states call for peace in a joint statement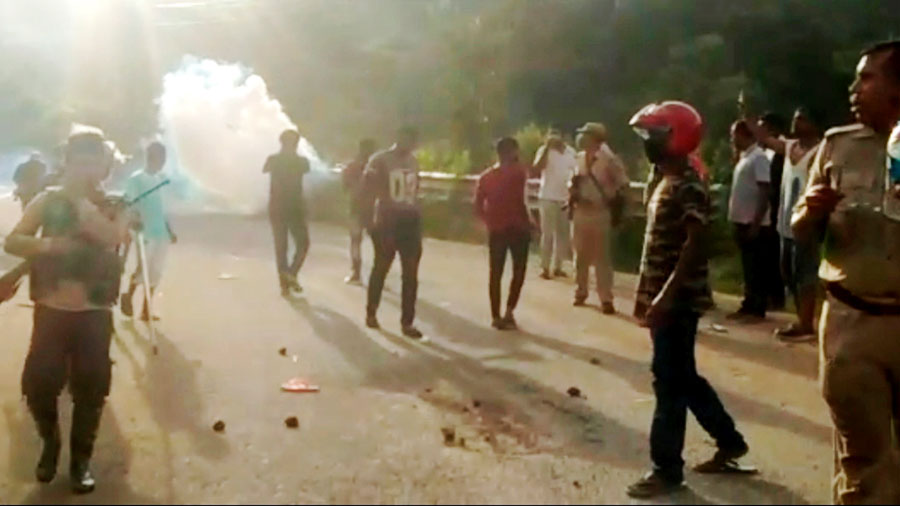 Police personnel during a clash at Assam-Mizoram border at Lailapur in Cachar district.
PTI
---
Guwahati
|
Published 11.08.22, 12:26 AM
|
---
Assam and Mizoram released a joint statement on Tuesday to "maintain peace" along its disputed border and also "take forward" the process of resolution by holding another high-level meeting in Guwahati in October where "issues and claims will be deliberated in detail".
The joint statement was released after the second round of ministerial-level talks on the border issue in Mizoram capital Aizawl.
Mizoram home minister Lalchamliana and Assam border protection and development minister Atul Bora headed the talks, lasting nearly two hours, for their respective states.
The first round of talks was held on August 5, 2021, in Aizawl where the primary focus was to ensure peace at all costs after the border row turned violent leading to the death of seven persons from Assam, including six cops, and over 60 injured at Variengte in Mizoram. Two rounds of virtual talks were also held to keep the process moving.
Tuesday's statement said both the neighbouring states have agreed to promote and maintain peace and deputy commissioners of bordering districts of both states "shall meet at least once in two months".
Both states have also agreed "that economic activities, including cultivation and farming" practised by people along either side of the border "shall not be disturbed"
regardless of the administrative control presently exercised by both states at such locations subject to forest regulations and after informing the concerned deputy commissioners.
The next meeting, to be held in Guwahati, assumes importance because "issues and claims will be deliberated in detail", the joint statement signed by the two ministers said. They also addressed a joint news conference after the meeting.
Mizoram minister Lalchamliana tweeted, "The 2nd Assam-Mizoram Border Discussion goes towards a peaceful and amicable solution. The efforts and dedication of Sh @ATULBORA2and Sh @TheAshokSinghal are praiseworthy. I thank HCMs Pu@ZoramthangaCM& Sh @himantabiswa for their enthusiasm for peace."
Mizoram and Assam share a 164.6km-long border. The row stems from the demarcation carried out by the Britishers in 1875 and 1933.
Mizoram accepts the 1875 demarcation under the Bengal Eastern Frontier Regulation (BEFR), according to which vast areas fall in Assam which, however, is firm on the 1933 demarcation as it was "its constitutional boundary".
Like his Mizoram counterpart, Atul Bora too was hopeful about Tuesday's meeting going a "long way in finding amicable solutions" and conveying a "positive message to the people living on either side of the border". He also thanked both chief ministers for their "keenness to resolve border issues."
The Assam delegation on Wednesday met Mizoram chief minister Zoramthanga and held a "fruitful" discussion on resolving the border dispute.
Zoramthanga thanked the Assam government for its ongoing efforts to resolve the issue. " …I pray for an amicable solution to our boundary issues," he later tweeted.
Besides Mizoram, there was a "positive" development on the Assam-Meghalaya border front too on Tuesday.
Meghalaya chief minister Conrad Sangma announced in Shillong that the two states will start the second phase of talks to resolve the inter-state border issue after August 15 as his NPP-led Meghalaya Democratic Alliance (MDA) government was "committed" to resolving the vexed issue.
He, however, admitted the second phase would be complicated.
On March 29, Assam chief minister Himanta Biswa Sarma and Sangma signed a "historic" border deal in Delhi in presence of Union home minister Amit Shah to end the dispute in six of the 12 less contentious areas.
As part of the deal, of the 36.79sq km disputed area, approximately 18.33sq km will be with Meghalaya and about 18.46sq km with Assam which shares an 844.9km border with Meghalaya.
Besides Mizoram and Meghalaya, Assam also has border disputes with Nagaland and Arunachal Pradesh but has initiated talks to resolve the decades-old disputes amicably. The Centre is also pushing the states to resolve the rows.