NSCN-IM firm on flag, statute
The joint council meeting also resolved that the Centre and the outfit 'must' seek a final pact based on the Framework Agreement of August 3, 2015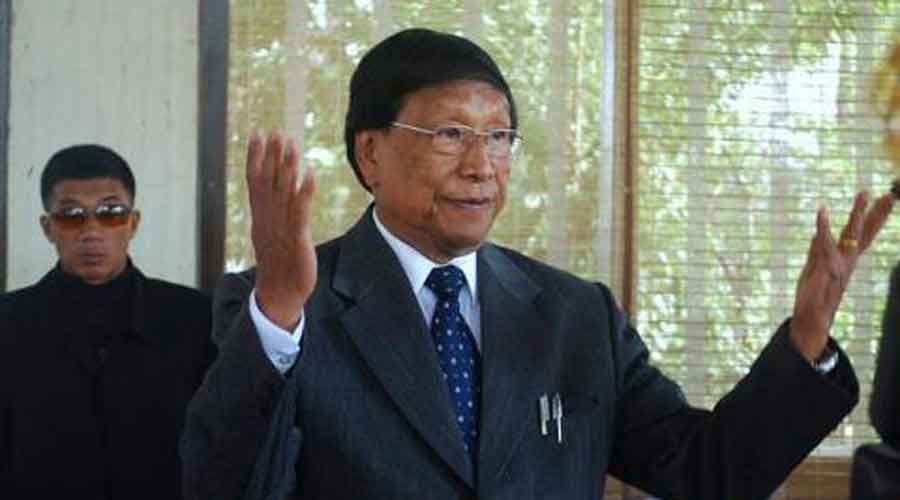 ---
|
Guwahati
|
Published 19.09.20, 12:27 AM
---
A joint council meeting of the National Socialist Council of Nagalim (Isak-Muivah) on Friday unanimously adopted a resolution reiterating its stand that the Naga "national flag" and Yehzabo (constitution) "must form a part" of the political solution "in order to qualify" it as "honourable and acceptable".
The meeting also resolved that the Centre and the outfit "must" seek a final pact based on the Framework Agreement of August 3, 2015, an NSCN (I-M) statement said.
In his speech on "Naga Independence Day" held on August 14, NSCN (I-M) general secretary Th. Muivah had said the Framework Agreement recognises the sovereignty of the Nagas and "inclusive peaceful coexistence of the two entities sharing sovereign power".
"Coexistence of the two entities... means the two peoples and nations will coexist," Muivah said.
The NSCN (I-M) demand for a separate flag and constitution is proving to be a major hurdle to finalising a solution, according to those familiar with the talks.
However, sources indicated both the outfit and the Centre were trying to resolve the twin issues. While a senior Intelligence Bureau team is said to have concluded its talks with the NSCN leadership in Delhi, more clarity is expected once the political-level dialogue takes off, sources said.
The joint council meeting at the outfit's council headquarters at Hebron near Dimapur deliberated on the "historical and political rights" of the Naga people and how the Naga political talks have reached this far, the statement said.
The council meeting was held amid reports that the Centre "intends" to conclude talks for a final solution in September.
Almost all leading Naga organisations are also holding regular meetings and appealing for an "inclusive, amicable and honourable solution" to end the longest armed resistance in Southeast Asia. The ceasefire started in 1997.
The Opposition Naga People's Front (NPF) recently held talks with the Naga national political groups (NNPGs), civil society organisations and Central Nagaland Tribes Council (CNTC) on the Naga issue and the road ahead.
According to the NPF, the CNTC has agreed to support the August 11 stand of the 14 apex Naga tribal hohos of a solution based on the Framework Agreement and the agreed positions of the Centre, NSCN (I-M) and the working committee of the NNPGs, comprising seven organisations, involved in simultaneous talks on arriving at an honourable solution.
After a meeting with the interlocutor and Nagaland governor R.N. Ravi in Dimapur last Friday, the NNPGs said the Centre was working on a solution acceptable to all.
While the NNPGs have backed Ravi to resolve the Naga problem, the NSCN (I-M) wanted him out of the talks for allegedly misinterpreting the Framework Agreement to which he is also a signatory, among others, pushing the dialogue to the edge. But talks with the IB team seems to have put the process back on track, sources said.