Novel NRC protest at puja pandals
Protest by Bengali Hindus whose names have been excluded from the NRC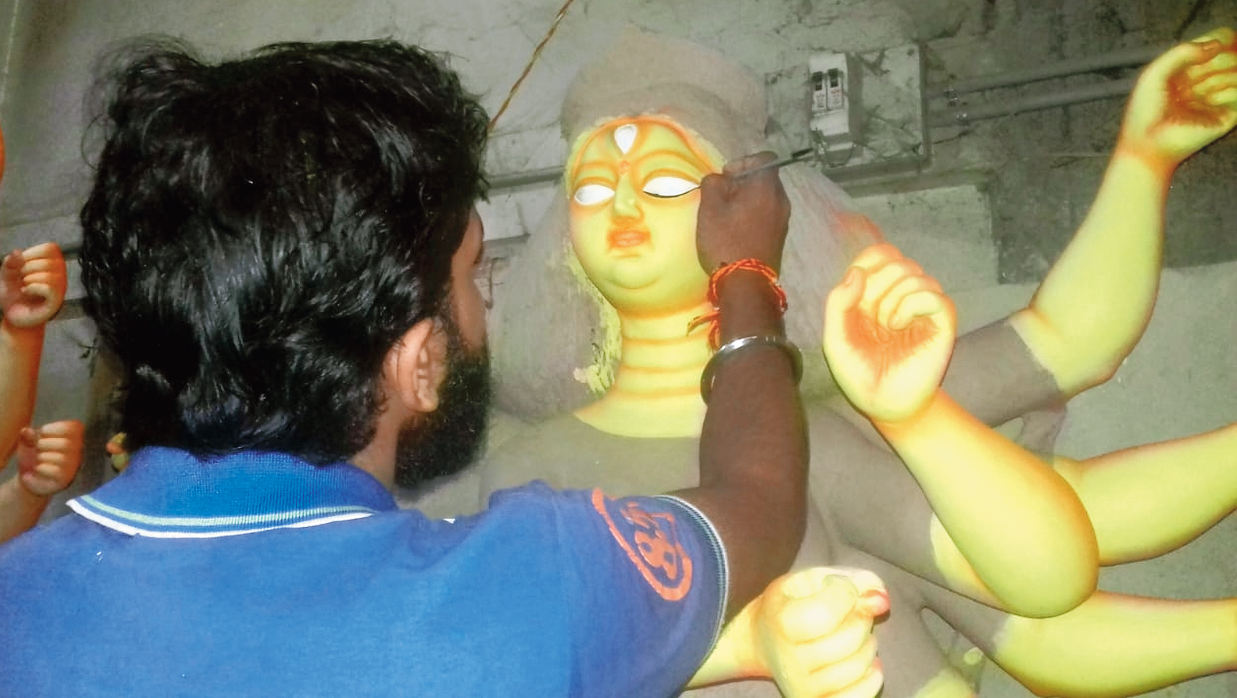 An artistan works on an idol in Karimganj.
Picture by Satananda Bhattachajee
---
Hailakandi
|
Published 17.09.19, 09:03 PM
|
---
Silent protests with banners, posters, poems, songs and literary expressions will be the hallmark of all Durga Puja pandals here this year, in a novel protest by Bengali Hindus whose names have been excluded from the National Register of Citizens (NRC) in Assam.
Karimganj district of Barak Valley in South Assam borders Bangladesh. Almost all the Puja committees have decided to protest against the exclusion of names of Hindu Bengalis from NRC by showcasing their distress in front of the diety.
The NRC published on August 31 dropped the names of about 19 lakh people, of whom 11 lakh are Bengali Hindus.
Karimganj town hosts nearly 70 Durga Pujas and there are over 700 in the entire district, which shares a 93km border with Bangladesh.
Three puja committees are celebrating their golden jubilee and will highlight the protest against NRC. The three clubs, Subhas Milani Club, Sanghashree and Aparajita Durga Puja will paste poems and songs on the walls of the pandal and put up banners and posters.
North Karimganj MLA Kamalakshya Dey Purkayastha, who is also the president of Subhas Milani Club, encouraged the committees to stage the novel protest in puja pandals. Purkayastha said that he has already spoken to the secretaries of all puja committees and requested them to make the pandal "simple but beautiful" with the protest theme. He said Durga Puja is the occasion that every Bengali celebrates but with so many names excluded from the NRC, the festive mood was non-existent.
The MLA said he would arrange legal help for poor Bengali Hindus whose names are missing from the NRC as "no Hindu Bengali is a foreigner and should be included in the NRC unconditionally".
This is what the puja committees will highlight, he added.
Sahartoli Durga Puja committee of Karimganj town has decided to emphasise people who committed suicide for fear of not having their names in the NRC. They will display their photos and news published after their deaths.
Writer Nirmalya Das said the protest should be registered literally and he is preparing stories for this.
Young poet Nirupam Sarma Choudhury said India's struggle for independence was strengthened by literary outpourings and they are writing poems for the protest.
Karunamoy Arjun of Subhas Miloni said they were preparing for the display of posters, banners on NRC in their pandal.
He said their main aim is to attract the visitors regarding the plight of people regarding NRC. He said that all the puja committees have decided to protest peacefully. Some of the posters and banners will be displayed for creating awareness on what needs to be done if one's status in the NRC shows "reject".