5 days on: No trace of 13 trapped in East Jaintia mine in Meghalaya
If water in mine shaft is from nearby river, then survivors unlikely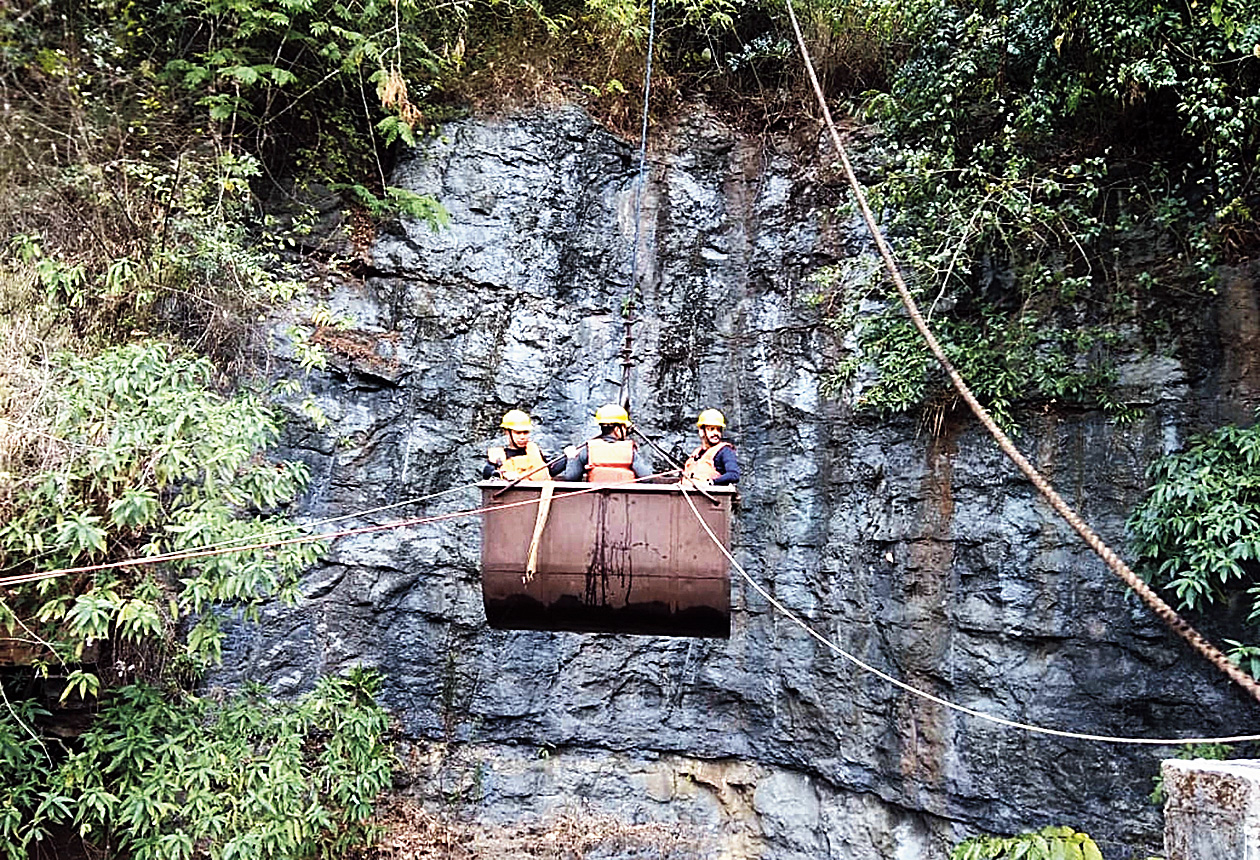 Rescue workers in Meghalaya's East Jaintia Hills district on Monday.
UB Photos
---
Shillong
|
Published 17.12.18, 08:04 PM
|
---
The fate of at least 13 miners, trapped in a coal mine in Meghalaya's East Jaintia Hills, remains uncertain even five days after the accident.
The mine is located at Ksan near the Lyteiñ river under Saipung police station.
The 13 miners include three locals from Lumthari village while the remaining 10 are from the plains belt of West Garo Hills and Assam.
The search and rescue operations have been on since Thursday, the day of the accident, in which 13 miners were trapped inside the mine.
The operations, led by National Disaster Response Force (NDRF), including personnel from the State Disaster Response Force (SDRF) and civil defence, have suffered a major setback as the water inside the mine has not receded even after continuous pumping.
On Sunday, experts from the Coal India Limited, Guwahati, arrived at the site of the accident. The team, led by director-general of mines safety Ashok Kumar, includes a mine rescuer, an electrical engineer and a mechanical expert.
NDRF assistant commandant S.K. Singh on Monday said the experts from Coal India have almost confirmed that the source of the water, which has engulfed the mine, was connected with the adjacent river.
"This is because the water level at the river and the level at the main shaft (mine) is almost at an equal level," Singh said. However, he said experts have taken water samples from the main shaft, the riverine water and from the nearby abandoned mines to check their pH levels.
The samples have been sent to a laboratory at Jowai in West Jaintia Hills and the report is expected on Tuesday. "If the pH level is same, then it will be confirmed that the water is from the river and it will be almost impossible to pull out all the water from the main shaft," Singh said.
Another issue faced by the search and rescue teams is the non-availability of proper pumps.
On Monday, three pumps were used although there were around five. But they could not function to their optimum capacity as they were old. The NDRF has sought at least 10 more pumps to help draw the water out.
On how long the NDRF would wait, Singh said, "Until the water level goes down. There is nothing much to do. We will wait till the administration works."
In the face of a prolonged wait, he said, "We will again check in the morning if the water level has come down."
Meghalaya chief minister Conrad Sangma told reporters on Monday: "We are trying really hard but the water level is really high. I spoke to Union minister Kiren Rijiju and requested him to send more professional help." Sangma said no matter how many pumps were being used, the force of the water prevented the rescuers from entering the mine.