No takers in Assam for onions from Egypt, Turkey
The huge size of the onions fails to convince buyers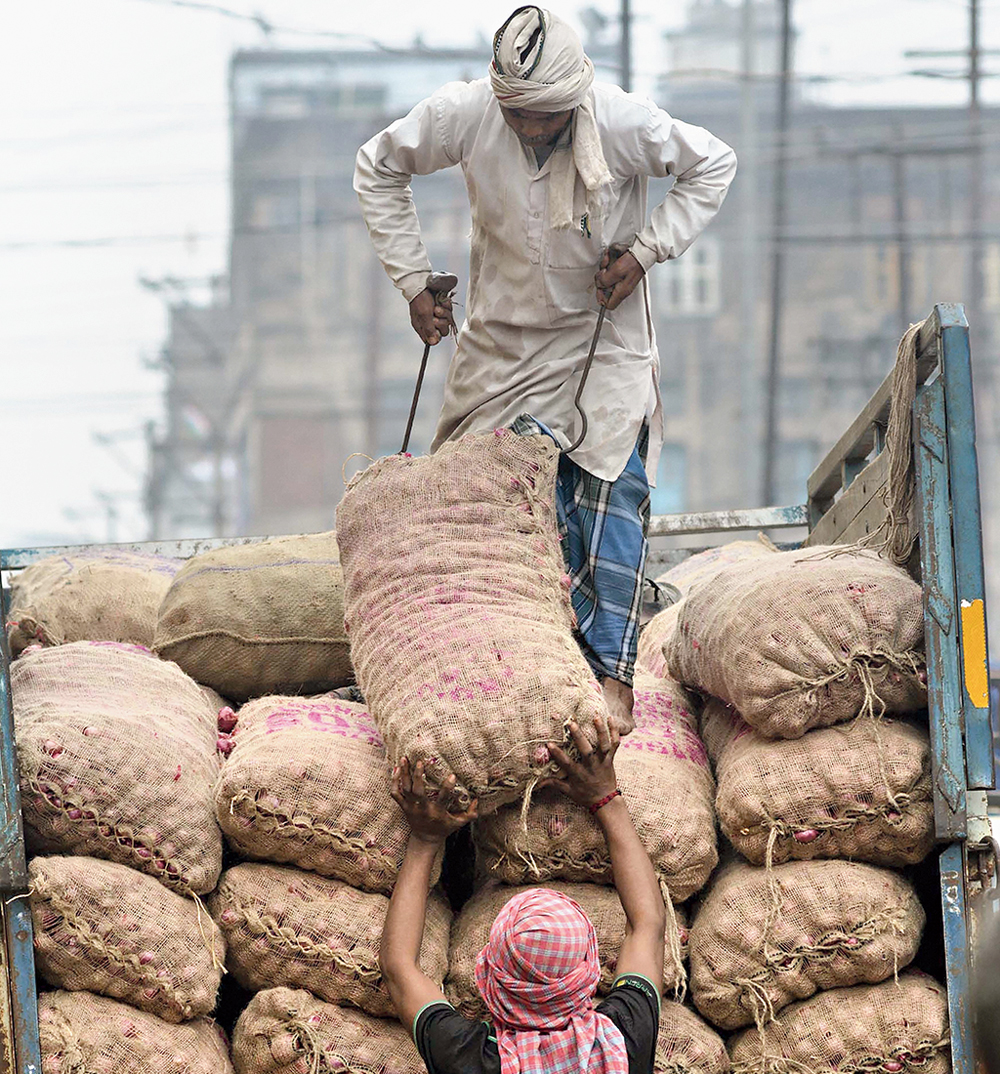 Labourers unload sacks of onions from a truck in a vegetable market in Guwahati
(File photo)
---
Guwahati
|
Published 20.02.20, 07:05 PM
|
---
The Assam food and civil supply department is in a quandary over 1,000 metric tonnes of onion it has received from the Centre.
The department is offering onions at maximum Rs 20 per kg as against Rs 50 per kg in the open market but not getting buyers because of the huge size of the onion — upto 300gm per piece.
"We are trying to convince the wholesalers and shops under the public distribution system to buy onions from us at Rs 12 per kg and sell them to people at a price upto Rs 20 per kg," said a senior employee of the department.
The Centre sent the onion it had bought from Egypt and Turkey as requested by the Assam government three months ago when the price of onion had crossed Rs 100 a kg.
The state government had sought 10,000 metric tonnes of onion. By the time onion from Egypt and Turkey arrived, the the scarcity was over and the price fell considerably.
"As the price of onion came down, the Assam government was reluctant to purchase onion from the Centre. As the Centre insisted, the state government decided to purchase 500 metric tonnes. However, the Centre sent 1,000 MT," said the official.
"People are not only finding these onions big but also complaining about their taste. They say these onions do not taste like the ones produced in our country," the official said.
Altogether 1,400 quintals have been allotted to Kamrup (metro) district alone.
The Assam government faced criticism because of skyrocketing price of onion. Owing to mounting public pressure, food and civil supply minister Phani Bhusan Choudhury held several rounds of meeting with the wholesalers and announced that the government would fix onion price at Rs 66 per kg.
Later, the department had also requested the state finance department to release Rs 20 crore from its contingency fund so that it can buy onion in bulk and sell them at Rs 30 per kg to give temporary respite to the people. But the finance department rejected the proposal.
The official said the department is also facing problem in implementing the government's proposal of distributing 2kg of sugar a month free for the families of tea garden workers.
"The department will require Rs 6 crore a month to implement the scheme. However, the finance department has raised objections on the scheme," the official said.