No split in party, says AGP
'Certain senior party leaders seek change of the party leadership.' said MLA Kamala Kalita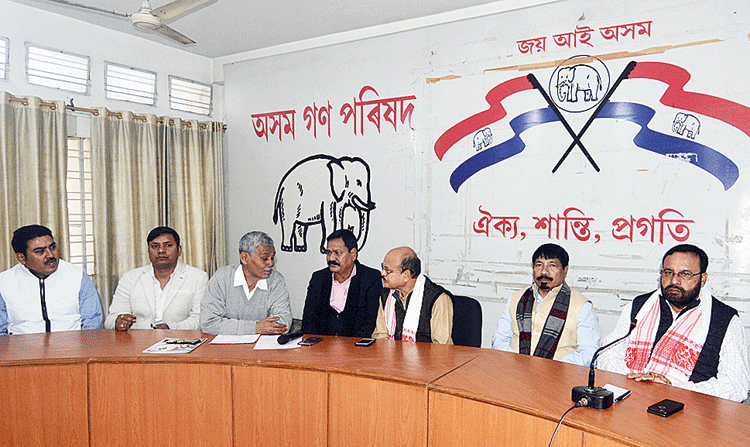 Senior leaders of the party at the city committee meeting in Guwahati on Wednesday.
Picture by UB Photos
---
Guwahati
|
Published 08.01.20, 06:46 PM
|
---
The Asom Gana Parishad (AGP) on Wednesday said there is no division in the party as is being widely speculated.
Talking to reporters at party head office at Ambari here, party general secretary and MLA Kamala Kalita said, "Certain senior party leaders seek change of the party leadership. We have considered their concerns for assessment. However, the changing of the central executive or the party president can be discussed only in the general council. No one can dictate from outside the party."
On Tuesday, several leaders and members from at least 29 district units, including former Assam chief minister Prafulla Kumar Mahanta, who reached the party head office to attend a discussion on the Citizenship (Amendment) Act, were barred by security personnel from entering the office campus and hold the meeting. Later, the meeting was held at Bhagawati Prashad Baruah Bhawan, 500 metres from the AGP office.
Criticising the conveners of Tuesday's meeting, Kalita said, "Yesterday's meeting was convened by some self-styled leaders. Hardly any party worker took part in it. Ninety per cent of the attendants were from outside the party. Certain senior leaders were behind the meeting."
Kalita added that the meeting was held without permission from the party's central executive.
"They are misleading the people of Assam," he said.
"Ninety per cent of the people who attended yesterday's meeting, convened by former chief minister Mahanta and others, had either resigned or were suspended from the party. Merely 30 genuine party workers attended the meeting," he said.
Kalita said this to the reporters alongside a party meeting which was attended by AGP president Atul Bora, executive president Keshab Mahanta and Phani Bhusan Choudhury, party MLA Ramendra Narayan Kalita and Satyabrata Kalita among others.
The AGP also dissolved the Guwahati city committee on Tuesday night and formed another soon after.
"The earlier city committee was dissolved for its negligence towards party activities," Kalita said.