No need for name game over Bogibeel, says Piyush Goyal
Both Assam and Arunachal Pradesh would gain economically, railway minister notes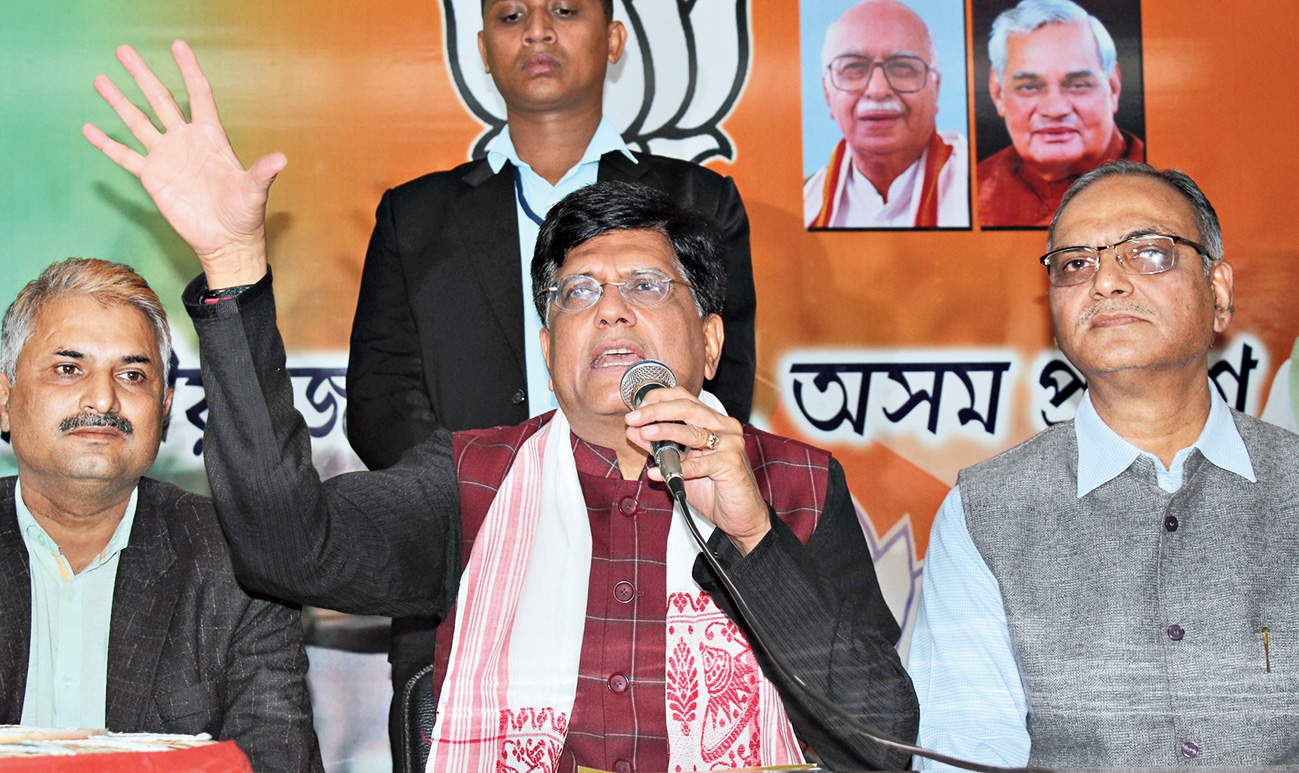 ---
|
Guwahati
|
Published 29.12.18, 08:19 PM
---
Union railway minister Piyush Goyal on Saturday said there is no need to get involved in controversies relating to the naming of Bogibeel bridge and added both Assam and Arunachal Pradesh would gain economically from the bridge.
Goyal was here on Saturday to inaugurate the three-day National Janajati Sports Meets in Tepesia where around 1,200 indigenous people from across the country are participating in 24 different sporting events. After inaugurating the meet Goyal visited the BJP's office at Hengerabari here.
Speaking to party members, Goyal said, "We have to look forward to the benefits of the bridge. The Bogibeel bridge has shortened the distance between Assam and Arunachal Pradesh and will play vital role in all directions. It also helps the security forces to carry troops and related material quickly to the border areas. The bridge also provides economic benefit to both the states. It will strengthen the import and export of goods and services."
Criticising the Congress, he said, "The Northeast lagged behind in development during the Congress regime compared to other parts of the country. Now the region is growing fast. During the BJP government's tenure 1,000 villages in the Northeast were connected with electricity."
Double-track promise: Addressing a review meeting of senior railway officers at NF Railway headquarters at Maligaon here after visiting the Kamakhya temple, Goyal said the railway ministry will soon approach the cabinet committee on economic affairs for the clearance of doubling of railway line from New Bongaigaon to Guwahati via Rangiya.
He also said following the success of Bogibeel bridge, all efforts should now point towards doubling of railway lines in the region for capacity enhancement. He asked the officials to prepare a plan of action within one week.
Goyal also spoke to Assam forest minister Parimal Suklabaidya and asked him to ensure quick permission for soil procurement permission, which is hampering projects in the state.