Nagaland to host eclectic I-Day digital concert
Initiative aimed at spreading positivity and honouring frontline corona warriors and independent artistes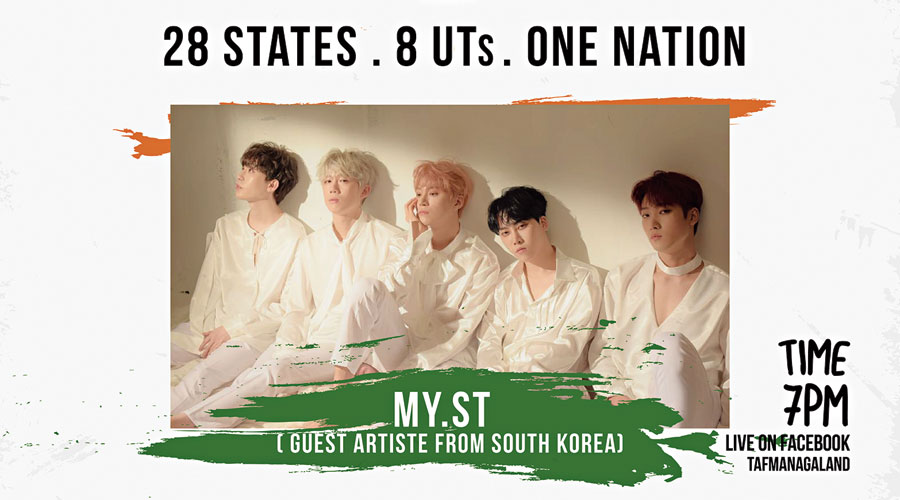 ---
|
Guwahati
|
Published 15.08.20, 03:02 AM
---
The Nagaland government's musical arm, Task Force for Music and Arts (TaFMA), has decided to beat the Covid-19 blues with a live digital Independence Day celebration.
The leading acts for Saturday's concert, Indie-Pendence Rock, include the five-member Korean pop group MY.st. Through this, it intends to spread positivity and honour frontline corona warriors and independent artistes.
TaFMA adviser Theja Meru told The Telegraph, "This event on Facebook @tafmanagaland from 7pm on Saturday will highlight an interesting collection of artistes such as MY.st from South Korea and Uday Benegal (Indus Creed) from Mumbai."
The other performers of the evening include The Snake Charmer Archy Jay from Delhi, Vasu Dixit (Swarathma) from Bangalore and artistes from Nagaland such as ANTB (Alobo Naga and the band), Mar Jamir from Polar Lights and Koko, an upcoming singer. The concert is part of the government's efforts to promote music as an industry.
Since 2004 through TaFMA because of the huge talent pool the state.
TaFMA has tied up with the A.R. Rahman Foundation, which is grooming 20 young musicians, and Russia's V-Rox Festival to explore avenues and platforms for the exchange of music, art, and culture between the two countries.
Trying to put things in perspective, Abu Metha, the adviser to chief minister, Neiphiu Rio, said the government strongly feels that the youth of the state and the Northeast have the "potential to write a new narrative" as far as our "soft power" is concerned, especially in music, arts, entertainment and the digital space.
He said the official Independence Day celebrations will be digital, like the government-sponsored indie-rock event, to send out the message of national integration, promote art and music and also create platforms for talented youths during these challenging times.
"Nagaland and the rest of the Northeast have a huge talent pool among its youth. Events like these give them the opportunity to shine and create a better appreciation of our country and its people to the global community. Our government is trying to facilitate this process," Metha said.
The idea for the online event, Meru said, came from the challenges faced by indie artistes due to the pandemic.
"Since they (artistes) were going through a difficult time due to cancellation of many live shows, we wanted to do something for them, so we coined the Indie-Pendence Rock, and thought there is no better day to honour them than on a day like Independence Day," Meru said. There are plans to turn it into a calendar event like the popular Hornbill Festival held in December, he added.
The government feels tourism and music will have a big role to play in the state's development. The Covid pandemic is helping it explore new avenues to engage with stakeholders. "Every crisis gives rise to new opportunities and with innovation and an out-of-the-box approach, we can convert crises into opportunities," Metha said.