Meghalaya takes stock of essentials
Nine petrol pumps has around 15 lakh litres of diesel and more than 65,000 litres of petrol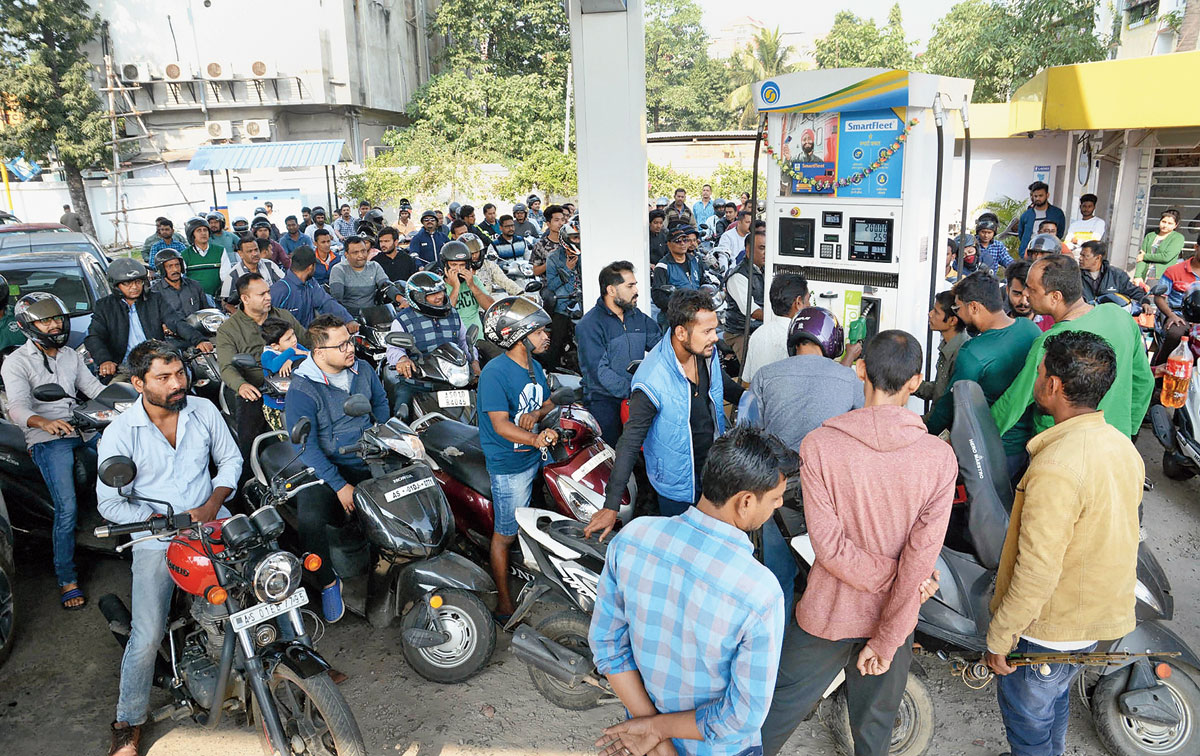 ---
|
Shillong
|
Published 14.12.19, 09:21 PM
---
The Meghalaya government has apprised Union home minister Amit Shah of the shortage of essential commodities across the state following the volatile law and order situation in neighbouring Assam.
Shah received the intimation from chief minister Conrad K. Sangma who met him in New Delhi on Saturday morning.
In East Khasi Hills, deputy commissioner Matsiewdor War Nongbri said stock of petrol and diesel in the district, including the state capital, would not last for more that three to four days."We have instructed petrol pumps to maintain their stock for emergency services," she said.
She said petrol and diesel were loaded in Assam on Saturday and were expected to reach Meghalaya by Sunday. There are around 23 petrol pumps across the district.
On food items, she said there are about 17,000 quintals of rice, 2,500 quintals of atta, 2,700 quintals of dal, 7,000 tins of mustard oil, 600 quintals of onion over and above the stock that is available through the public distribution system.
West Garo Hills deputy commissioner Ram Singh said the district was facing some issues in supply of petrol and diesel. "We are streamlining the supply now. But other essential commodities are there. There was a problem with supply of onion but we are expecting one truckload to arrive shortly. I am also in touch with the neighbouring districts of Assam and am sorting out the issues," he said.
West Jaintia Hills deputy commissioner G.L.S.N. Dykes said in nine petrol pumps, there are around 15 lakh litres of diesel and more than 65,000 litres of petrol.
"The other essential commodities are also sufficient for the next three to four days. We are chalking out the supplies of essential commodities if the agitation in Assam continues," he said.
East Garo Hills deputy commissioner Swapnil Tembe said the stock of essential commodities had been reviewed and they are coordinating with Assam to bring in diesel and petrol. Stocks in the public distribution system are sufficient, he added. South West Khasi Hills deputy commissioner Isawanda Laloo said wholesalers have been asked to keep buffer stock in place for essential food items.
Special session on ILP
The Meghalaya Assembly is likely to meet in a special session on December 19 to pass a resolution demanding the implementation of inner-line permit (ILP) in the state.
Sources said the Assembly's business advisory committee, chaired by Speaker Metbah Lyngdoh, will meet on Monday to finalise the calendar for the special session.
"A letter from the government will be sent to the governor, requesting him to summon the Assembly for a special session," an official source said, adding that it is more or less confirmed that the session will be held on December 19.
During the special session, the government will table a resolution seeking implementation of the ILP.
The chief minister spoke to Shah about extending ILP to Meghalaya during their meeting on Saturday morning.
The demand for the ILP has been growing in the state following the enactment of the Citizenship (Amendment) Act, 2019.
Internet ban continues: Mobile Internet and SMS services will continue to be shut in Meghalaya for the next 48 hours, a senior government official said on Saturday.
This is a continuation of the first 48 hours of shutdown, which began on Thursday and ended at 5pm on Saturday.
"We have extended the ban for another 48 hours on both mobile Internet and SMS," the official from the home (police) department said.
On Saturday, calm prevailed across Meghalaya after a volatile situation had erupted outside the Raj Bhavan on Friday.
Curfew hours in areas falling under the Sadar and Lumdiengjri police stations were relaxed from 10am till 7pm.