Meghalaya denies impact on two banks
Conrad K. Sangma said the Yes Bank moratorium had temporarily disrupted some of the services of the MCAB and MRB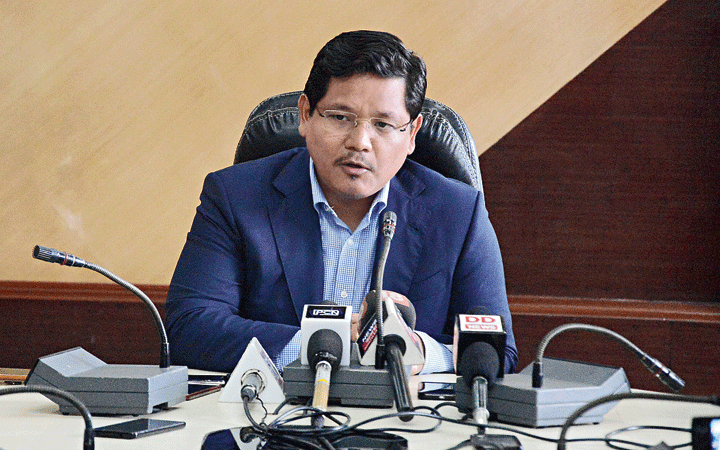 ---
|
Shillong
|
Published 08.03.20, 11:07 AM
---
The Meghalaya government has scotched rumours of a negative impact on two local banks following the moratorium placed on Yes Bank, but admitted that the moratorium has temporarily disrupted services offered by the banks.
At a news conference held here on Saturday, chief minister Conrad K. Sangma said the Reserve Bank of India's decision to place Yes Bank on a moratorium had temporarily disrupted some of the services of the Meghalaya Co-operative Apex Bank (MCAB) and the Meghalaya Rural Bank (MRB).
Stating that efforts were on to restore the services at the earliest, Conrad, however, said the foundations of the banks were "very strong".
"Whatever challenges they are facing right now have no impact on their foundation, financial strength and soundness. It is only some of the services which are provided by the banks on the Yes Bank technical platform which are currently disrupted," he said.
At present, the Meghalaya Co-operative Apex Bank and Meghalaya Rural Bank are availing technical support from Yes Bank for operationalising some of their services.
Conrad said the services of the banks which had been affected included mobile banking, real-time gross settlements (RTGS), immediate payment service (IMPS), NPFT and to a limited extent the ATM services as these services require technical support of Yes Bank.
The government asserted that there was no financial implication on both the banks vis-à-vis Yes Bank being put on moratorium and this was a technical issue.
"Both the banks are fully committed to and are in sound financial position to honour all commitments to their customers and request their customers to bear with them during this time of disruption of services. Both the banks have been conferred scheduled status by the Reserve Bank of India, a clear indication of their financial soundness and strength," the government stated.
The government added that it had no intention of withdrawing any of their deposits from these banks since it was confident of their well-being.
It has also come to the notice of both these banks that some messages are circulating on social media urging people to withdraw their funds from both the Meghalaya Co-operative Apex Bank Ltd and the Meghalaya Rural Bank.