Mason's son builds a dream
The development of rural areas is key to a fully developed country: Rocky Sahu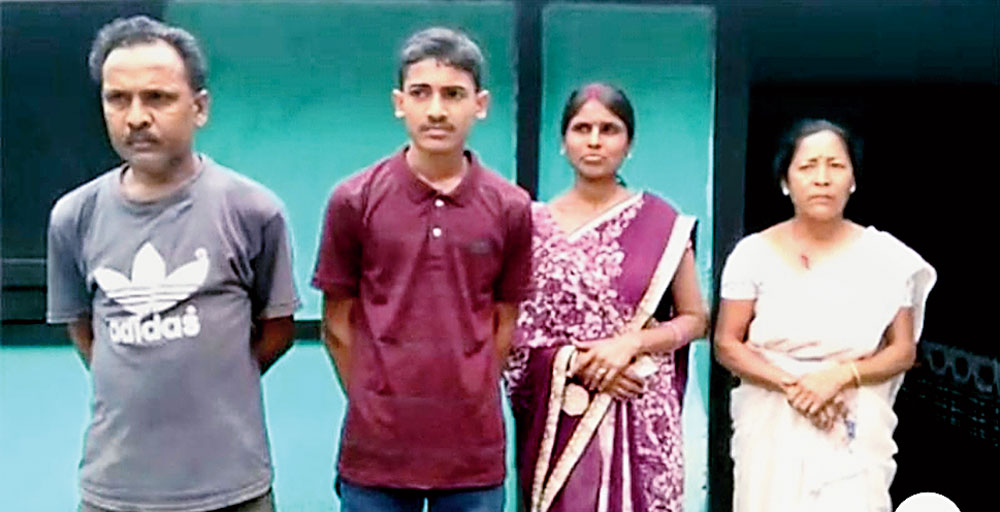 Rocky Sahu ( in red shirt) with his parents and teacher
Picture by Manoj Kumar Ojha
---
Doomdooma
|
Published 15.05.19, 06:35 PM
|
---
A simple boy with big dreams has topped from Assam's Biswanath district in the 2019 HSLC examination.
Rocky Sahu, a mason's son, has secured 95.8 per cent marks with 100 in mathematics in his Matric exam. He aspires to become an engineer.
Rocky told The Telegraph, "I'm happy to get a satisfying result. I would like to thank my teachers, parents and neighbours for their cooperation and blessings."
The path to success was not easy. He said, "My father is the only earning member in our family and earns very little. There was no question of taking tuitions, buying extra books and no mobile phone or watch. We spend only on the most essentialthings. When I was in class IX, my father fell ill for a long time and it seemed like I would have to drop my studies. But with strong determination and will power, I started taking tuition at home and overcame all obstacles."
"I want to become an IT engineer to uplift the rural areas of Assam. The development of rural areas is key to a fully developed country," Rocky said.
His father Ranjeet Sahu said, "I thank the Almighty. My son is our only hope. He is an honest boy and has worked hard towards his studies from the beginning. He has the objective to do his best. He is a good natured boy and loves to eat sweets."
Hemant Hazarika, headmaster of Rocky's school, Khorashimlu High School, said, "The entire Biswanath district is proud of Rocky. May the Almighty fulfil his dreams of becoming an engineer. Minister Ranjit Dutta has promised to assist him financially for classes XI and XII. He is a brilliant and obedient student who wants to do something good for the country." Farm prodigy
Another young boy fighting poverty, Abdul Aziz, has stood second in the Assam High Madarsa examination, 2019, results of which were declared on Wednesday.
Abdul, from Athkuriapara village in Darrang district's Sipajhar, belongs to a financially weak family where agriculture is the main occupation.
Abdul said, "After school and during holidays, I used to help my father in farming. Study and agriculture goes together," he smiled.
"Yes, it's true that there has been a lack of even basic facilities as my father is a simple farmer. But my parents and teachers always encouraged me to do better and I, too, was determined," he said.
A total of 1,555 of the 2,691 students who appeared for the HSLC exam in Dima Hasao district have cleared the exam.
A total of 6,685 of the 13,617 candidates who appeared in the HSLC exam in Karbi Anglong (including West Karbi Anglong) district have cleared the exam.
Additional reporting by Suroj Barman in Haflong