Manipur Speaker disqualifies legislator Th. Shyamkumar
Following Shyamkumar's disqualification, the Andro seat is now vacant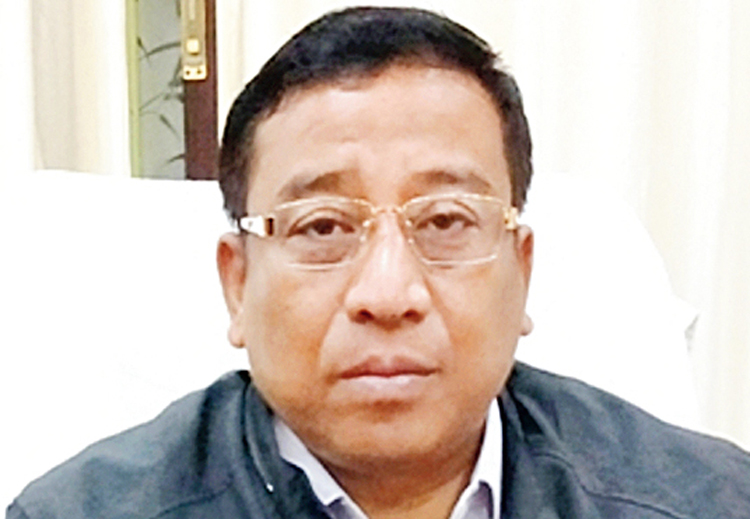 Th. Shyamkumar
File picture
---
Imphal
|
Published 28.03.20, 07:57 PM
|
---
Manipur Speaker Y. Khemchand disqualified Th. Shyamkumar as a member of the Assembly on Saturday.
Shyamkumar, MLA of Andro Assembly constituency, was the minister of forest, horticulture, soil conservation and the department of municipal administration, housing & urban development in the Biren Singh-led coalition government.
Khemchand, in his 32-page verdict, said, "The respondent (Th. Shyamkumar), thus ceases to be a member of the Manipur Legislative Assembly with immediate effect from March 28, 2020, till the expiry of the term of the 11th Legislative Assembly of Manipur."
Following Shyamkumar's disqualification, the Andro seat is now vacant.
Copies of the notification has been sent to all concerned, including the Election Commission.
The Speaker's order further said: "It is established beyond doubt that the respondent (Th. Shyamkumar) had voluntarily given up the membership of the Indian National Congress. Hence, this tribunal came to the conclusion that the respondent had clearly violated the provision of the Tenth Schedule of the Constitution and is liable to be punished as per the provisions of the Constitution to uphold the dignity of democracy and the mandate of the people."
In all, 15 Congress MLAs, including former Manipur PCC president T.N. Haokip, Md Fazur Rahim and K. Meghachandra, filed the disqualification case against Shyamkumar before the tribunal.
In a release, Meghachandra said the judgment of the Speaker was welcome, but it was too late as three years have already passed. "If the Supreme Court had not directed the Speaker to make a decision on the case, the judgment might have not been arrived at," he added.
On March 18, the Supreme Court had ordered that Shyamkumar cease to be a minister in the cabinet. He was also restrained from entering the Assembly. He tendered his resignation from the membership of the Assembly on Thursday. His resignation was not accepted by the Speaker as the final judgment of the case was waiting to be announced.
Shyamkumar was elected on a Congress ticket in the 2017 general elections from Andro constituency in Imphal East district. As soon as he was elected, he switched allegiance to the BJP.
Thereafter, some Congress MLAs filed a disqualification case before the Speaker's tribunal. When the tribunal did not announce the final judgment, they moved the apex court which directed the Speaker to decide the case within four weeks.
But the final decision of the tribunal was still not announced.
The Congress appellants then urged the Supreme Court to decide the case on its own.
After the apex court removed Shyamkumar from the post of minister and barred him from entering the Assembly, the Speaker fixed Saturday for announcing the judgment.