Manipur's Loktak Lake to host parasailing
Floating islands or phumdi planned for adventure sports event that begins on Thursday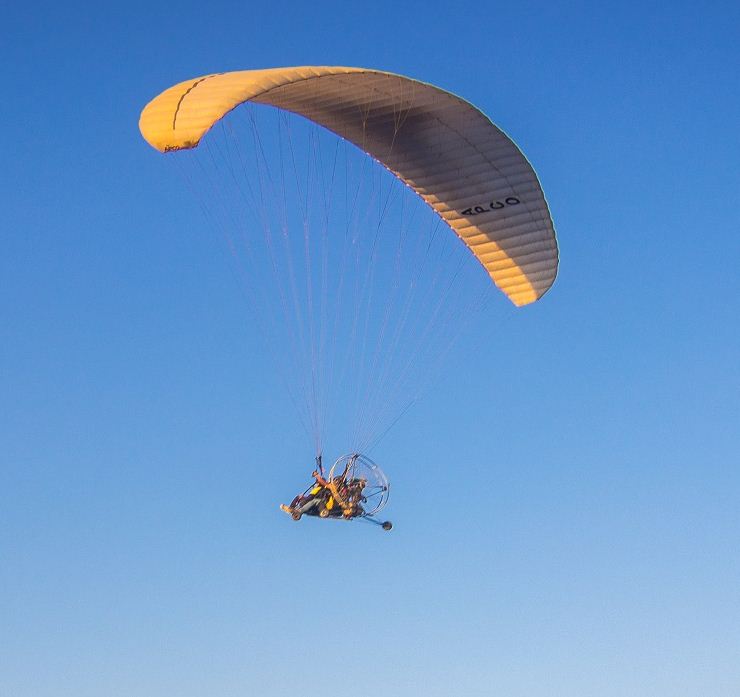 ---
|
Imphal
|
Published 19.11.18, 07:31 PM
---
The serene, 287 sq km Loktak Lake in Bishnupur district of Manipur is set to don an adventure mantle. Come Thursday, the phumdi-sporting vast expanse will add the thrill of water parasailing, adding glitz to this year's Manipur Sangai Festival.
The trial for water parasailing was held on Sunday at Chingmei Keibul Ching under the initiative of the Manipur Tourism Foundation and the Loktak Development Authority.
The nine-day water parasailing is expected to be a big draw in the adventure sport-loving state. The Manipur Mountaineering and Trekking Association (MMTA) has urged the state government for better electrification inside the Khuman Lampak Sports Complex where youth adventure sports and water sports will be held as part of the festival. MMTA president Bijoy Kakchingtabam said: "We have been participating in Manipur Sangai Festival since 2006. Every time we get huge response from sports enthusiasts, particularly youngsters. Last year, more people came at night compared to daytime footfall.
"Our major worry is insufficient lights in and around the enclosures. Many visitors complained to us last year about poor electrification and we told the officials concerned. We are not sure whether there will be changes this time."
Kakchingtabam added: "For youth adventure and water sports events, we have set up spider net crossing, motor boat rafting at rowing canal, water zorbing, rope bridge, artificial boulder-climbing, ATV biking at the Mini-adventure Tourism Complex. Paragliding will be held at Koirengi Old Airfield. From this year, we will organise a Northeast open bouldering competition too."
The MMTA will offer other packages, including an expedition to Dzukou Valley. There will be treks to Mt Iso in Senapati district, visits to Zeliad lake, Tharon cave, Barak waterfall in Tamenglong district, Shirui peak and Kangkhui cave expeditions in Ukhrul district and adventure activities at the MMI Complex at Lamdan in Chruchandpur district. We will have a local boat race, besides wind surfing."
Salai Holding and Private Limited, in association with Manipur Tourism, will organise a Sumo wrestling event at Khuman Lampak Indoor Stadium from November 22 to 25. Four Sumo wrestlers have been invited for the event.
Indigenous sports of Manipur, including mukna, khong kangjei, yubi lakpi and arambai will be demonstrated at Mapal Kangjeibung.