LPG shortage in Dhubri
The shortage of cylinders has triggered spontaneous protests in many areas across the town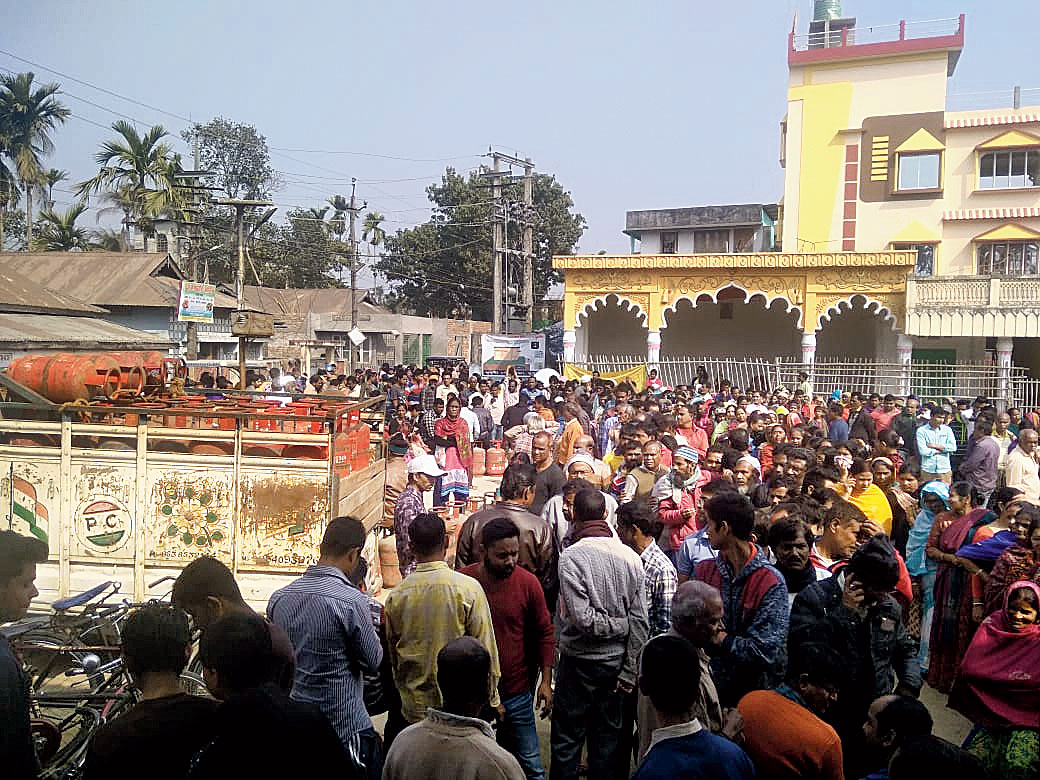 People gather to collect cylinders at Shanti Nagar LPG distribution point in Dhubri
Picture by Mukesh Kumar Singh
---
Dhubri
|
Published 14.02.20, 08:06 PM
|
---
Insufficient and irregular supply of LPG cylinders from the bottling plant in Bongaigaon has resulted in an acute shortage of cooking gas in Dhubri town, leaving consumers in the lurch for over a couple of months.
These days, hundreds of people are seen standing outside the respective cylinder distribution points fixed by the district administration to seek a refill and to get their cylinders.
The shortage of cylinders has triggered spontaneous protests in many areas across the town.
Despite it, there is no assurance when the shortage will end.
Taking full advantage of the situation, blackmarketers are allegedly raking in money town by selling a gas cylinder at almost double its price.
There are two gas agency distributors, Ashok Gas Service and Gadadhar Gas Service, which are supplying the LPG cylinders to over 60,000 domestic and 240 commercial consumers of Dhubri town, but the agencies are unable to cope with the demand.
A gas agency representative said the shortage was mainly because trucks transporting cylinders have become very irregular in the recent months from the bottling plant of Bongaigaon Refinery Petrochemical Limited (BRPL). Although, Indian Oil Corporations Lt (IOCL) has taken the initiative of launching the system of online booking the LPG cylinders and home delivery as well, it is seen that the consumers don't get the cylinders as scheduled.
A consumer of ward 13 of Dhubri town said, "It is very difficult to get a gas cylinder refilled. We are compelled to shell out around Rs 1,000 to Rs 1,200 for a cylinder, whose actual cost is about Rs 750. I have to purchase a gas cylinder in the black market as we do not get delivery on time."
B. Chakraborty, the deputy director of the food and civil supplies department of Dhubri district, said, "We have discussed the matter with the bottling plant authorities in Bongaigaon. The plant manager of BRPL (LPG) P. Basumatary said there are some issues arises due to the shutdown of a few units for filtration as well. Hence, he has asked us to wait for 15 to 20 days to resolve the issue."
Chakraborty added that they had have raised the issue with higher authorities of IOCL who had assured them of supplying the LPG cylinders from other bottling plants located in north Guwahati in Assam and Rani Nagar of Bengal as an alternative measure.
The rampant use of domestic LPG cylinders in commercial shops and eateries across the town is also a prime cause of the artificial crisis.