Language appeal in Kendriya Vidyalaya
The association said Assamese is taught in all schools affiliated to CBSE and ICSE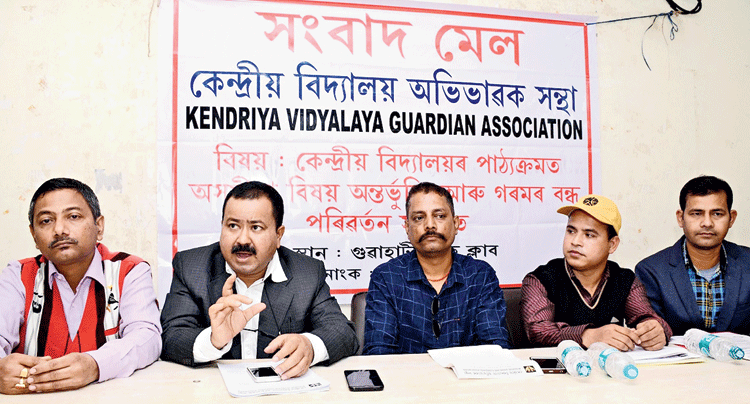 Bedabrat Bora addresses the news meet in Guwahati on Sunday.
Picture by UB Photos
---
Guwahati
|
Published 16.02.20, 06:33 PM
|
---
A section of guardians of students of Kendriya Vidyalaya here on Sunday sought introduction of Assamese as one of the compulsory subjects from classes I to XII in all its units in Assam's Brahmaputra Valley.
The demand came amid the assertion made by chief minister Sarbananda Sonowal that his government will protect and promote the Assamese language.
The Guwahati chapter of Kendriya Vidyalaya Guardians' Association sought introduction of Assamese as one of the subjects from classes I to XII in all KVs of Brahmaputra Valley from the next academic session by suitably amending Articles 108 and 112 of the KVS (Kendriya Vidyalaya Sangathan) Education Code and reschedule the summer vacation in Assam from May-June to July-August in alignment with the climate for the welfare of the students, according to a memorandum sent to the Union ministry of human resource development recently.
Rajya Sabha MP Ripun Bora, Dibrugarh MP Rameswar Teli and Gauhati MP Queen Oja had supported the proposals of the association.
The ministry has already proposed that summer vacation should be rescheduled to June and July (June 20 to July 31) to align with the climate of Assam, association members told reporters here.
"When the positive move for rescheduling the summer vacation in KVs of Assam is going on at the highest level, the authorities published the same vacation schedule on February 6," claimed association president Bedabrat Bora.
Bora said there should not be any compelling reason in not rescheduling the summer vacation since such a proposal has already been moved by the ministry keeping in view the interest of the students.
The association said Assamese, being the official language in Assam, is taught in all schools affiliated to CBSE and ICSE.
Bora highlighted Section 29 of the Right to Education Act (RTE) which says "medium of instructions shall, as far as practicable, be in child's mother tongue".
There are 41 Kendriya Vidyalas in the Brahmaputra Valley.
"Even though mother tongue of most of the students of KVs in Assam is Assamese, the subject is not included in the syllabus. That apart, the government of Assam has already decided Assamese will be made a compulsory subject in all schools of the state and only those who have studied the language till class X will be eligible for its government jobs and they are going to pass the bill soon in the Assembly in this regard," Bora said.
Sonowal had also written to the ministry for introduction of Assamese a one of the subjects from classes I to XII in all the KVs of Brahmaputra Valley.