Akhil warns of bill impact in future
Situation in Assam will become like that in Tripura, where indigenous people are now a minority, says KMSS adviser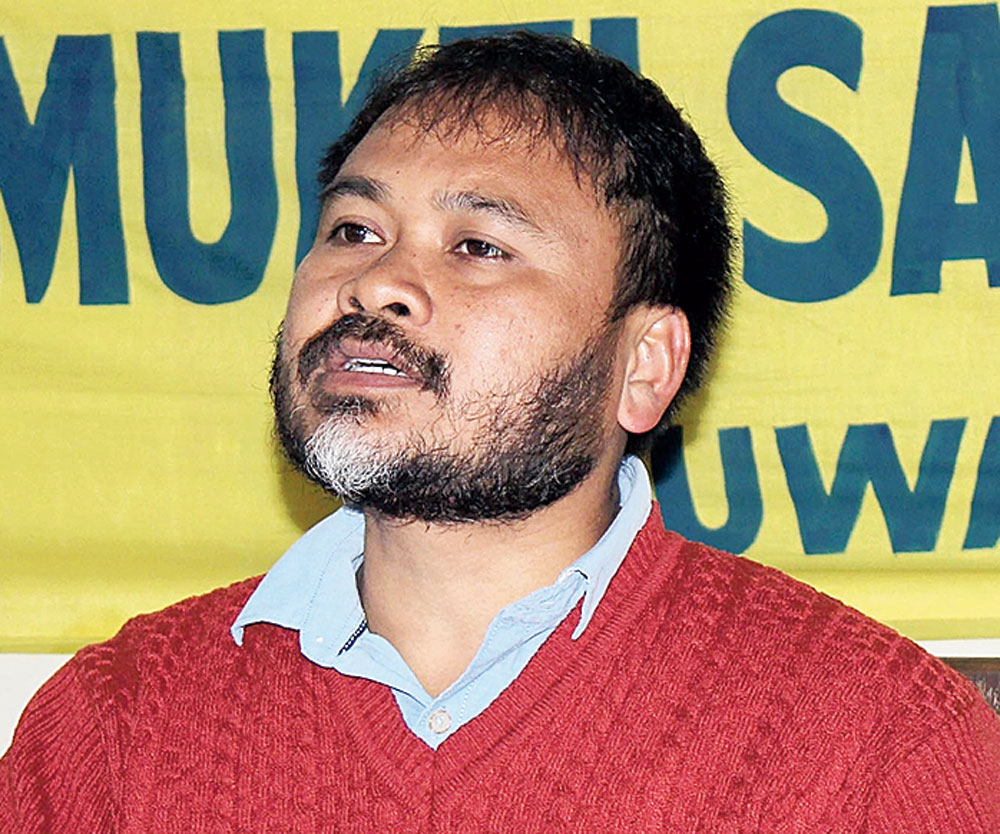 ---
|
Guwahati
|
Published 21.01.19, 06:47 PM
---
Krishak Mukti Sangram Samiti adviser Akhil Gogoi, countering Assam chief minister Sarbananda Sonowal's recent "clarifications" in support of the Citizenship (Amendment) Bill, 2019, on Monday said its impact would be slow and make the indigenous people of Assam a minority in the next 20-30 years, like in Tripura.
Sonowal, who had been maintaining silence over the bill has, of late, become vocal in its support, saying that if passed, it would allow only a "negligible" number of religious minorities to file for citizenship and the "fear psychosis" created by protesters that 1.5 crore Hindu Bangladeshis would get Indian citizenship was "baseless".
"Such kind of demographic change does not happen over a day but slowly it will make Assam like Tripura where the indigenous people are in a minority now. The BJP is advocating the bill to balance the Hindu-Muslim ratio in the state but they should realise that the threat of Muslims from erstwhile East Bengal was noticed in 1915 and the influx is being noticed now, after 100 years," Akhil told reporters at the KMSS headquarters here (see chart).
"The bill does not specify any cut-off date but two related gazette notifications passed in 2015 did. A notification can be changed anytime, which makes Sonowal's promises very deceptive," Akhil added.
He questioned Sonowal's claims that Assamese identity would be "protected" through implementation of Clause 6 of the Assam Accord and granting of Scheduled Tribes status to six communities.
"The bill is also being opposed by states like Meghalaya, Mizoram, Nagaland and Manipur which enjoy constitutional safeguards under Article 371 because they have realised that a safeguard won't be able to protect against influx. Our demand for ST status for the six communities is also because if they get the status, Assam will become a ST state and the safeguard will be implemented automatically," Akhil said.