'Joi Aai Axom' unites anti-CAB protesters
Slogans rent the air during bandh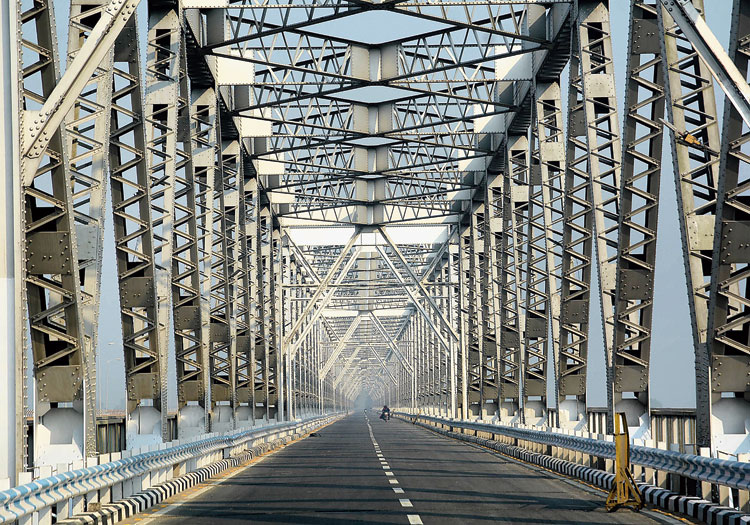 The deserted Saraighat bridge in Guwahati on Tuesday during the bandh against the citizenship bill.
(PTI)
---
Guwahati
|
Published 10.12.19, 06:55 PM
|
---
Joi Aai Axom, a popular slogan from the Assam Movement days, reverberated across the state on Tuesday as protests against the "divisive" Citizenship (Amendment) Bill intensified during the bandh called by North East Students Organisation (Neso).
Time and again whenever Assam has witnessed protests or uprising of any kind, the slogan has made an appearance because of its emotional appeal and connect. While various organisations supporting the bandh staged sit-ins on the deserted roads, locals expressed solidarity with the protesters by raising the slogan to protest and greet each other.
A group of bikers were also heard chanting the slogan to pep up visibly tired protesters at VIP Road, Borbari, Hengerabari, GS Road, Hatigaon, Beltola and Noonmati, among others. They said they were "sons of the soil" and had come out for "our motherland". "We do not belong to any organisation. We are going around mobilising support using the slogan Joi Aai Axom," one of them said.
"Joi Aai Axom is an emotional slogan used at meetings and protests, which elevates the mind and spirit fostering unity. This slogan can make a man jump out of deathbed. It is a slogan that everyone can connect with, that unites. There are other slogans but Joi Aai Axom has the intensity to make people stand together. Look at me," a retired government official said during the protest at Beltola here.
Singer-songwriter Manas Robin belted out Akou Joi Aai Axom, his upcoming song, to thunderous applause and cheers in Latasil, where the artistes' association staged a protest.
Robin, who will release the song on Wednesday, said, "I wrote and composed the song during the first phase of protests against CAB but will have to release it in view of the fresh agitation. It is unfortunate that people of Assam have been betrayed by the BJP-led government as they had high hopes. When other states can say no to CAB, why can't Assam?"
The slogan is part of the poem, Axom akou unnatir path...Joi Aai Axom bol (Assam is again on the road to prosperity...all hail our motherland) written by poet and nationalist Ambikagiri Raichoudhury. Later, when Bhupen Hazarika lent his voice to these lines, it became a kind of a cult, All Assam Students Union president Dipanka Kumar Nath said.
The slogan also found space in many writings of Rupkonwar Jyotiprasad Agarwalla and Lakshminath Bezbaroa, among others, and mainly in patriotic songs sung by Hazarika and Zubeen Garg, among others.
Various other slogans were also heard during the protests, including "Lai-lai, sei-sei" (get lost), "BJP bepari, husiar, husiar (BJP only understands business, mind it), nipat jauk, nipat jauk (let it be destroyed)" and "Sonowal sarkar hai hai". "We will shout so loud, the Centre will hear in Delhi. Joi Aai Axom!" Amar Saikia, one of the protesters at Downtown, said.
Additional reporting by Debananda Medak