IPFT exodus shot in Tripura Congress arm
It suffered a major setback on Saturday after over 1,000 IPFT supporters joined the Congress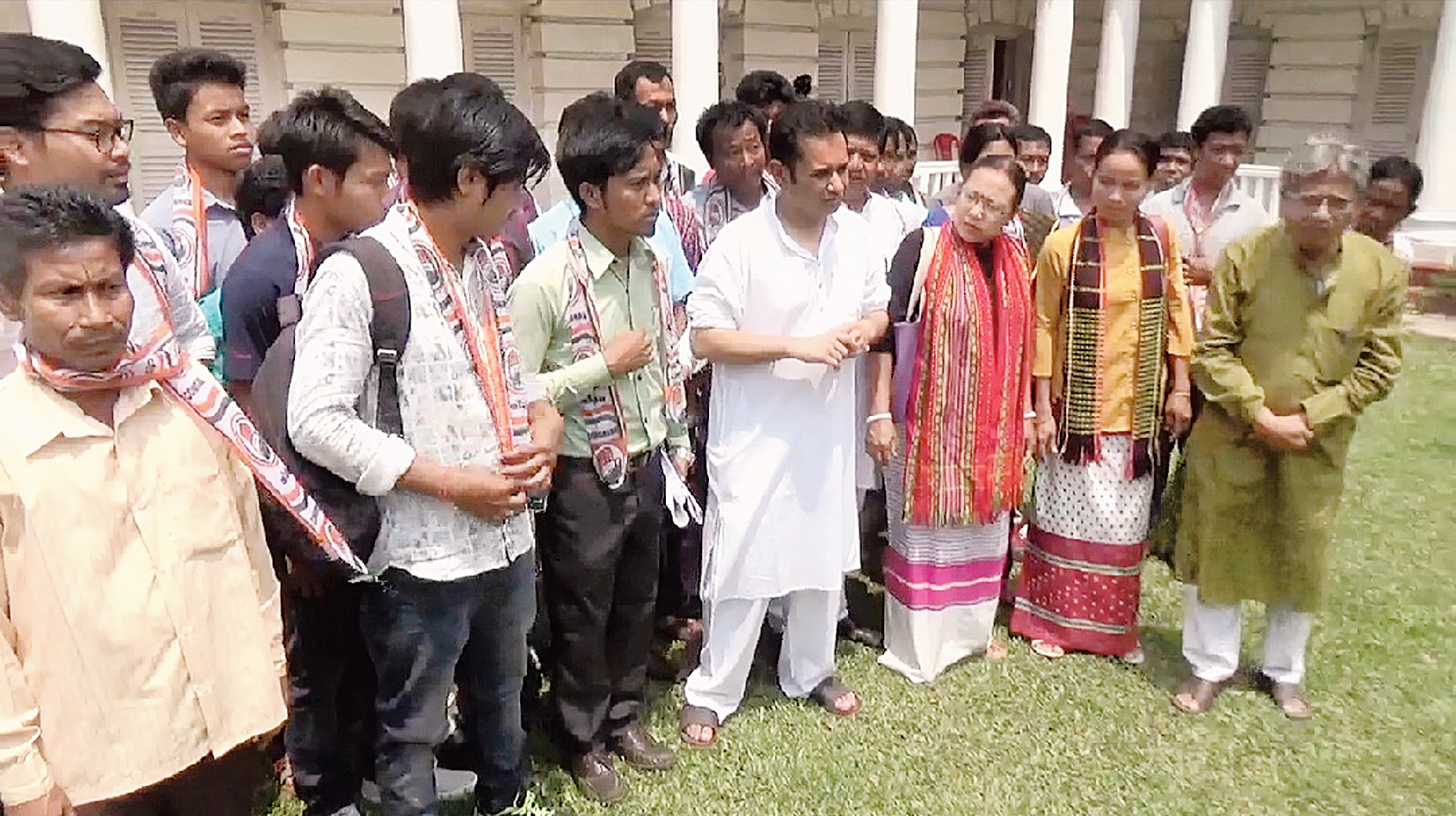 ---
Agartala
|
Published 13.04.19, 07:32 PM
|
---
Tripura's ruling BJP and its ally, the Indigenous Peoples Front of Tripura (IPFT) suffered a major setback on Saturday after over 1,000 IPFT supporters joined the Congress, alleging that the indigenous party had subjugated itself to the BJP.
Royal scion and state PCC president Pradyot Kishore Manikya Deb Burman told The Telegraph on Saturday that nearly 300 IPFT supporters joined the Congress in the morning and 700 more later in the day at Kamalpur in Dhalai district, 93km from here.
"IPFT supporters are coming to us because they have realized that IPFT president N.C. Debbarma, who is not even campaigning, submitted nomination to cut down on votes of Congress and help BJP in their movement for citizenship (amendment) bill," Pradyot said. Sohel Debbarma, a Youth IPFT leader who joined the Congress, said the IPFT gained power just before the 2018 Assembly polls in Tripura but it had handed over all its powers to the BJP now.
Asked about the Lok Sabha polls held in West Tripura parliamentary constituency on Thursday, Pradyot said, "There was a lot of violence. Tripura people can also give reply. I want to tell the gundas who terrorised people that after elections are over on April 18, your leaders and MLAs will forget you. Then you shall see what condition we make of you. I am apprehending similar attacks on April 18 when East Tripura (ST reserved) seat goes to polls but people are ready to give a befitting reply if attacked."
Pradyot said a delegation of Congress leaders from Tripura reached New Delhi on Saturday to meet officials of the Election Commission and request repolling in all polling booths where the party alleged rigging on April 11 and the replacement of the returning officer and chief electoral officer.
Leading from the front: Pradyot came to the fore following largescale desertion of influential leaders and MLAs from the party in the run-up to the Assembly elections last year.
Pradyot had been appointed PCC working president in the aftermath of 2013 elections but he failed to contribute much because of inner-party bickering and his absence from the state for long periods. But his appointment as the Tripura PCC chief in February has brought about a major change. The Congress reached its nadir in the Assembly elections last year, having lost security deposits in all but one of the 58 seats it had contested in the 60-member House.
"The autonomous district council is my priority now, election to which is scheduled to come off next year. Do not be surprised if a major development takes place before that. Congress voters who ensured the BJP's win last year are frustrated and on their way back to their original party fold," said Pradyot. He has reason to be happy as he presides over a party-joining programme every day in one corner of the state or the other.
Besides, by nominating senior BJP leader Subal Bhowmik, who rejoined the Congress less than a month ago, Pradyot seems to have played a masterstroke. Bhowmik is giving the BJP a run for its money, as reflected in chief minister Biplab Kumar Deb's poll speeches.
His sister, Pragna Deb Burman, as party candidate for the East Tripura (ST) seat.
"I am not contesting the elections because as PCC president, I have to coordinate the poll campaign for both seats. Congress will perform well and things will improve," Pradyot said.