Interim bail for NDFB chief
Hopes pinned on R-Day tripartite talks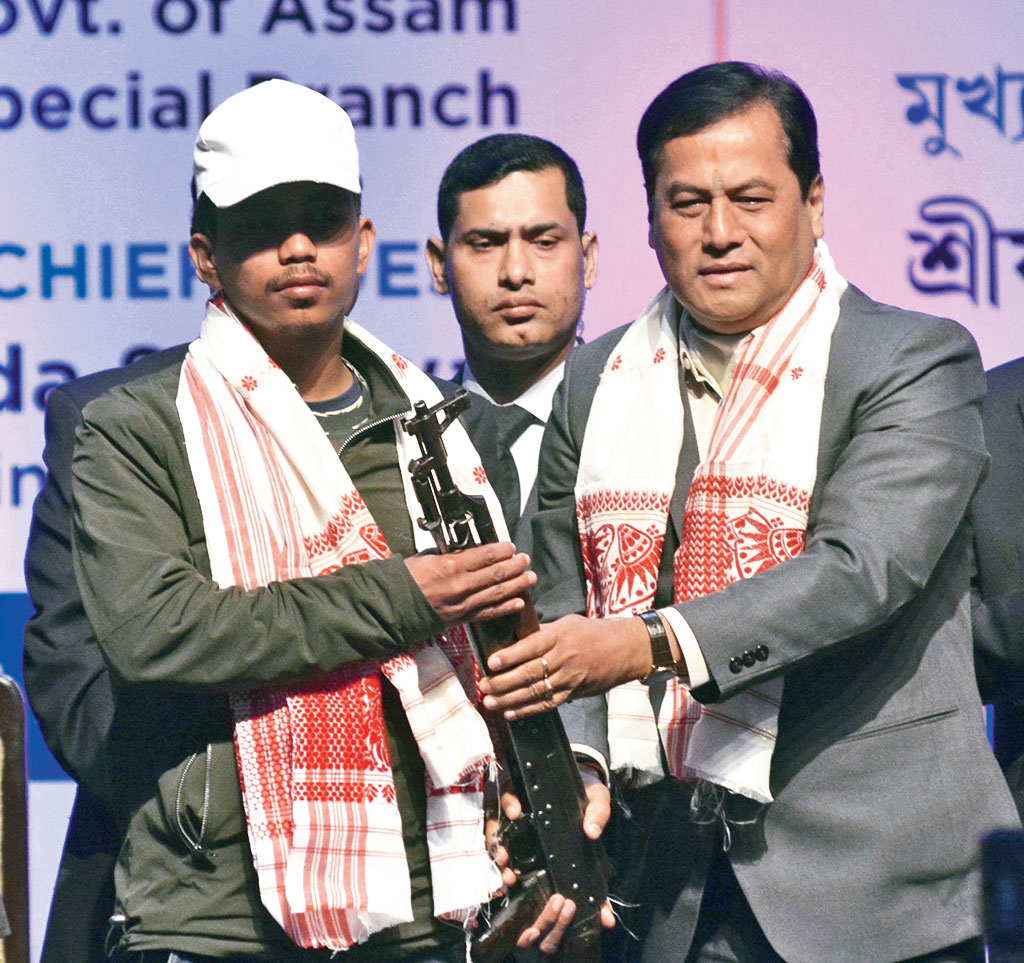 ---
|
Udalguri
|
Published 24.01.20, 07:59 PM
---
A specially constituted division bench of Gauhati High Court on Friday granted interim bail to National Democratic Front of Boroland (NDFB) chief Ranjan Daimary, paving his way to join the peace talks to be held in New Delhi in a few days.
Leaders of other factions of the NDFB are reportedly camping in Delhi for the much-awaited peace talks, sources said.
The bail petition was reportedly moved after a home ministry directive to facilitate Daimary's presence in the much-expected peace discussion between the Centre and the Bodo militant groups. Daimary's advocate, Manas Sarania said, "We moved his bail petition on Friday evening and he was granted interim bail for four weeks. He will be flown to Delhi on Saturday to join the peace parleys."
Last year, Daimary was sentenced to rigorous life imprisonment for his role in the 2008 Assam serial blasts case.
Over 90 people were killed and 400 injured in the blasts by the Daimary-led militant outfit in Guwahati, Kokrajhar, Bongaigaon and Barpeta.
The CBI had probed the case.
NDFB (S) leaders, including its chairman, B. Saoraigwra, general secretary B.R. Ferenga and senior members B. Batha and G. Bidai are camping in Delhi to give final touches to the talks on the proposed Memorandum of Settlement (MoS) which is likely to be inked on Republic Day.
Formal talks between the Centre and the three factions of the NDFB, led by Ranjan Daimary, Govinda Basumatary and Dhiren Boro were already on. The NDFB (S) is the latest to join the process.
Speculation is rife that the BTC will be given more autonomy, which, according to sources, will be "something more than the existing council but less than a full fledged state".
They said the Centre is mulling a "composite agreement" involving all stakeholders.
The push for a final deal gathered pace with the signing of the agreement with the state and central governments and NDFB (S), whose top brass and cadres crossed over to India from their bases in Myanmar on January 11 to join the peace process.
Joyeeta Bhattacharjee, foreign policy analyst and senior fellow of the strategic studies programme at the Observer Research Foundation (ORF), India's leading think tank, said, "The signs are quite positive and it is hoped that insurgency in Assam will come to an end and ensure that peace comes in totality."
However, Kokrajhar MP Naba Kumar Sarania is opposing the formation of a Union Territorial Council (UTC), replacing the Bodoland Territorial Council in Assam.