'Inclusive' forum for Northeast journalists : Patricia Mukhim
The editor refused to reconsider her decision to quit the Editors Guild of India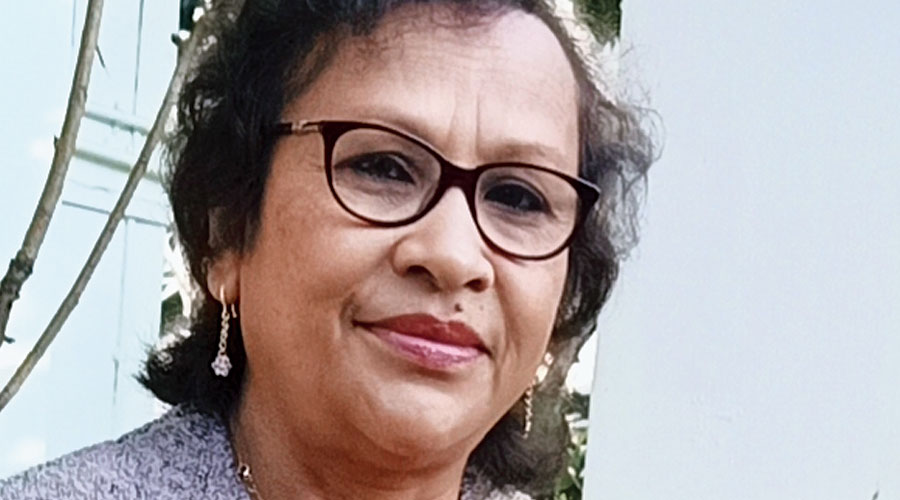 ---
|
Guwahati
|
Published 19.11.20, 01:29 AM
---
Patricia Mukhim, the editor of The Shillong Times, said on Wednesday that she would not reconsider her decision to quit the Editors Guild of India and floated the idea of an alternative broad-based and inclusive forum for Northeast journalists.
Mukhim had on Monday resigned from the Guild, accusing the association of defending celebrity anchors while choosing to ignore her plea.
"I cannot reconsider going back to an organisation that I have left after giving much thought on for over a week," the Padma Shri awardee told The Telegraph on Wednesday evening, in reply to a question.
Two executive committee members of the Guild had called her on Monday and requested her to reconsider, Mukhim had said on Tuesday.
On Wednesday, Mukhim, the editor of the Northeast's second oldest English daily, mooted an "inclusive and broad-based" platform for journalists in the region so that they can take up issues that affect them.
"The Northeast needs a journalists' forum to protect our freedoms. An organisation which will stand up for the fraternity," she said.
A section of senior journalists from the Northeast has discussed on social media the idea of floating an editors' guild for the region.
Mukhim said: "I would just like to add that as a fraternity if we don't stand up for ourselves, no one will do it for us. We must claim our right to free speech and must collectively approach the Supreme Court to do away with colonial laws like criminal defamation and sedition, among others."
Her resignation letter accessed by this newspaper shows Mukhim was upset with the Guild for "maintaining complete silence" after Meghalaya High Court on November 10 refused to quash an FIR filed against her. The FIR was filed by the Dorbar Shnong (traditional institution) for her July 4 Facebook post following an attack on a group of non-tribal youths playing basketball in a Shillong locality.
Meghalaya High Court had observed that Mukhim's post "apparently seeks to promote disharmony or feelings of enmity, hatred or ill-will between two communities". Mukhim has defended her post, asserting she had only raised the issue of "continued" attacks on non-tribal persons in her post.
In the resignation letter, Mukhim mentioned that the Guild spoke up for Republic TV managing director Arnab Goswami when he was arrested in a suicide abetment case.
Mukhim said she would approach the Supreme Court in connection with the case next week.