IIT Guwahati study to power all-weather electric vehicles
The current project is exclusively for two-wheelers but the research team is also working to develop the design process methodology for four-wheelers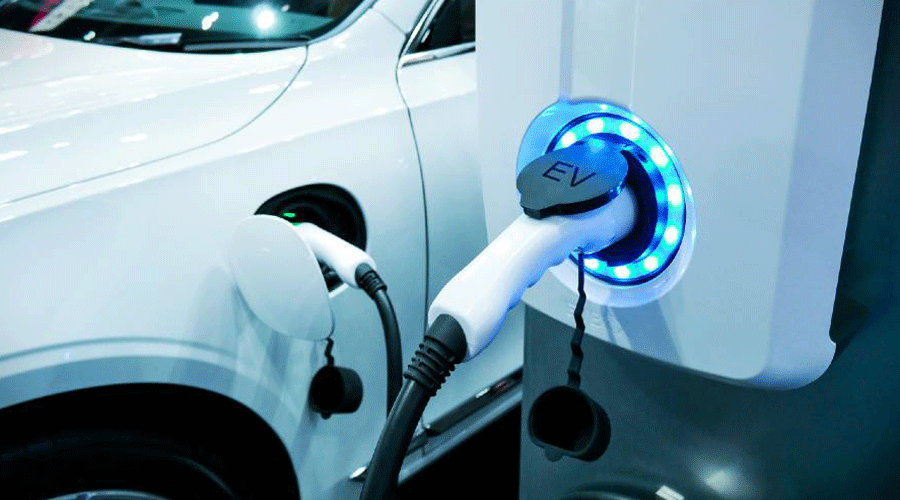 Representational image.
Shutterstock
---
Guwahati
|
Published 05.04.22, 12:14 AM
|
---
The Indian Institute of Technology Guwahati has developed a design process to help electric vehicle companies manufacture batteries and motors for different climatic and road conditions in India so that the efficiency of such vehicles increases and its overall maintenance cost is also reduced.
"Our design process methodology will reduce fuel consumption and improve mileage performance of electric vehicles. It will further result in reduced emissions and better battery durability without affecting manufacturing cost. It will reduce the running and maintenance cost of EVs," Mulpuri LN Sai Krishna, a research scholar with the E-Mobility Lab, Department of Electronics and Electric Engineering, IIT G, told The Telegraph.
The current project is exclusively for two-wheelers but the research team is also working to develop the design process methodology for four-wheelers. The research team is led by Praveen Kumar, professor, DEEE, and has focussed on climatic conditions in both rural and urban India.
"They developed the method to suggest the best drive-train to manufacture. Drive-cycles developed by the IIT Guwahati team are unique and not available anywhere else. An electronic drive-train developed in a humid region does not work the same in a dry and colder environment. Therefore, the OEMs right now are considering creating standard drive-cycles for Indian conditions," an IIT G statement said.
Drive-cycle is a dataset of vehicle speed collected at every instant of time. Indian drive cycle means data collected in different regions of the country. On the other hand, an electronic drive-train is group of components — including batteries and motors — that deliver power to the wheels. 
The development has come at a time when the Centre and several state governments are promoting the EV ecosystem. In the Union budget for 2022-23, the Centre has made budgetary provisions to promote EVs as a key mode of public transport.
The Assam government had last year announced its electric vehicle policy to create an EV ecosystem  so that there are two lakh EVs by 2026. Taking it forward, the Assam government said on March 24 that it will order 200 electric buses for Guwahati to help reduce carbon emission, the largest contributor to climate change. 
Around 20 plus companies had contacted IIT G for Indian drive-cycle data before the release of the report on the design process on its website and social networking site LinkedIn on March 28. 
Prof. T. G. Sitharam, Director, IIT Guwahati, said: "The development in the field of next-generation energy-efficient EV technology is one of the most important breakthroughs required for the sustainable development of the country and to reduce carbon footprint. IIT Guwahati is earnestly working in this direction. This development will augment this process and maximize the outcomes."
This research will also benefit start-ups.