Idol-maker rues drop in sales
High cost of production and low sale of idols is becoming difficult to sustain the trade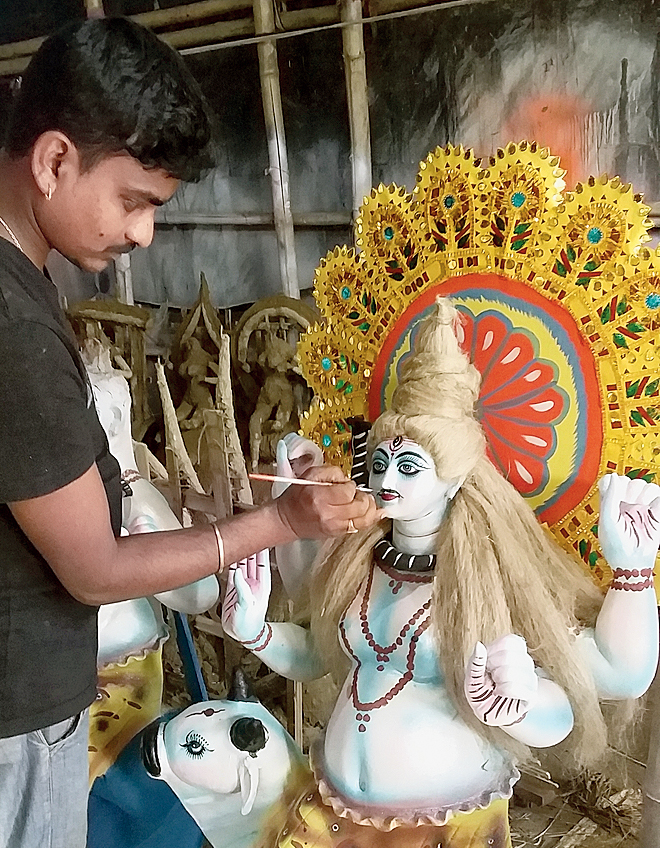 Shankar Pal puts finishing touches to the idol.
Picture by Manoj Kumar Ojha
---
Doomdooma
|
Published 03.03.19, 11:35 PM
|
---
Shankar Pal, 30, a traditional idol-maker, is busy putting finishing touches to a statue of Shiva on Sunday afternoon in Upper Assam's Tinsukia district, ahead of Shiv Ratri on Monday.
However, lines of worry can be seen on his forehead because of the price hike of the essential commodities in the past few years.
Pal said, "The colour which we use was Rs 1,400 per kilogram last year, which suddenly rose to Rs 2,000 per kg this year. The price of straw and soil has also been doubled and are not easily available as the farming lands in Tinsukia are used for brick kilns. The clothes we used to decorate the idol is also quite expensive."
"At least Rs 700 to Rs 800 is required for a normal-sized idol, which we sell for Rs 1,000. It takes an average three days to make an idol. Because of the price hike, we are not getting enough orders. I am planning to do other similar work," Pal said. Pal's elder brother, Joykrishna, who jointly run the shop, agreed that because of high cost of production and low sale of idols, it is becoming difficult to sustain the trade.
There is a sizeable population of idol-makers in Tinsukia district, who basically hail from Calcutta.
Meanwhile, Maa Kamakhya Bhakt Mandal will celebrate Shiv Ratri with a procession from Sukleswar Mandir to Sadhana Mandir in Guwahati on Monday.