Heritage tag for Dima Hasao tracks - Centre honours people's wish on the 49km metre gauge line
Read more below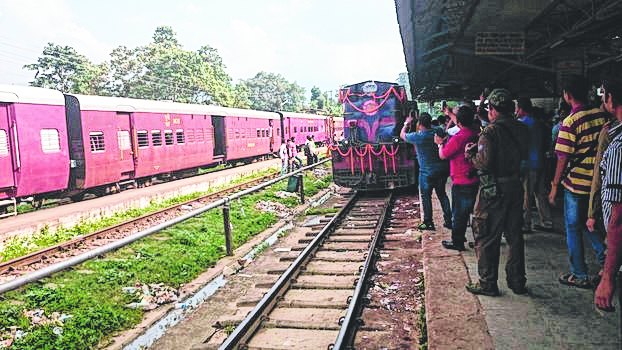 ---
---
Silchar/Haflong, Jan. 2: The Northeast Frontier Railways have decided to retain the Mahur-Harangajao section of the now-under-dismantling Silchar-Lumding metre gauge track, fulfilling a long-standing demand of the people of the Dima Hasao district.
The particular section stretched over 49km of the 110 year-old metre gauge line but is outside the under-construction broad-gauge route and has thus remained untouched by the conversion work.
The railways had initially assured that the stretch would be retained both for its heritage value and for the purpose of communication, but then had gone back on its word. People of the hill district also want the section to be bestowed a heritage tag.
Union minister of state for home affairs Kiren Rijiju yesterday announced that railway minister Suresh Prabhu had agreed to the demand of the people of the district and decided to keep the the Hill Queen Special, a metre-gauge train, running.
Rijiju said Prabhu had informed him that his ministry was estimating the cost of running the metre-gauge train as a heritage train. The plying of the metre-gauge train on the stretch between Lumding and Silchar was stopped from October 1 last year to facilitate the conversion of the track into broad gauge.
The train apart from catering to the travelling needs of public in Mahur, Haflong Hill, Jatinga and Migrengdisa villages, will also attract hordes of tourists, both inland and overseas.
Debojit Thaosen, the chief executive member of the autonomous Dima Hasao district council and also the chairman of the Joint Action Committee for Heritage Line, expressed his satisfaction at the announcement.
The construction of the broad-gauge track is expected to be over by March 31 this year. The Joint Action Committee for Heritage Line had also informed reporters in Haflong yesterday about the railway ministry's decision.
The committee, comprising 21 different organisations, including students' organisations, NGOs and civil societies, was formed on December 15 after the North East Frontier Railway's flip-flop on its decision to implement the plan to make the stretch a heritage track.
Liton Chakraborty, the secretary of the committee, said they had last month submitted a memorandum to the chief minister, the Union railway minister, the Railway Board and NF Railway, requesting retention of the metre gauge track and declaring it a national heritage.
'The New Year has brought good news for the people of Dima Hasao,' Chakraborty added.
Kailan Daulagapu, the president of the Jadikhe Naiso Hosom, the apex body of the Dimasa community, said retention of the metre-gauge line was crucial as it catered to commuters from 100 villages in the area.
'The heritage tag will also attract tourists to the surroundings, which will help earn more revenue,' he said.