Hail a 'captain', steer clear of traffic snarls
Rapido, the bike app, was officially launched in Shillong on Tuesday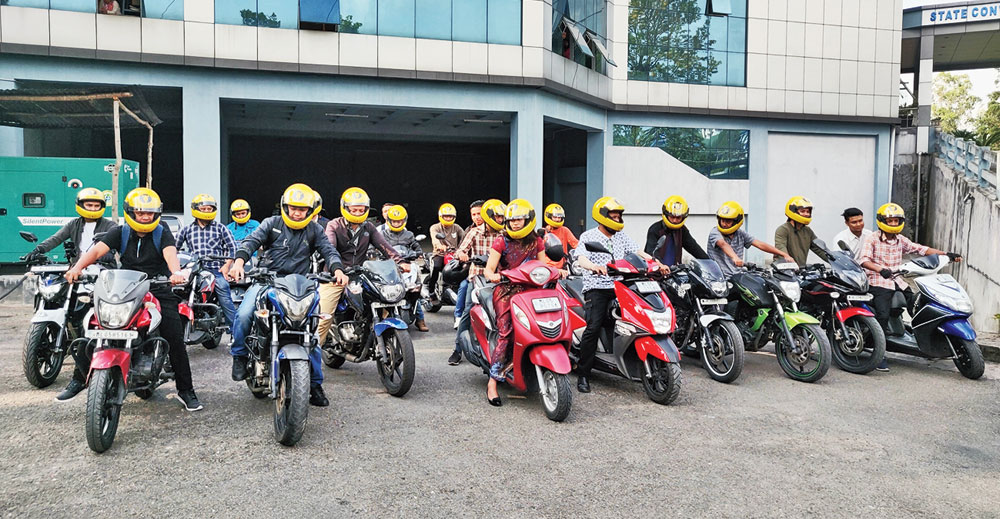 Rapido riders at the launch in Shillong on Tuesday
A Telegraph picture
---
Shillong
|
Published 07.05.19, 06:42 PM
|
---
In an effort to overcome traffic congestion and help people reach their destination on time, Rapido, the bike app, was officially launched here on Tuesday.
The Bangalore-based organisation, which has registered more than 150 bikers, including four women here, is offering the service at an introductory rate of Rs 29 for a 4km journey. The base price is Rs 15 while the service charge is Re 1 per minute. For those who wish to avail of the service can download the Rapido app and book the rider, known as "captains", who will fetch and drop the customers at the place of their choice.
Rapido Shillong city head Suman Acharjee said the service had started on a small scale a few weeks back, and for now, it will cover the entire city by taking customers up to Laitkor, Elephant Falls at 7th Mile in Upper Shillong and Mawïong along the Guwahati-Shillong Road.
Based on demand, the service will be expanded to cover other places as well, Acharjee said at the launch on Tuesday.
He said insurance cover will be provided for the captains and the customers. For customers, the cover is Rs 30,000 for minor accidents and Rs 5 lakh for fatal ones. The insurance cover for captains is Rs 50,000 for minor accidents and Rs 5 lakh for deaths.
Meba Rapthap, a student, was the first female rider to register here.
To avoid harassment of female riders, the app does not disclose the contact numbers of the female captains.
The next time you see a rider in a yellow helmet, be assured it's a Rapido captain.