Gadkari connects the dots in Arunachal with highways
The 2019 Lok Sabha and Assembly polls will most probably be held simultaneously in April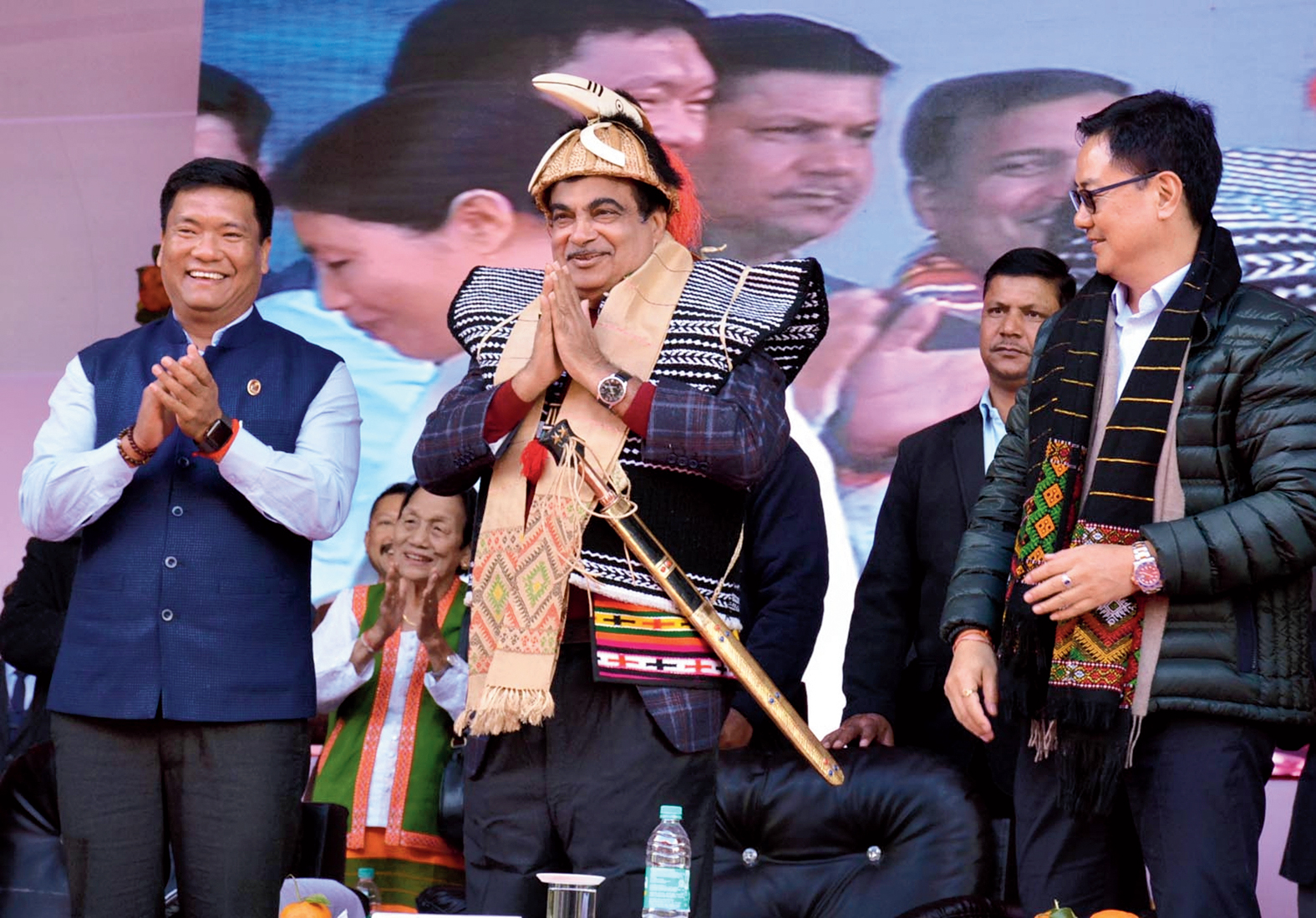 ---
|
Tinsukia
|
Published 20.12.18, 08:37 PM
---
Union road transport and highways minister Nitin Gadkari on Thursday inaugurated and laid foundation stones for national highway projects worth Rs 9,533 crore at two separate functions at Roing and Ziro in Arunachal Pradesh.

Gadkari, accompanied by Arunachal Pradesh chief minister Pema Khandu, said at Roing, his first port of call, that these infrastructure projects would not only generate employment but also usher in overall development of the Northeast.
"The four mantras of development — water, power, transport and communication — can only bring welfare to the poor and farmers, villagers and the common man," he told the gathering.
"We are happy that we have concentrated on improving road communication in the Northeast and till date we have spent Rs 2.50 crore on development of roads and other infrastructure projects which will change the picture of the place," he said.
Gadkari's visit comes ahead of the 2019 Lok Sabha and Assembly polls in Arunachal, which will most probably be held simultaneously in April.
Connectivity is a major issue in the frontier state which borders China.
At Roing, he dedicated several small bridges, built over the Dibang and Lohit rivers at a cost of Rs 1,508 crore and totalling 30.95km in length, and two two-lane roads — from Mahadevpur to Buridihing (25.14km) and from Bordumsa to Namchuk (22.23km) — built at a total cost of Rs 326.51 crore, to the people.
He also laid the foundation of 11 two-lane roads, three at Roing (length 96.47km and costing Rs 2,114.62 crore) and eight at Ziro (length 472km and costing Rs 5,583.92 crore).
At Ziro, Gadkari assured the people of Arunachal that the Centre would leave no stone unturned in supporting the development of the state.
He said the new highways and bridges would ensure quicker, safer, all-weather connectivity for the people of state.
Lauding the Centre's support, chief minister Khandu said in Roing, "These infrastructure projects will transform the picture of northeastern states as it will boost connectivity, bridge the gap with the far-flung areas and allow development to make in-roads."
At Ziro, Khandu said the state government would strictly deal with anyone involving in corruption related to highway compensation.
He said because of land compensation issues and exorbitant compensation rates, the Potin-Pangin highway was unable to make a headway despite the project being launched in 2008.
Minister of state for home affairs Kiren Rijiju, deputy chief minister Chowna Mein, state minister Bamang Felix, state BJP president Tapir Gao, chief secretary Satya Gopal, National Highways & Infrastructure Development Corporation Limited (NHIDCL) managing director N.N. Sinha and others were present at the events.
Additional reporting by our special correspondent in Guwahati