Former Manipur CM Ibobi for joint protest against citizen bill
Ibobi, who heads the Congress legislature party, has urged the governor to call a special session of Assembly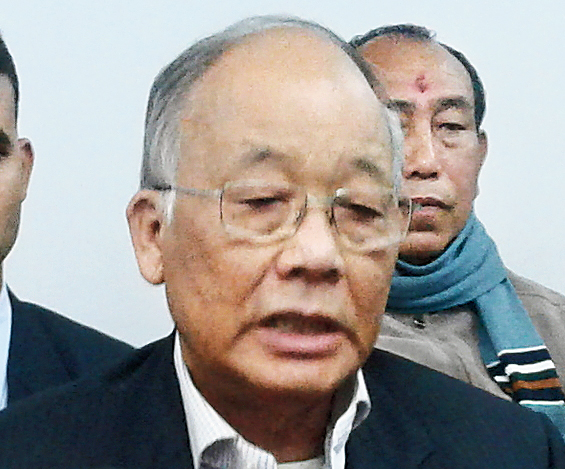 Okram Ibobi Singh in Imphal on Monday
The Telegraph picture
---
Imphal
|
Published 21.01.19, 06:50 PM
|
---
Former Manipur chief minister Okram Ibobi Singh on Monday said if Northeast chief ministers oppose the Citizenship (Amendment) Bill, 2019, together, the Centre would take serious note of the people's voice.
"When the chief ministers of Mizoram and Meghalaya had opposed the bill, Manipur chief minister (N. Biren Singh) had said he had asked the Centre to insert a clause to protect the state's indigenous people. Will his request be accepted by the Centre when the bill was passed in Lok Sabha denying the people's voice?" he asked.
"Is the BJP-led state government afraid of the Centre in opposing the bill?" he added.
Ibobi Singh, leader of the Congress Legislature Party, spoke to reporters at the Congress Bhawan here after submitting a memorandum to governor Najma Heptulla, requesting her to convene a special session of the Assembly at the earliest. He was accompanied by PCC president T.N. Haokip, member of the Congress Working Committee Gaikhangam, and others.
The governor told the delegates that it would take 15 days to convene a session as the House had been prorogued.
Ibobi Singh said the Congress has been opposing the bill since the day it was tabled in Parliament. "We have been requesting an all-party meeting and special Assembly session. As there was no response to our demand, we approached the governor," he added.
"We want to help the government take a unanimous resolution in the House to oppose passing of the bill in the Rajya Sabha. The budget session of Parliament is scheduled to begin on January 31," he said.
Ibobi Singh said the bill has sparked anxiety among the people and in the backdrop of region-wide protests, they were demanding immediate collective response from their elected representatives. "The PCC shares the public sentiment and wants an urgent special Assembly session for an in-depth debate on the bill," he added.
Ibobi Singh said the Centre talks of Act East policy and development of the Northeast but the rhetoric has not been implemented. "So we are wary about the bill," he added.