Mahanta sniffs plot in security cut
Curb-protest slur on government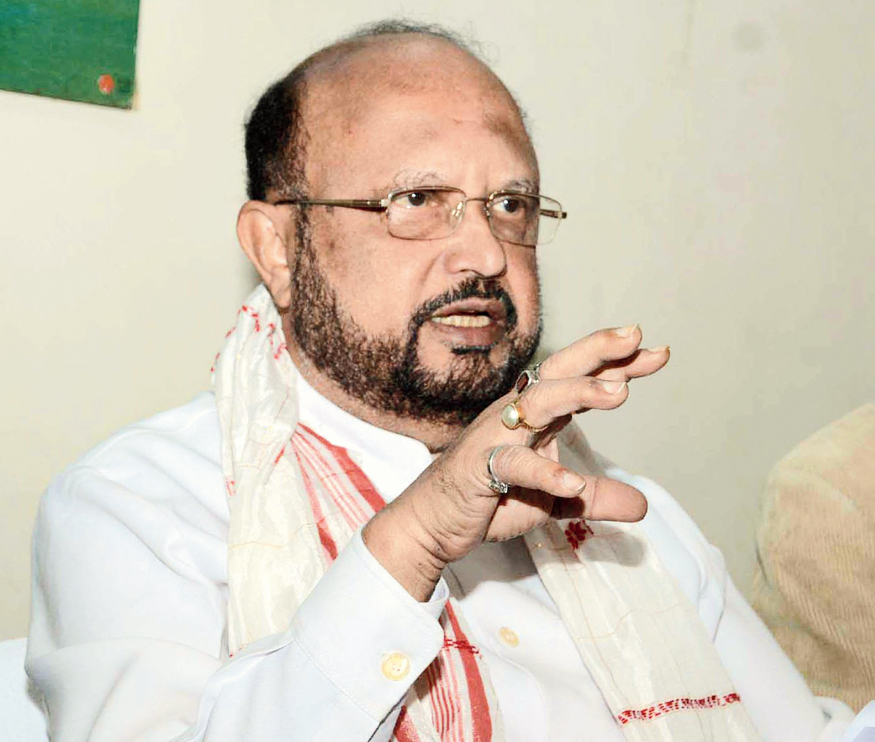 ---
|
Guwahati
|
Published 22.12.19, 09:02 PM
---
Former two-time chief minister of Assam Prafulla Kumar Mahanta on Sunday accused Dispur, Delhi and Ulfa (Independent) of hatching a conspiracy to scale down his Z-plus security cover.
The claim by Mahanta, also the founder president of the AGP, comes amid widespread protests against the Citizenship (Amendment) Act, 2019 of which he has been a vocal critic since 2015.
Mahanta said the ministry of home affairs had, in a December 16 letter, said it had reviewed his security arrangements in consultation with the central security agency and, with the "approval of competent authorities", immediately replaced his NSG mobile security cover with CRPF personnel. He, however, remains a Z-plus protectee of the state government, the letter said.
The handover from NSG to CPRF personnel was completed on Saturday.
According to Mahanta, the conspiracy allegedly involved chief minister Sarbananda Sonowal, Union home minister Amit Shah, Ulfa commander-in-chief Paresh Barua, and senior leaders of his party.
It was hatched to check him from openly protesting against the "divisive and unconstitutional" amended citizenship law.
Mahanta said the development took place after Sonowal, cabinet minister Himanta Biswa Sarma, AGP leaders Atul Bora and Keshav Mahanta met Prime Minister Narendra Modi and home minister Amit Shah in Delhi recently, around the time the protest in Assam against the CAA was gathering steam.
Mahanta said: "There was a recent interview of Paresh Barua on TV where he spoke about me. I feel it is a revenge move by the government and the insurgent group for opposing the CAA," he said.
In the interview, Barua claimed that Mahanta had met AASU adviser Samujjal Bhattacharjya. He asked Mahanta not to divide the AGP into groups, sources said.
The NSG cover was provided to Mahanta after Ulfa militants made an abortive attempt on his life near Kamakhya Gate here in June 1997 when he was the chief minister. During his second term, he had gone all out to check insurgency.
Mahanta said: "I want to convey to the BJP-led government and Prime Minister Narendra Modi that we will not stop opposing the CAA, security cover or no security cover, because the people of Assam are with us. We have not betrayed the people, I have full faith in them. They will provide me security."
Though Mahanta had moved the court in 2017 to secure a stay to scale down his security, he will not seek legal recourse this time. "Instead I have thought of sending a representation to the Centre," he said.
Sources in the chief minister's office have dismissed the charge. "Nothing like that. Even security cover of the Gandhi family members has been scaled down based on assessment," a source said.
BJP spokesperson Rupam Goswami said Mahanta would continue to get the security he deserved based on threat assessment. "It is better not to politicise the security issue by flagging the conspiracy angle. These things are regularly assessed," he said.