Extortion bid from Durga Puja panel flayed
The PAC urged the police to immediately identify the culprits behind this extortion and book them according to the law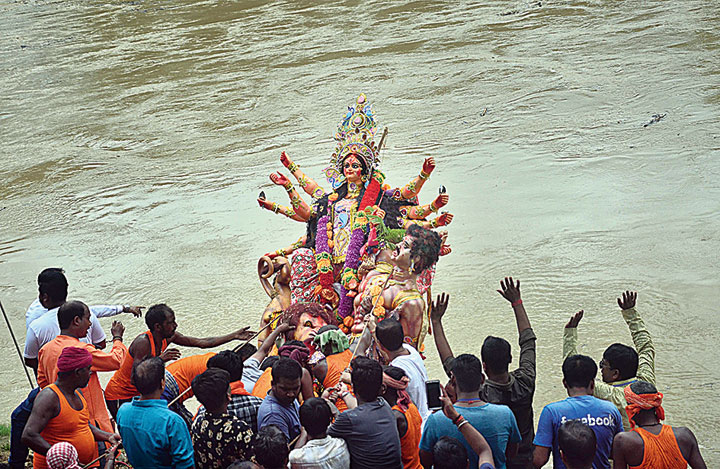 ---
Dimapur
|
Published 09.10.19, 06:57 PM
|
---
The public action committee (PAC) of Naga Council Dimapur has expressed shock at the alleged demand for money by NSCN (Isak-Muivah) cadres from a Durga Puja committee here.
In an October 6 audio recording of the conversation between the Puja committee's secretary and two persons, allegedly belonging to the NSCN (Isak-Muivah), the cadres are heard "demanding" money because the Puja committee had constructed a pandal.
"It is a shame and disgrace that people who claim to be nationalists can stoop so low when the PAC has postponed its proposed strike to let the Hindu community celebrate its festivals," a release issued by the PAC's media cell said on Wednesday.
The PAC urged the police and the administration to immediately identify the culprits behind this "daylight extortion" and book them according to the law.
It appealed to the NSCN (I-M) to take stern disciplinary action against its erring cadres and make public their identities and punishments to be imposed immediately.
It condemned such acts of threat, intimidation and extortion that hamper festive atmosphere and called upon all sections of society to condemn, expose and root out those who not only tarnish the name of the group but also bring shame to the Nagas as a whole.
The NSCN (I-M) Union Territory (UT)-1 asked all gaon burahs (village chiefs), colony council chairmen and business groups not to entertain any kind of donation during the festive season in the name of its government without the knowledge and permission of the chief administrative officer and UT-1 secretary. NSCN (I-M) UT-1 secretary Ghokuto Chishi cautioned that strict action would be taken against any of its workers found seeking donation and provided his contact number (8014620571) for inquiries.