Ex-HNLC leader encounter: Knives dumped in Shillong protest
The blades were collected during a 'knife surrender rally' organised by 11 groups under the banner of Ka Sur Ki Nong Mawlai (The Voice of Mawlai People)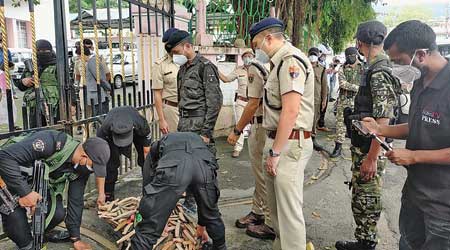 Security personnel collect the knives deposited at the gate of the secretariat in Shillong by the leaders of the pressure groups from Mawlai on Friday
Telegraph picture
---
Published 11.09.21, 12:07 AM
|
---
Senior leaders of the 11 pressure groups seeking the suspension of three senior Meghalaya police officers for their alleged role in the August 13 encounter death of a former militant leader deposited over 500 knives at the gate of the state secretariat in Shillong on Friday morning in protest against the "unbelievable claim" that he was shot after he had tried to attack the police team with a knife.
The knives were collected during a "knife surrender rally" organised by the groups on Monday under the banner of Ka Sur Ki Nong Mawlai (The Voice of Mawlai People).
Meghalaya chief minister Conrad Sangma has maintained it would be unfair to suspend the police officers before the report of the judicial probe panel set up by the government comes in.
Political observers said that with both sides standing firm, it remains to be seen who blinks first. "But since the knives are out, the NPP-led state government has to act with tact to douse the fire triggered by the encounter death," one of them said.
The pressure groups are seeking the suspension of director-general of police R. Chandranathan, East Jaintia Hills superintendent of police Jagpal Singh Dhanoa and SP (traffic) Shailendra Bamaniya for their alleged role in the death of former Hynniewtrep National Liberation Council (HNLC) general secretary Cheristerfield Thangkhiew in an encounter with the police in the early hours of August 13 at his Mawlai residence in Shillong.
Though the police have claimed that Thangkhiew was shot in self-defence after he tried to attack the police team with a knife, it found few takers after his family alleged that the ailing man was killed by the cops, fanning anger and protests. This led the government to impose curfew in Shillong on August 15, the day Thangkhiew was laid to rest. Thousands attended his funeral.
Donboklang Kharlyngdoh, president of Hynniewtrep Youths' Council (Mawlai circle), one of the leaders of the groups, told The Telegraph that the "surrender and deposit of knives" was a message to the police that they cannot kill somebody just for possessing a knife and that they will continue with their protest till they get justice for Thangkhiew.
"The surrender and deposit of knives were against the unbelievable claim of the police after the fake encounter," Kharlyngdoh said.