Disabled persons to knock on Meghalaya High Court's door for jobs
Sit-in organised in protest against the state government on International Day of Persons with Disabilities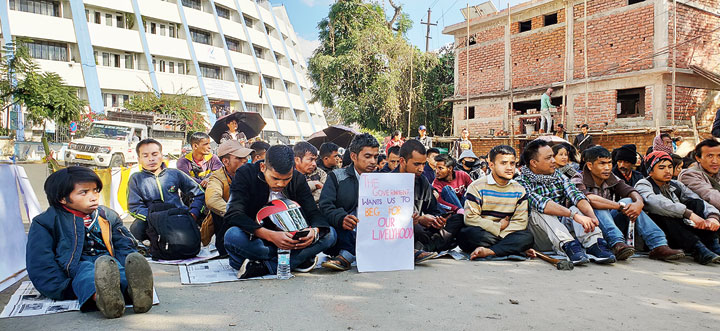 Persons with disabilities stage a protest in Shillong on Tuesday.
Rining Lyngdoh
---
Shillong
|
Published 03.12.19, 09:11 PM
|
---
The Federation of Persons with Disabilities in Meghalaya will knock on the door of Meghalaya High Court if the four per cent job reservation due to them is not implemented immediately.
This was announced on the International Day of Persons with Disabilities asthey assembled for a sit-in at the parking lot near the additional secretariat here on Tuesday.
The sit-in was organised in protest against the state government for its alleged failure in fully implementing the four per cent job reservation in various government departments, delay in enhancing the employment allowance for persons with disabilities who have completed matriculation, and denial of various schemes and benefits like the PMAY scheme for making houses, and availing loan under the National Handicapped Finance and Development Corporation through the Meghalaya Cooperative Apex Bank to take up self-employment ventures.
"We will assemble here again at this same venue on December 19 to make the government hear our grievances. If the government does not listen, we will discuss among us for contributions so that we can fight for our rights in the high court," Starwin Kharjana, the publicity secretary of the federation, told reporters.
Kharjana said a similar petition of the National Blind in Supreme Court has led to an order directing the Centre to complete the backlog recruitment for persons with disabilities. "We are delighted and hope that we will get justice."
The federation comprises six organisations.
"We met social welfare minister Kyrmen Shylla on September 23 this year and he assured of doing something for the welfare of persons with disabilities, including job reservation and welfare schemes. After a month when we met him again, his replies did not satisfy us. The statement of the minister discouraged us when he said that if we are not satisfied with his replies, we should go and ask from the directorate of social welfare. We want to know from the minister whether the directorate is higher than the secretariat? We want to send this message to the minister that he should thoroughly look into our demands," Kharjana said.
The persons with disabilities demanded that job recruitment in various departments either by the district selection committee or the Meghalaya Public Service Commission should ensure the four per cent job reservation.
The Hojai unit of Assam Sarva Shiksha Mission observed World Disability Day with daylong activities at Marwari Hindi Prathamic Vidalaya in Hojai on Tuesday.
Additional reporting by Nikhil Kumar Mundra in Hojai